Mark Vallance has passed away
April 23rd; 2018
Sad news emerging is that Mark Vallance passed away peacefully last week in Switzerland.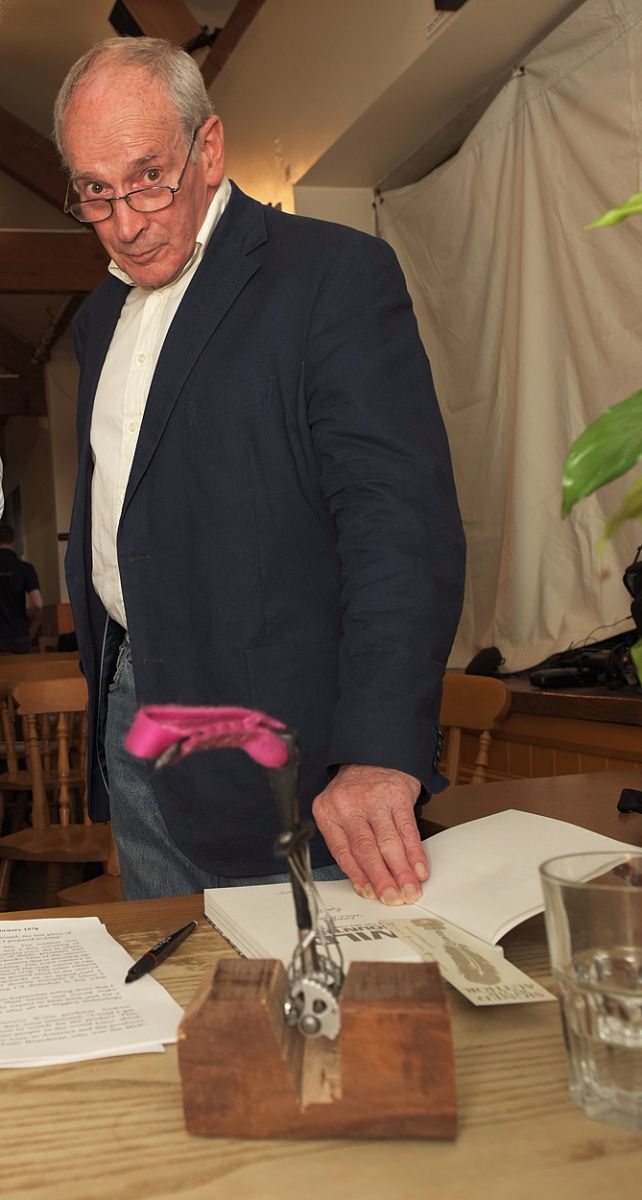 Mark Vallance, the climbers' friend, signing books at the launch of his autobiography in 2016. Photo Keith Sharples
Having spent time with the British Antarctic Survey (BAS) Mark continued to explore the outdoor and climbing world. Along the way, Mark met American crack-climbing guru Ray Jardine who was using, in some secrecy, a special device to protect cracks. Eventually, a collaboration between Ray and Mark lead to the manufacture and distribution of one of the most revolutionary devices ever to be used in climbing; the active camming devices which became known as Friends. Launched onto the climbing world in the late Seventies, Friends not only changed the face of modern protection but it propelled Wild Country, the Derbyshire-based manufacturing and distribution business that Mark set-up, into the spot-light world-wide.
A year or so later Mark took the simple climbing nut and added curved sides to it to improve holding power and facilitate better placements. Wild Country Rocks quickly became very popular; they and derivatives of them remain the core of today's massive protection and are used countless times daily across the world to protect adventure climbing.
Realising that others were producing game-changing equipment Mark cast his net wider and began importing products. Fires, the first ever sticky rubber climbing shoes from the Spanish producer Boreal, were brought into the UK by Wild Country. Similarly, Mark latched onto Chacals, the first ever reverse-curve ice axes which were being produced by Simond in France. Again, Mark got the distribution rights in the UK for Wild Country.
Further down the line Mark and Wild Country developed tents producing the bomb-proof Quasar tent. His own designing and inventing continued as a result of which Mark came up with the first ever wire-gate karabiner. This was one invention that got away however when, failing to get traction, it remained an idea only. Subsequently, Chouinard brought the idea to market releasing krabiners which were as strong as solid-gate krabs yet which were both lighter and less prone to gate flutter during falls.
Mark's influence as an inventor, manufacturer and distributor working with a number of key players and producing a number of keys products is rightly revered.
Mark also used his experience, influence and entrepreneurial drive to help develop other businesses as well. As well as having a hand in Outside, Mark was also involved with The Foundry which opened its doors in the early Nineties as the first purpose-build climbing wall in the UK.
Mark also spent time as the Climbers' Club and the BMC's president were he helped steer those organisation along their way. Despite increasingly suffering from Parkinson 's disease, Mark remained active. In 2016 he saw his autobiography, Wild Country, published.
Climber Magazine offers its sincere condolences to Jan and Jody, and to his wider family and friends everywhere.