Maltese climbers and hunters sign MOU ahead of Referendum
April 1st, 2015
The Times of Malta reports that a deal was signed yesterday between climbers and hunters on Malta that is intended to resolve access issues where both climbers and hunters are active.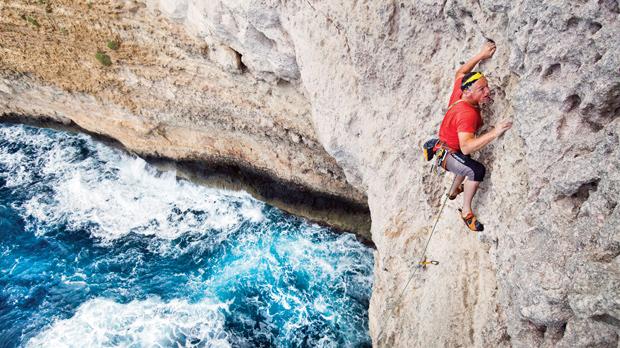 Stevie Haston enjoying the Maltese seacliff scene. Photo Inigo Taylor
Since moving to Gozo Stevie Haston has become involved in the local scene and has become honorary president of the Malta Climbing Association. Stevie – who is renowned for his straight-talking - told CLIMBER; "we have a hell of a problem here". The idea behind the MOU (Memorandum of Understanding) is that hunters and climbers can work together such that they can both use the land – typically along the coast – to pursue their respective activities. The agreement has been brokered jointly by the Malta Climbing Association and the Federation for Hunting and Conservation.
Access to land for climbing is frequently a problem internationally; often land-owners just refuse to allow climbers to access their land. In the UK, access issues have – for example - denied climbers from using Craig y Forwyn in North Wales for much of the last 20 years or so. Similarly, Mallorca, Spain and France have all issues at premier climbing areas as does the USA and Canada. The situation on Malta appears to be exacerbated given that hunters either own the land or rent it. Kenneth Abela, the Malta Climbing Association's secretary, told the Times of Malta that the plan is that the hunters will allow climbers access in return for climbers helping not only with site maintenance as well as helping out on other projects.
Stevie Haston prospecting for hard new routes
However, the agreement has been brokered just weeks before Malta votes on a national referendum that, if passed, will see the annual spring hunt on Malta banned. Stevie Haston told CLIMBER that although spring hunting is not allowed in the EU there is a "derogation" - a special law by the Maltese for the Maltese under which spring hunting is currently allowed. Stevie also told us that there's a further derogation to allow Finch trapping. Malta is on a migration route for birds and it is argued that the spring hunt which regularly sees 10-15,000 birds slaughtered every year is having a serious adverse impact on bird numbers. Malta's Constitutional Court upheld the referendum under pressure from conservation groups supported by 40,000 Maltese voters. On this occasion the Maltese hunters, who are thought to have some 10,000 active members and supporters, were outvoted. The Referendum is scheduled for later this spring/summer and if upheld this year's spring hunt will be the last. For more on this situation, including a link to a YouTube video about the hunt by naturalist and TV presenter Chris Parkman, click through here… http://news.mongabay.com/2015/0112-hance-malta-bird-referndum.html
For those not familiar with the Malta climbing scene it has been on the increase for some time now - the authorities seeing it as way to boost tourism. Jeffrey Camilleri, who heads the Malta Climbing Association, said; "Rock-climbing is reaching the same popularity levels of diving in Malta and at least 500 tourists travel to Malta every year specifically for climbing," The Association is also putting its weight behind developing the climbing on Malta by not only encouraging Maltese climbers and visitors alike but they're also involved with equipping the cliffs with bolts. CLIMBER understand that the Malta Tourism Authority have also funded the bolting of some climbs. To date, c.600 routes of the c.1,500 climbs on the islands, have been equipped with new bolts.
Maltese coastline
Currently, the hardest routes on Malta are F8b+ but new routes are being developed all the time. Climbing on Malta dates back to mid last century when the British military used the cliffs as training. Climbing is growing so fast on the islands that there are plans to build a climbing wall.
For more information on the report by the Times of Malta click through here…
Thanks to Stevie for his help in compiling this report and for the use of his photos. Click through here to keep in touch of Stevie's activities via his blog…