Maddy Cope blasts The Final Round (E9 6c)
Sunday 6th September 2020
Maddy Cope has just made the third ascent of The Final Round (E9 6c) on Illam Rock, Dovedale.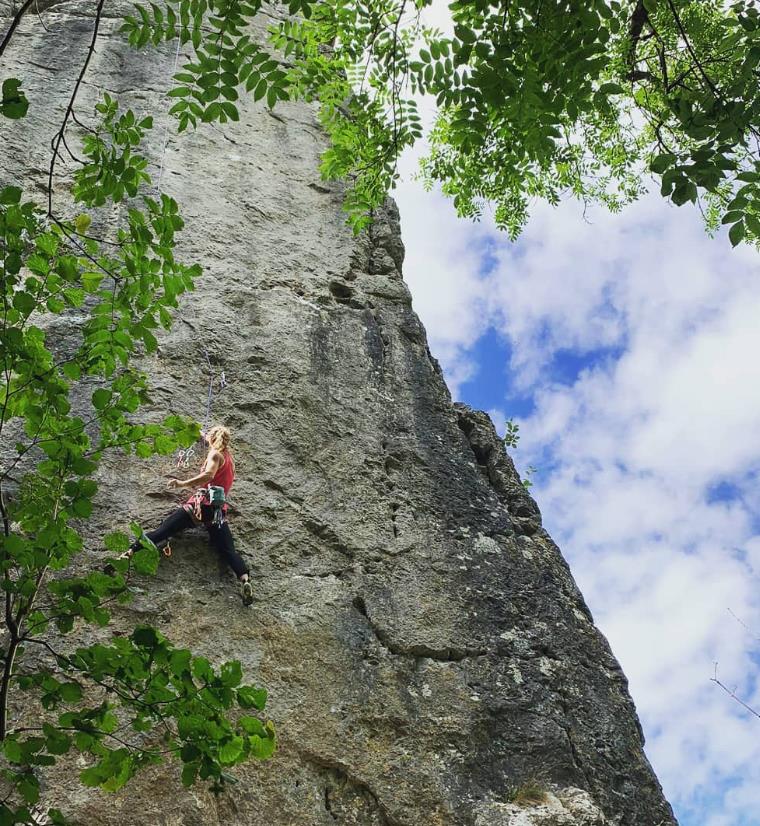 'Back to Trad' Maddy posted on her Instagram page back in late July when she and her partner, Ollie Tor, headed south to Cornwall to bag some classics. A month later she had a spell in Pembroke but, like many, she didn't really get the weather and had a disappointing and frustrating time. Maddy's persistence however finally paid off as she recently repeated Murcia Wall (E8 6c) on the West Wall of Stennis Ford, Pembroke.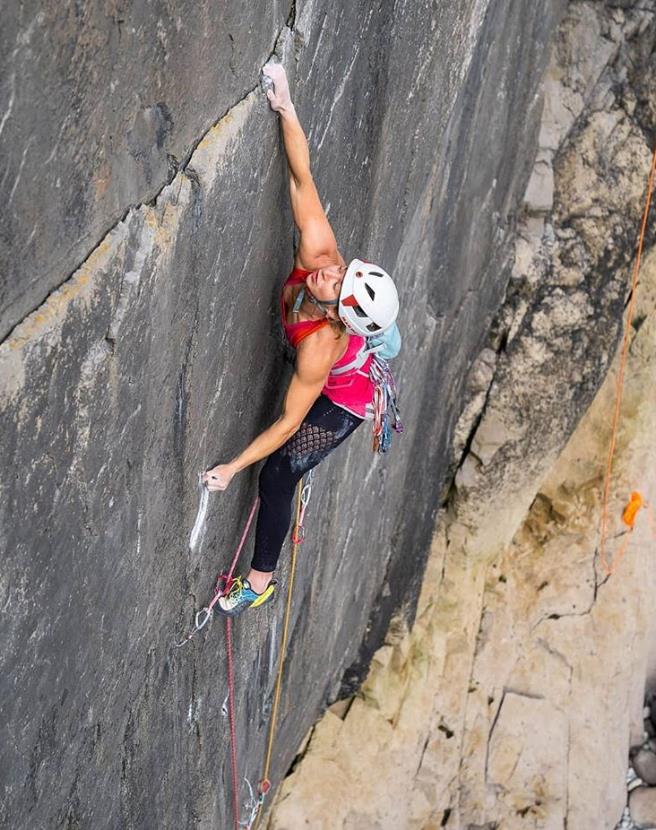 In between these trips, however, Maddy has been hitting Illam Rock in Dovedale where she got drawn into trying The Final Round as she told Climber:
'I had already done Eye of the Tiger the year before and thought that was a great route. When lockdown eased and we could go out climbing again I was keen to try and think of less busy crag options. Ollie really wanted to try Eye of the Tiger so I just thought I would take a look at The Final Round whilst we were there. So I guess it wasn't exactly on my radar or high on a tick list but the restrictions made me take another look at this cliff'.
Getting decent climbing conditions in the middle of summer can be very frustrating but this year with the Covid situation things have gone to another level. Maddy explained how long she'd been trying The Final Round, some of the frustrations and what was the hardest part for her:
'I have tried it on and off for what feels like a while! It feels like one of those routes that has taken a long time due to lots of different reasons. After initially working it I felt good enough to have a lead go but with the BMC's appeal for us to not add to the stress the NHS was under with any climbing accidents it wasn't a good time to try and lead it. It's not mega dangerous but I would have struggled to say it was well within my comfort zone! So I backed away for a bit. Then when things eased more I went back but it was really hot and humid. So I decided to leave it until it was cooler. I then had a lead go maybe a month ago and fell at the top crux (which was the hardest bit for me). Finally, I went back yesterday [Saturday 5th].
I think I often try a route and then keep trying it until I do it in quite a discreet period of time so this was different. I had to re-work it, remind myself of the gear, and then relax enough to give it a lead go yesterday. I was climbing with Mina [on Saturday] and we were probably chattering too much for me to over-think it ha-ha. Based on this I think the hardest aspect was the conditions and the top crux. I think I didn't respect the fact that it was summer on Peak limestone and just needed to wait for cooler days. The top crux is getting between two breaks and there is one pocket in the wall. It took me a while to work this out, but it was a great sequence to be committing to with the nice steep wall beneath me.'
Maddy described the climbing too:
'The climbing on The Final Round is varied which is nice. It starts with techy bold climbing up to a rest and then a sequence on monos to reach Eye of the Tiger. After arranging the gear on that route you climb the meat of Eye of the Tiger which is great in itself. You reach a break where that traverses off and you climb straight up the blank looking headwall. Finishing off with a slightly chossy looking climb to the top where you get to stand on the summit and admire the valley.'
So how does Maddy rate both Ilam Rock and The Final Round having climbed on numerous hard trad routes in the UK and abroad?
'I rate the quality of climbing on Illam rock highly! The route is probably just as good as the other E9's I have tried. It's hard to compare them as Once Upon A Time in the South West was easier climbing but scarier and Prinzip Hoffnung was harder climbing than OUAT but pretty safe, and I think The Final Round sits in that category for me – at the harder, sportier end of things. The bottom is bold (partly because the ground drops away!) But I think the climbing lower down suits me well so I didn't find it too scary.'
Finally, we asked Maddy how she thought the climbing on The Final Round compared to some of the other super-hard tad routes she'd done:
'I had a play on Muy Caliente and the climbing is a fair bit easier but that has a much scarier section on it! Tricky though because I do think the upper crux on The Final Round is quite reachy. Hard to say really... I don't actually think I am very qualified to comment on it having only climbed 3 E9's'
The Final Round (E9 6c) was first climbed by Tom Randall in 2015. It remains the hardest trad route on Peak limestone. Jordon Buys did the second ascent. Eye of the Tiger (E7 6c) was originally done by Ron Fawcett back in 1982.
Thanks to Stefan Morris for the use of the Murcia Wall image - you can see more of his work by clicking here