Lucy Creamer on fire in Spain
Thursday 4th December 2014
Dec 4th 2014
Lucy Creamer, one of the UK's leading female climbers, has just returned from a trip to Spain where she was simply on fire!
A shoulder injury forced Lucy to take a substantial break away from hard climbing at the turn of the decade but following surgery a couple of years ago she has been steadily climbing her way back to good form and the harder grades. Early successes this year on routes like Powerplant (F8a) at the Chee Dale Cornice evidenced the solid foundation which she had re-established since starting to climb again, a foundation which undoubtedly underpinned her successful on-sight of Fun de chichrunne (F8a) during a coaching trip to Kalymnos. However, her recent three week trip to Catalunya where she climbed mainly on Bruixes at Terradets Lucy has cashed-in on her incredible fitness (not to mention good technique) with a whole series of onsights and redpoints ascents the like of which is very rare indeed.
Lucy Creamer revisting El Latio during her recent trip to Spain. Photo Nick Bullock
Spain is famed for its Euro-style climbing and crags like Bruixes (and Wild Side down on the Costa Blanca) offer incredible climbing for those with the prerequisite fitness and onsight/redpoint skills to match. Bruixes, a gloriously long overhanging crag with dozens of routes in the mid/high 7's and 8's, is one of Lucy's favourite places: "Bruixes wall has probably got the most appropriate climbing style for me. Long endurance routes with plenty of rests, loads of footholds (that's the crucial bit if you're short) and not that many hard moves".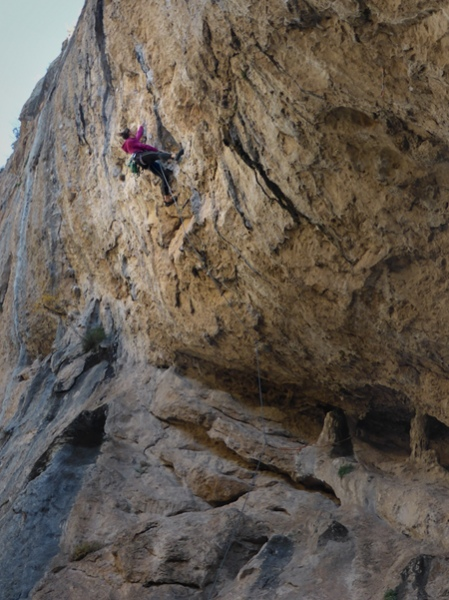 Lucy onsighting Per Tutti l'anno, Collegats. Photo Nick Bullock
Lucy's first week saw her redpointing Flix Flax (F8a+) and Golpe de Gas (F8b) – both great results and her best since her shoulder surgery. After these early successes Lucy switched to onsight/flash attempts on routes for a few days during which she flashed Formula Weekend (F8a) and onsighted Maneras de Vivir (F8a). Despite feeling jaded Lucy went on in the last days to redpoint another hard route, L'Anarkista (F8a+), and onsight/flash yet more routes giving her what must be one of the best tick lists for a three week trip by any British women ever.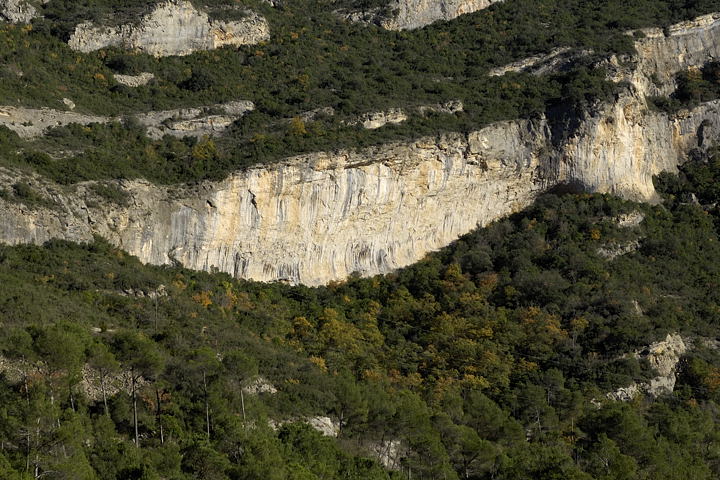 Bruixes, Terradets. Photo Keith Sharples
To read Lucy's full account of her trip and tick list click through here to go to her blog.
Many thanks to Nick Bullock for the images – and congrats to Nick too for redpointing his first F8a during the trip.