Lovatt Safe as Milk at Craig Doris
Earlier this week Mick Lovatt added Safe as Milk (E7 6c) to the infamous Craig Doris on the Llyn Peninsula.
Safe as Milk is the latest in a long string of ascents by Mick at Doris; just this year alone he's repeated Harmony (E7 6b) and Dissonance (E7 6c) as well as being on the first ascent of Harmless (E7 6b) with fellow Doris fan, Nick Bullock. Previously, Mick has also repeated many of the hardest routes at Doris including Pushing for Rail (E8 6b) and Requiem for a Vampire (E8 6b) - 2nd and 3rd ascents respectively - in 2018 whist making the 4th ascent of Melody (E8 6b) last year. Safe as Milk isn't Mick's first new route at Doris; in 2018 he added both Destiny (E7 6b) and The Mudshark (E8 6b).
As the grades of some of these routes suggests, climbing at Craig Doris is very adventurous and on rock which isn't the best around. It's probably true to say that Craig Doris attracts a certain kind of climber. Pat Littlejohn's 1987 route Byzantium (E4 6a), described in parts as 'never that hard but very bold', has proved popular and is said to be an excellent addition. Doris also attracted Steve Haston and Leigh McGinley in the Noughties; Haston's Melody (E8 8b) and Night Stalker (E8 6c) proving fearful additions from 2004 and 2009 respectively.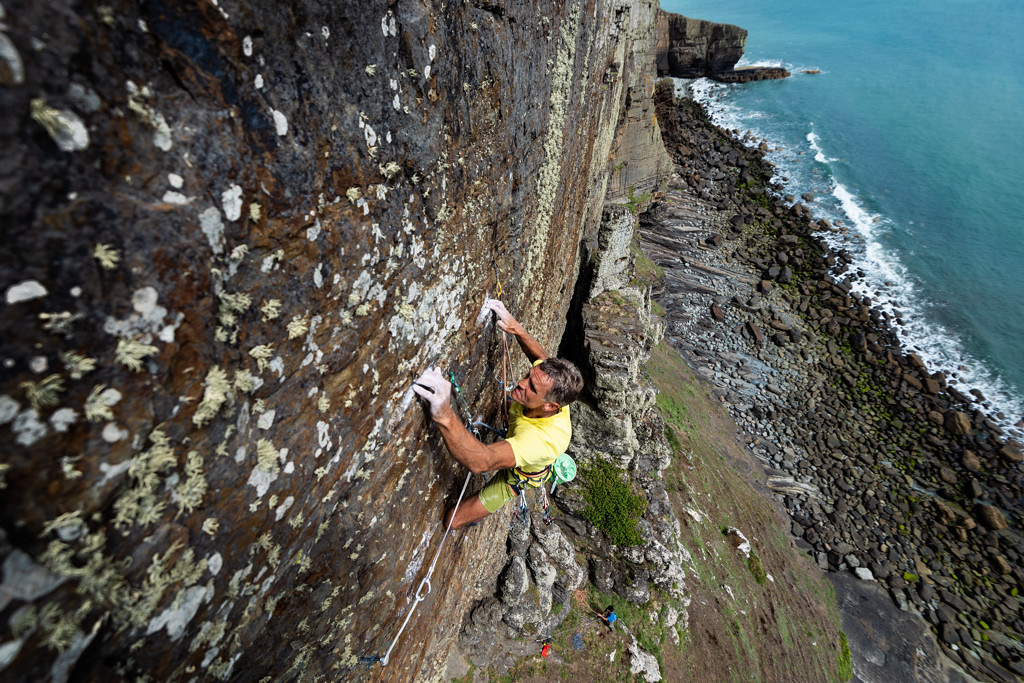 Keen to find out more Climber has been in touch with Mick for the low down on Safe as Milk and to ask him what attracts him so much to Craig Doris.
---
Congrats on the addition of Safe as Milk; another excellent addition to Doris. Coming on the back of the other routes you've just repeated you're obviously going really well and feeling confident?!
Thanks, it's a brilliant route even if I do say so myself (haha)! I do feel like I'm climbing well again after nursing a shoulder injury for the past 8 months but wouldn't say confident not at Craig Doris anyway! Let your guard down for a second and she'll have you!
Typically, climbing at Craig Doris sounds pretty adventurous (read scary…) with steep poor rock and poor gear. What attracts you – and others - to it?
Craig Doris is a beautiful place to climb; it feels remote yet very accessible, generally we see more dolphins there than people! It's quite a long crag about 50m in height with fantastic rock architecture, it feels bigger due to the proximity to the sea. Just looking at some of the audacious lines make you want to climb them! The only thing that keeps the crowds at bay is the quality of rock! It's been described as 'crumbly rubbish' (haha) which I have to say isn't far off for the majority of the crag! I'm told by those who know about these things that it's a type of sandstone with different layers that have different qualities sometimes is very random places. To climb here, control the terror and actually begin to enjoy it you have to learn what to look for it terms of which holds might stay connected long enough or which gear placement might hold should the worst happen! So where you'd place one runner on other crags and be happy to push on, at Doris you'd place three!
What would you say is more important at Doris – fitness or a steady head?
For the majority of routes a steady head is very important because you can stand in balance much of the time daring yourself (sometimes) to move! On the harder routes you need both, fitness and mental strength rather than physical, those with too much physical strength might just find how disposable the crag really is!
You graded Safe as Milk E7 6c which suggests it hard and safe! Is it or is it named with your tongue firmly in your cheek?
Safe as Milk has a worrying start (shared with Harmony) then a well-protected crux (I did take one fall before cracking it!) leading to a bit of a run out to the top from really good gear. The main issue is that because it's Doris and you want every piece of gear possible to give confidence to make hard moves there's so much of it to carry! It's sometimes tricky and pumpy to place and rope drag can be a burden so that too needs careful management, all adding to the experience.
Jethro's photos of you on the headwall suggests the rock is actually pretty good up there; that must be a welcome change? It sounds a bit more Doris-like - ie dodgy – lower down though?
Yes, the rock gets better with height and the top white coloured band is really solid but as you've guessed you have to get through the bottom half to enjoy the top! You quickly learn that atmospheric conditions at Doris really matter, no two days are the same, a bit of dampness or humidity in the air makes the rock feel really soft and friable. Climbing in the sun is best as the rock takes on a more reliable feel as it gets baked hard(er)!
Perhaps more than the other Doris routes Safe as Milk might be more suitable for 'outsiders' perhaps? Also, for context, what sport grade would it be do you think?
Sport grades here are largely irrelevant! As I've said earlier conditions play such a big part as does the mental strength, to actually grovel up the first rubble filled gully carrying a full rack with the intent to actually keep going once you've started! But I guess you want an answer re 'sport grade' on a perfect day with gear going in without too much messing I'd say F7b+.
What would you compare Safe as Milk to elsewhere – if indeed that's possible?
Probably the only real comparison I can give is other routes on the same wall. Stevie Haston's Harmony or Calum Muskett's Dissonance or Nick Bullock's Harmless all are beautiful routes that climb really well and are reasonably well-protected (for Doris). Safe as Milk has harder moves and just feels more out there because it's following a long diagonal line above the abyss!
You must have done most of the existing routes there now so will it be new stuff from now on and is there much left to do?
Haha, well according to my logbook I've done 32.9% of the routes at the crag! Loads of stuff left to keep a couple of old blokes occupied for a while longer!
---
You can follow both Mick and Jethro via their social media pages; click here for Mick and here for Jethro.