Llanberis Tradfest 2015 - tickets now available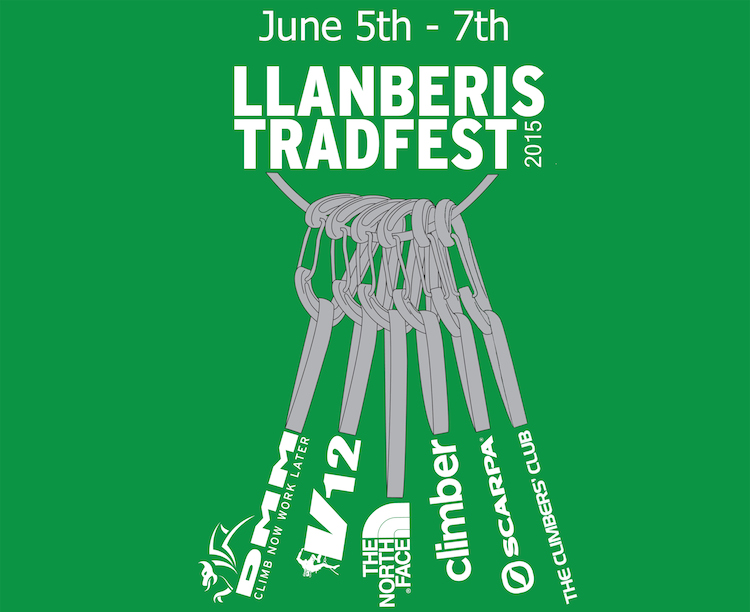 Llanbris Tradfest 2015, June 5th to 7th.
After it's successful phoenix like re-launch in 2014, this year's Tradfest is back celebrating all that there is to extol about trad climbing.
As festivals go Tradfest weighs in as a little different, more relaxed, more informal and so more genial. Held at the campsite opposite the Vaynol Arms pub in Nant Perris at the foot of the Llanberis Pass, home to iconic crags such as Clogwyn y Grochan and Dinas Cromlech, a stones throw from the mighty Clogwyn Du'r Arddu, 30 minutes from all that the Ogwen valley has to offer, and access to crags like Craig Yr Ysfa, an hour from Tremadog, the Moelwyns and the great walls of Gogarth, you are literally, spoilt for choice!
It has a simple and informal format; evening time is for talks and mingling, daytime is for climbing. There is no coaching but there will be sponsored climbers and staff on hand from the festivals supporters who include DMM, V12, Scarpa, The North Face, Dewerstone and CLIMBER magazine to give advice on crags and where to go climbing, with the chance to get out and climb at the same crag as those people that advice you. Get to know the local crags, climbs and hidden gems of Snowdonia and it's local with a group of like-minded individuals.
It kicks off on the evening of Friday 5th of June, continuing onto Sunday the 7th. Friday evening is usually a quieter night as a lot of people don't make it up until late or until the Saturday morning but that makes it a more intimate affair with whom ever is delivering the talk in the Scarpa marquee, there is also a quiz to get the brain cells fizzing that evening. Saturday is for climbing, while the evening is reserved for the hog roast, beer and headline talk, with the chance of some films if time permits. Sunday is for climbing and recovery before heading home at the end of the day.
There are no camping costs included in the ticket price but if you choose to stay at the campsite you simply pay for this separately. The only proviso for getting a ticket is that you are a member of the BMC or an affiliate club, this is for insurance purposes and proof that you have this must be supplied when you pick your ticket up, either at V12 if it is beforehand or at the Scarpa Marquee over the weekend.
Tickets are available from V12 Outdoor for £25 for which you get a goody bag on arrival that will include a limited edition Tradfest 2015 T Shirt, a DMM limited edition karabiner, a hog roast or similar (a vegetarian option will also be available), at least one pint of beer, access to all test kit, access to all talks and any other entertainment that will be laid on plus other goodies too.
Tradfest is an exclusive low key, informal festival where all are welcome, no matter what their ability. Last year tickets were sold out and its unique atmosphere and setup make this a truly individual event where you can mingle with many of the greats of British climbing. There is no snobbery and don't expect everything to be run in a military style because it won't, it's relaxed and flexible and that is a major part of the reason that Tradfest has such a cult following already.
The ticket is for the whole weekend from the evening of Friday 5th to the afternoon of Sunday 7th June 2015. There is limited space at the site so there's only have a limited number of tickets, once they are gone there will be no more.
If all of the above isn't enough... the V12 shop in Llanberis are offering some great discounts in store just for the TRADFEST attendees for the weekend 5th -7th June. This offer will only be available to Tradfest ticket holders in store and for the duration of Tradfest only.
For more on this and to purchase tickets click on this link www.v12outdoor.com/product.php/7491/tradfest-2015-ticket
See you there.