Leo Holding and team off to Antarctica
Wednesday 1st November 2017
Nov 1st; 2017
Leo Holding, along with Jean Burgun and Mark Sedon, are heading to Antarctica to attempt to climb The Spectre and complete a trans-continental traverse using a combination of traditional man-hauling and ski-kiting.
An aerial view of The Organ Pipe Mountains including The Spectre. Photo Edmund Stump
With support from Berghaus as well as other sources such as the Mount Everest Foundation, Leo and his team will leave for Antarctica November 7th. It's an audacious, risky expedition as well as being logistically complex and expensive.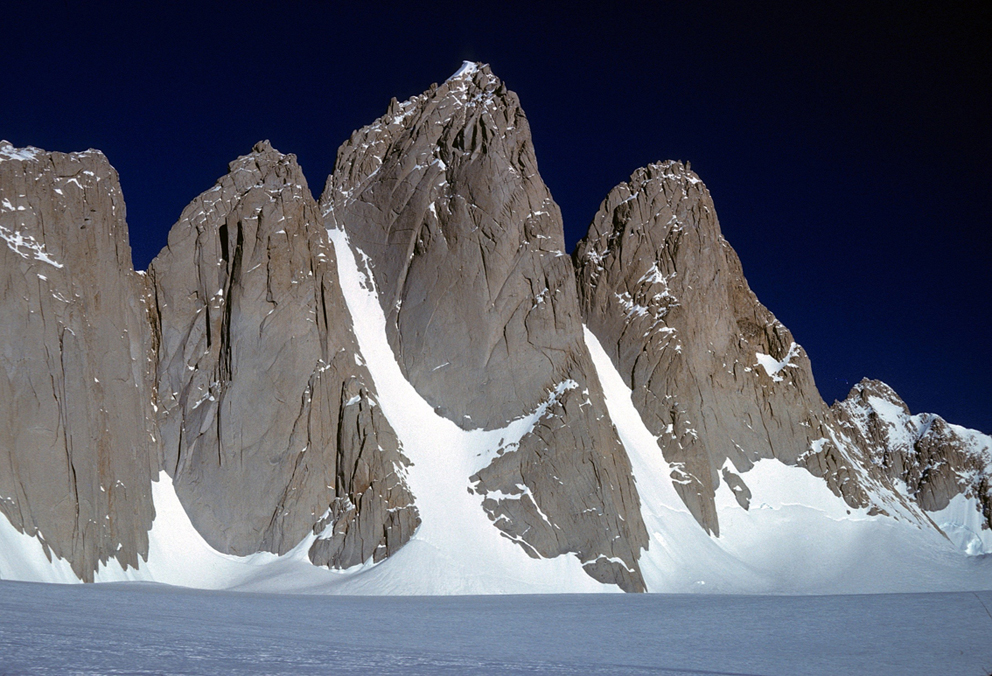 The south face of The Spectre
The main climbing target is the 750m tall buttress of the 2,020m Spectre in the Gothic Mountains in Antarctica whoever they also plan to then combine traditional man-haul and snow-kiting for the outward journey to enable them to complete the trans-continent traverse.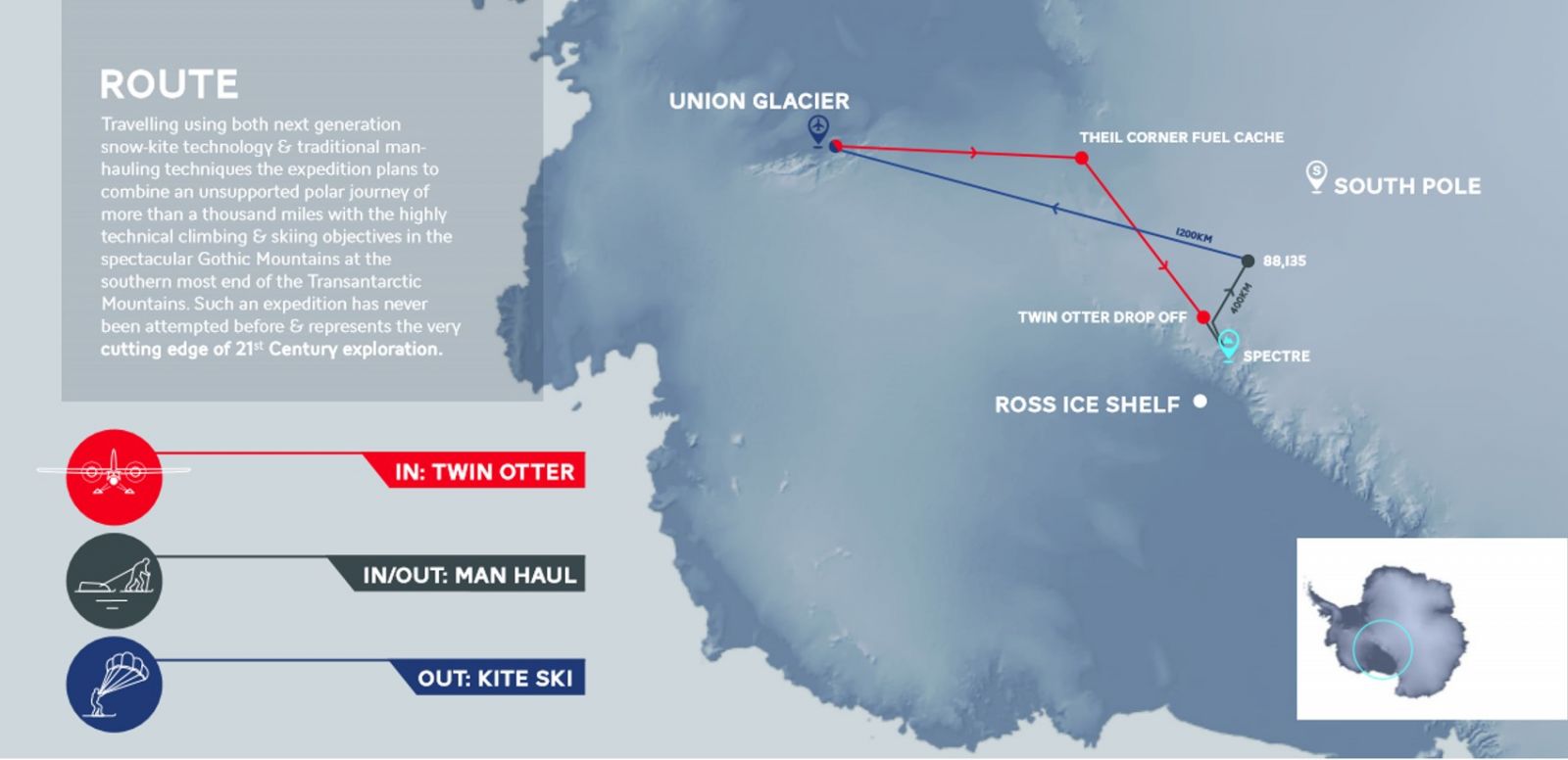 The Spectre Route Plan
Leo doesn't underestimate the challenge: "This is most adventurous and hardcore expedition concept that I've ever conceived of. It represents true 21st Century, new school exploration, with a mixed international team, and in the greatest playground on earth. There is a realistic possibility of success, but the odds are not short, and of course no one has done this before."
The Spectre has been climbed once by the late US mountaineer Mugs Stump and his geologist brother Edmund. Their original route followed the more straightforward north side.
The Spectre logistics/numbers
Once the team arrive on the Antarctic continent, via South America, their plan is:
• A flight in a Twin Otter ski equipped aircraft and snow-kiting with 200kg sledges known as pulks for 300km to reach the Spectre
• Alpine style ascents of highly technical climbs and unclimbed peaks
• 400km of traditional man-hauling on cross-country skis, before finally snow-kiting a further 1100km back to the Union Glacier, concluding a complete trans-continental traverse before departing the Antarctic.
Berghaus have released further details of the expedition.
Individually, each phase – the journey in, the climb, and the journey out – will present a huge challenge to the team, but combined they present a genuinely audacious proposition with 2000km covered by ski and snow-kite alone. The trip has been described by Sir Chris Bonington as "pushing the limits of Alpine style exploration". Houlding has estimated that the expedition will last around 70 days, running from early November until the back end of January 2018.
Leo Houlding has been preparing for an attempt on the Spectre since 2013. For over a year, Houlding has been working closely with the product team at Berghaus to develop clothing and equipment that is capable of performing in the extremes of temperature and conditions that the team will face in Antarctica. Each element of the expedition presents particular challenges for kit, with three distinct sets of conditions to handle. During the trip, Houlding, Burgun and Sedon will have to operate in temperatures as low as -50 degrees Celsius, and in winds of up to 80 knots, while at times hauling loads of 200kg. In addition, the abrasive nature of the Spectre's rock face will take its toll on the kit that is used. And of course, everything must be carried for the entire duration of the trip, so weight must be kept to an absolute minimum without compromising durability.
In March this year, Houlding was joined by Jean Burgun and members of Berghaus' MtnHaus innovation team on a training trip to Norway, where they tested prototypes of highly specialist garments that will now be used during the Spectre expedition. The concepts, designs and technologies used in the products will feature in Berghaus' winter 2018 range.
Leo Houlding recently became a trustee of the Outward Bound Trust, a charity dedicated for 75 years to enabling access to outdoor adventure for young people from all social backgrounds. Houlding hopes to use the Spectre expedition, his first major trip since becoming a trustee, to help raise the profile the Outward Bound Trust and its valuable work. Berghaus is a strategic partner of the trust and supports its role in encouraging more people to get out more, as part of the company's wider efforts to redefine modern exploration and adventure.
Leo Houlding comments: "The Spectre expedition represents the very cutting edge of extreme adventure for an elite and highly experienced crew. However, there is equal, if not more, value in the more accessible adventure Outward Bound introduces to thousands of young people every year. Many of them have never experienced any form of outdoor adventure and would not have the chance were it not for the trust and its dedicated instructors. Adventure is a relative term - I have no doubt that the youngsters who enjoy Outward Bound courses find them every bit as exciting, nerve wracking and fulfilling as we will on the Spectre expedition."
Leo Houlding needs little introduction as a world class climber, Alpinist and adventurer. Based in the Lake District, UK, he is one of Britain's top adventure climbers and among the best on the planet. Now 37 and married with two young children, Houlding is a veteran of a score of epic ascents, including Everest, but specialises in free climbing the most technical peaks and biggest walls in the world.
The Spectre Team (L-R) Marc Sedon, Leo Holding and Jean Burgun. Photo Berghaus
Following a successful project in the Bugaboos, Canada, in the summer, Leo Houlding is working with another all-new team for his trip to The Spectre. Leo's accomplices this time are Jean Burgun and Marc Sedon:
• Jean Burgun from Haute Alp, France. Jean Burgun is an experienced Alpinist, big wall climber and snow-kiter at the vanguard of the progressive aspect of the sport - "Alpine-snow-kiting" - using kites to ascend low technicality Alpine climbs in minutes. Jean and his wife, with their two young boys, are custodians of a mountain hut in Val Louise for six months during the summer. Jean comments: "The Spectre represents for me the core of what I have looked for all my life. It's the meeting point between my childhood dreams and the Alpinist/kiter I became."
• Mountain and ski guide and photographer/filmmaker Marc Sedon. Born and raised in Christchurch, New Zealand, Mark Sedon has been guiding for 15 years. He has guided over a dozen Himalayan expeditions including to the summit of Everest. He has also guided six expeditions to Antarctica including two ski expeditions. Sedon will be the trip's chief photographer and will also be responsible for capturing footage of the expedition for a film by Coldhouse Collective.
The team plan to transmit updates as often as they can, but opportunities to send news and images are likely to be very limited. Any updates will be shared via Houlding's personal and Berghaus' social media platforms on Facebook, Twitter (@TheRealBerghaus and @LeoHoulding ) and Instagram (@berghausofficial and @leo_houlding).
More material relating to the expedition, including images and videos from the training trip to Norway in March, can be viewed at www.berghaus.com/spectreexped.
See a video of Leo kite-skiing in Greenland below.