Laura Rogora redpoints F9b at Rodellar
Italian ace Laura Rogora has just redpointed Ali Hulk Sit Extension (F9b) at Rodellar becoming the second-ever female to climb that grade.
A couple of months after climber her first F9a+ (Pure Dreaming Plus at Massone, Arco – click here for that report), the 19-year-old Italian Olympian is back in the news at Rodellar, Spain.
Laura is quoted as saying "I booked only for one week here in Rodellar because I only wanted to check if it was a possible long term project. I would never thought it was enough for the send."
The Ali Hulk Sit Extension is a link-up which adds a 16 move Font 7c sit start into the F9a+ extension. The F9a+ extension is itself a link-up – separated by a knee-bar rest - of Ali Baba and Hulk; this was climbed by Jonatan Flor last year.
Breaking the projecting into sections, Laura started by redpointing the Hulk Extension at F8c+. Just three days later Laura succeeded on Ali Hulk Sit Extension, i.e. the full link-up.
Laura had climbed multiple F9as before doing Pure Dreaming Plus as her first F9a+. Climbing her first F9b just weeks later is a remarkable achievement by the young Italian. She is the second-ever female climber to climbing F9b after Angie Eiter climbed la Planta de Shiva (F9b) in 2017.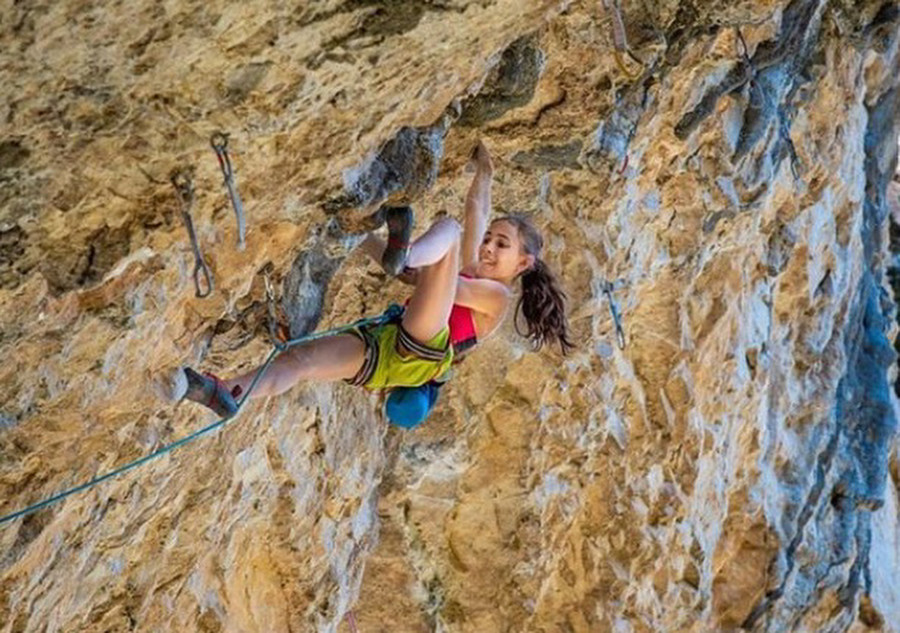 Finally, with time still on her hands, Laura celebrated with an on-sighting mission doing Espirit Rebel (F8a+/b) and then Ixeia (F8b+). Sadly, she dropped Philipe Cuisinère (F8b) just before clipping the lower-off.
Click here to follow Laura via her athlete page on Instagram.