Laura Rogora on fire in Spain
Thursday 9th January 2020
Laura Rogora had a storming visit to Spain over the New Year on-sighting F8b+ and redpointing F9a.
The young Italian climber had what can only be described as a monumental year in 2019 during which she picked up three gold medals at the World Youth Championships as well as qualifying for the Olympics in Tokyo later this year.
Like many competition climbers, Laura headed outside for some well-deserved R&R over the Xmas/New Year break; in Laura's case, she went to Margalef and Monsant area in Spain. Despite the sub-optimal weather and a short visit, Laura had a very productive trip and managed to smash-out an impressive number of hard routes whilst she was there; Pal Norte F8c+/9a, l'espiadimonis F8c, L-mens F8b+, Devoramingas F8a, La Bongada F9a and Pal Este F8c.
Laura Rogora on La Bongada. Photo: @sara_grip
L-mens F8b+, at Monsant, was Laura's first ever on-sight of an F8b+. By on-sighting at F8b+, Rogora has added her name to the list of top female climbers who have on-sighted at this grade. Back in 1999, Katie Brown flashed Hidrofobia F8b+ at Monsant but this was later on-sighted by Josune Bereziartu in 2005. Brown had previously on-sighted Ohama Beach at the MotherLode, then F8b, but F8b+ now that it has lost a number of holds. Since then there has been a number of other F8b+'s on-sighted by female climbers including Maja Vidmar, Sasha DiGiulan, Kajsa Rosen and Anak Verhoeven. To date, no female climber has managed to on-sight F8c or harder.
Previously Rogora has redpointed Grandi Gesti, Sperlonga (2016), Joe-cita, Oliana (2017), Escalamasters, Perles (2019) and Reveille-toi, Collepardo (2019); La Bongada F9a, at Margalef, was, therefore, her fifth redpoint at the F9a grade.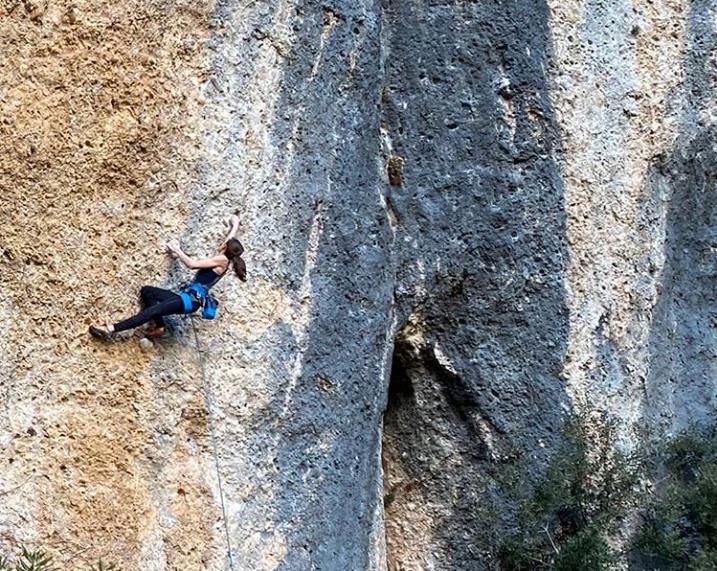 Laura Rogora on-sighting L-mens (F8b+) at Monsant. Photo: @federico.Frullani