Kranj wraps up World Cup Lead comps for 2017
Tuesday 14th November 2017
Nov 14th; 2017
The final round of the 2017 World Cup Lead comps was held over the weekend with Jacob Schubert and Janja Garnbret taking the Kranj golds whilst Romain Desgranges and Janja Garnbret scooped the 2017 overall titles.
Janja Garnbret, Kranj, Overall Lead and Combined winner in 2017 in action on the final route at Kranj
No doubt with an eye towards the 2020 Tokyo Olympics quite a few boulderers got their harnesses out from the back of their kit stores for a blast on the lead wall at Kranj. Amongst these, Shauna Coxsey was especially successful making the final and ultimately finishing in sixth place! The additional points she collected were sufficient for her to scoop-up yet more metalwork – namely a bronze medal in the combined award – the first time ever a GB athlete has been on that particular podium!
Women's Kranj winners with Molly proudly holding aloft her bronze medal - the first ever lead medal for a women
Kranj is a particularly well-loved comp and given it's her home turf and she'd never done before Janja Garnbret was particularly focused and determined to win here this year. However, a Garnbret victory never really seemed in doubt from the moment she stepped out onto the wall in the qualification round; topping both qualifiers and the semi, Janja seemed unstoppable. At around two-thirds height on the finals route, having made it through a particularly difficult section, Garnbret stopped to gather herself and have a little shake-out before heading into the final difficulties. That Garnbret could shake-out on holds that others were falling off speaks volumes. Falling just short of the top Garnbret took the well-deserved, hitherto elusive, Kranj win. Jain Kim wasn't, in fairness, a million miles behind Garnbret and our own Molly Thompson-Smith had the comp of her life taking third place and so secured her first WC Lead medal – the first ever by any female GB lead climber! Shauna's debut comp ended when her right foot blew-off but her sixth place result was an excellent outcome for her first foray into the world of WC lactic. Hannah Slaney finished in 36th and Jennifer Wood in 50th.
Men's Kranj winners
Over in the men's, Jacob Schubert was – like Janja in the women's - equally dominant finishing in first place after the qualifiers and the semi. In fact, he was so confident that the Kranj gold was his, that as he steamed his way onto the final headwall he turned and waved to the crowd getting them to cheer him on!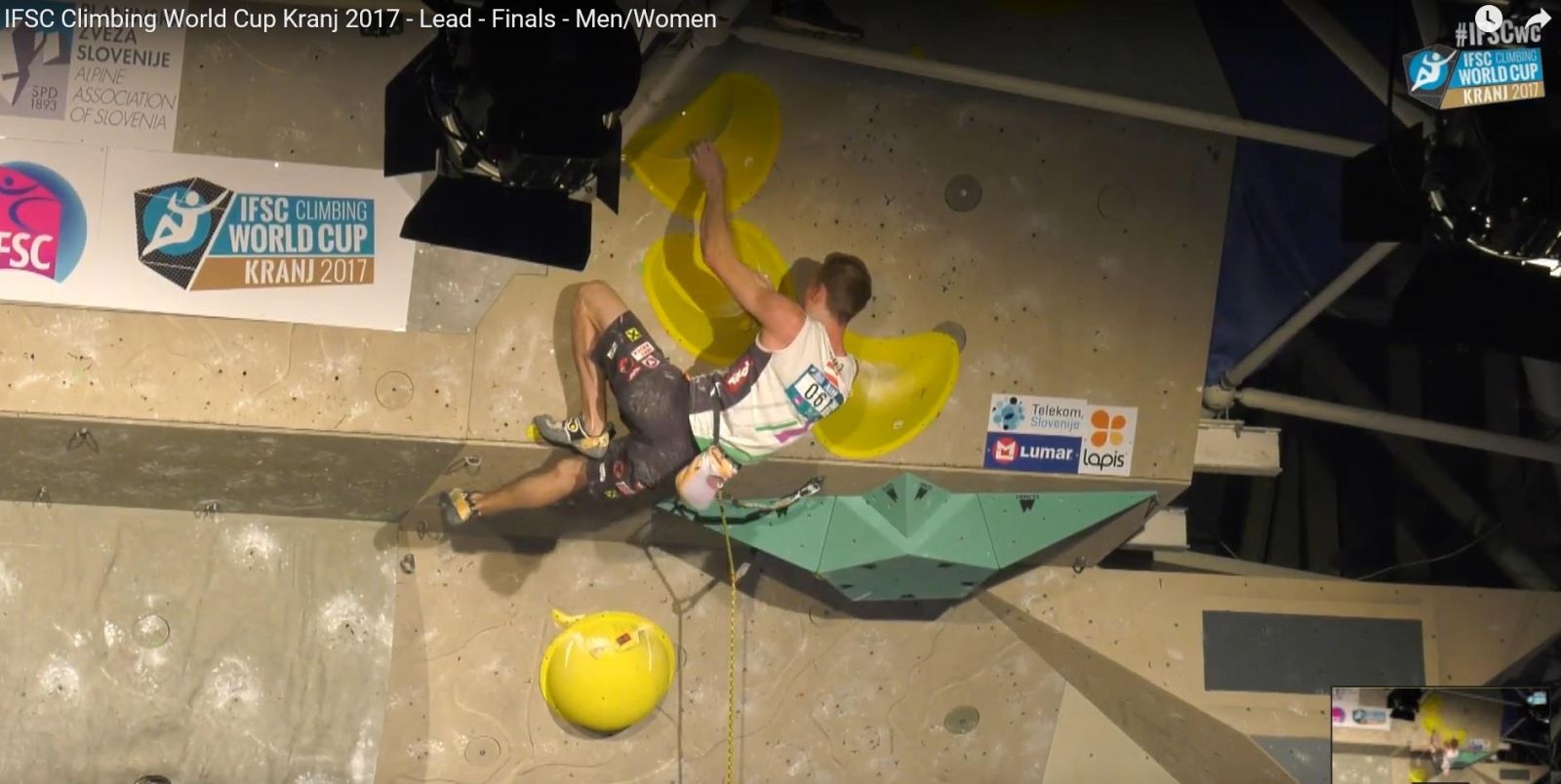 Jacob Schubert – Kranj gold winner - in the Kranj final just after his wonderful display of show-boating
That it could have all gone south is purely hypothetical, show-boating over, Schubert cranked his way through the final difficult moves to take the well-deserved victory. Alex Mego, fresh from his trip to Leonido the week before, upped his game from the semi's and finished in second place. Dmitrii Fakirianov picked up third edging out the rest of the field including local Domen Skofic and the Italian squad lead by Stefano Ghisolfi. Boulderer turned lead climber, Jan Hojer, took the final eighth place once again it demonstrated that packing a punch isn't to be underestimated. Will Bosi and Jim Pope finished 33rd and 39th respectively although a single half-move separated the two climbers.
Women's Overall Lead Podium
Men's Overall Lead Podium
In the Overall, Garnbret was the substantive female victor finishing on 665 pts having won no less than nine gold's this year – six in the lead and three in the bouldering! Jain Kim finished in second on 525 pts and Anak Verhoeven on 444 pts. In the men's overall standings Romain Desgranges's ninth place at Kranj was sufficient to give him the 2017 title on 477 pts becoming the first Frenchman to win the overall title for fourteen years. Stefano Ghisolfi finished second on 413 pts and Keiichiro Korenga third on 373 pts.
In the Combined, the women's run-away leader was – yes you guess it – Janja Garnbret winning on 1135 pts; a.k.a. the proverbial country mile. That Garnbret took the Combined with almost double the points of her nearest rival shows just what a dominant force she is on the international competition scene. Jain Kim came in second with 626 pts a whisker ahead of Shauna Coxsey in third on 607 pts. In the tightly packed field below Molly Thompson-Smith finished in 18th on 267 pts, Michaela Tracy in 26th on 190 pts, Hannah Slaney in 67th on 68 pts and Leah crane in 69th on 64 pts.
Women's Combined Podium
The men's Combined is altogether a tighter ranking with Tomoa Narasaki taking the title on 571 pts with Jongwon Chon coming second on 564 pts and Kokoro Fujii third on 489 pts. The lead only winner, Romain Desgranes finished fourth on 477 pts whilst the German powerhouse-cum-lead-cum-speed climber, Jan Hojer, finished in seventh overall on 432 pts. The highest placed Brit was Tiler Landman in 79th on 62 pts with Jim Pope coming in 88th on 46 pts, Nathan Phillips in 94th on 40 pts and Will Bosi in 112th on 26 pts.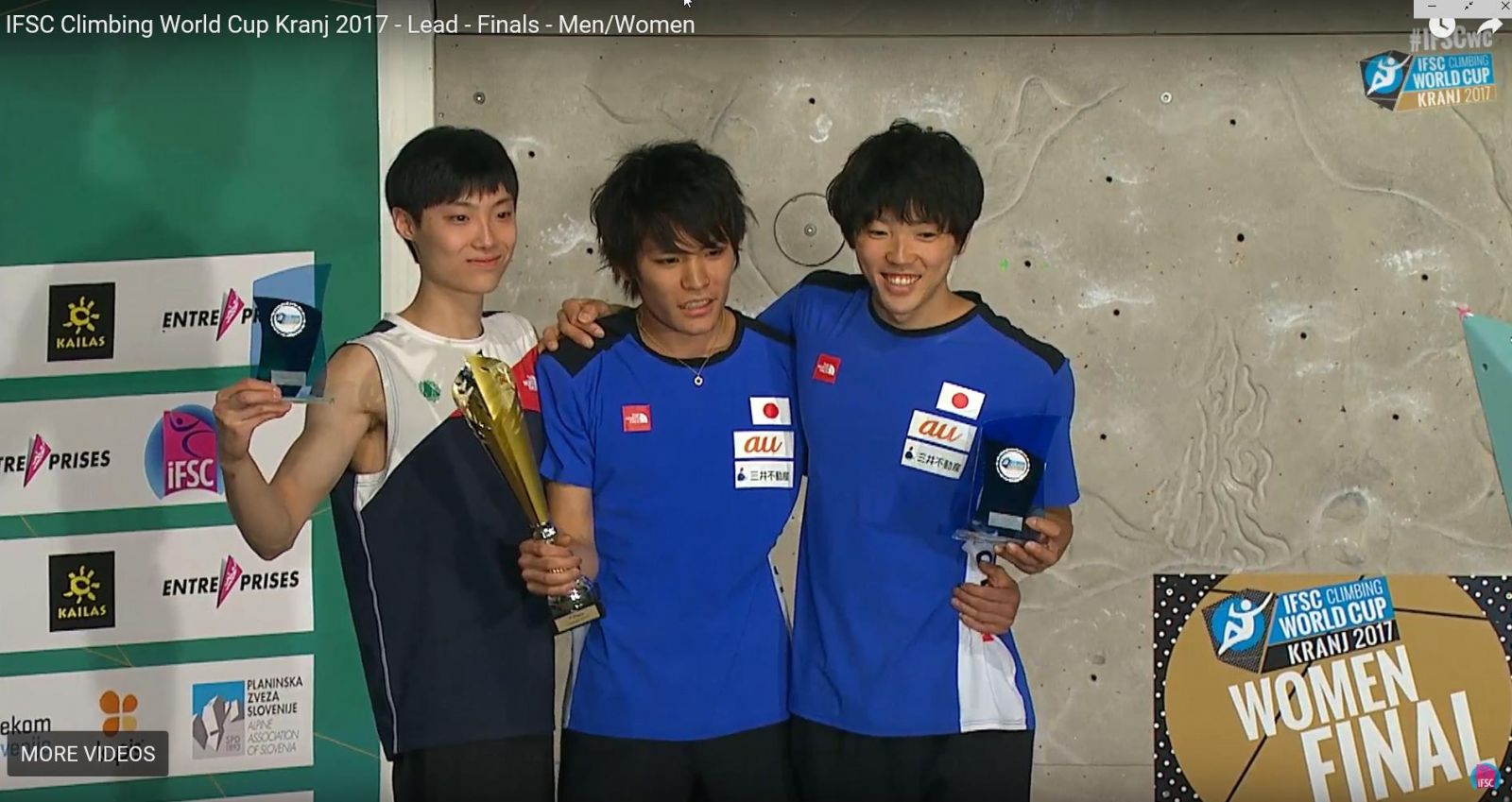 Men's Combined Podium
Watch the Kranj final below..