Kendal Mountain Festival 2018
Tuesday 20th November 2018
20th Nov; 2018
The annual invasion of the south Lakes town by down-wearing outdoor types last Friday signified the start of 'Kendal' – a.k.a. Kendal Mountain Festival 2018.
Friday night at Kendal. Photo Keith Sharples
KMF 2018, was designed and delivered a veritable feast to climbers and mountaineers as well as all those who 'enjoy' the mountain environment. As usual, Kendal comprised not only a literature and a film festival but a photo competition as well as the usual Basecamp trade show-type happenings and a range of other activities such as the annual fell race, a silent disco and a ceilidh. Other sessions over the weekend were run by the BMC which of course included the infamous Sunday Breakfast Club; neither for the faint-hearted nor the hung-over!
Basecamp and the Marmot Stage
The Basecamp area was a great place to hang-out and catch-up with people, meet-and-greet company athletes and the opportunity to talk gear with attending brands' staff.
The morning after: Sunday morning at Basecamp – Liam Lonsdale talking to Carmen Kuntz. Photo Keith Sharples
The Marmot Stage, in the centre of Basecamp, featured interviews and talks with a whole raft of climbers, mountaineers and adventurers talking about their trips, skills, thrills and spills. Liam Lonsdale was back as the man in-charge grilling top-shout climbers including Maddy Cope, Steve McClure and Dave MacLeod as well as big name mountain-players like Thomas Huber, Stephan Siegrist, Julian Zankar and Sir Chris Bonnington. Also included in the Marmot Stage programme were speakers like Carmen Kuntz – a freestyle white-water kayaker - talking about the pitfalls of sport such as living with concussion.
Photo Competition
In its 11th year and presented by Osprey and a range of sponsors, the Photo Competition attracted over 600 entries across the seven categories. Henry Iddon, Arts and Culture Officer at Kendal reported on the competition; "It's always exciting to see where people have been on their adventures, and how they express their experiences through photographs. This year we have had some fantastic entries reflecting a broad range of styles and approaches and we are delighted to celebrate the creativity of some very talented photographers."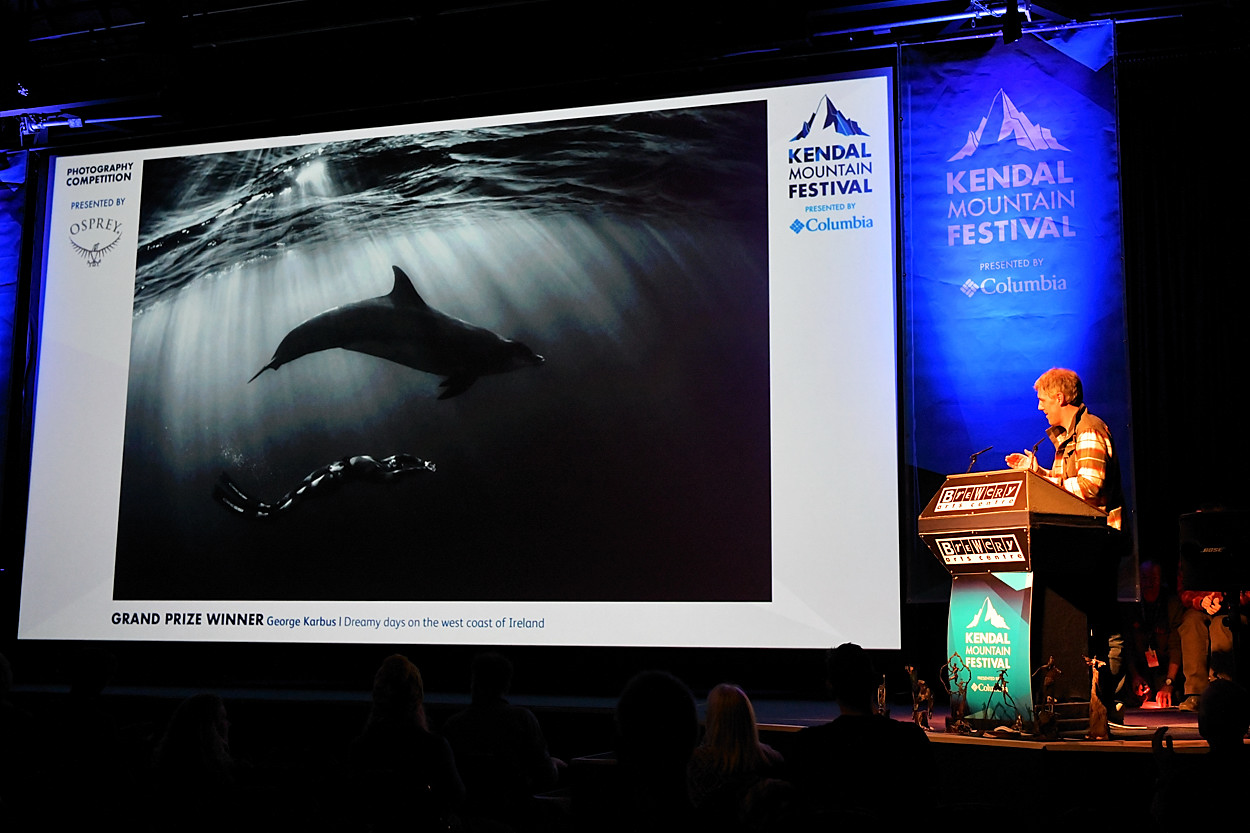 The Overall Winner of the Photo Competition was George Karbus's photo - 'Dreamy Days On The West Coast Of Ireland'. Photo Keith Sharples
Adventure in the Outdoors (Supported by Tribe)
Winner: Hamish Frost 'Greg Boswell and Guy Robertson making the first ascent of Lost Arrow winter variation (x,10) – Church Door Buttress on Bidean Nam Bian, Scotland.
Runner-up: Ben Tibbetts 'Tom Coney On The Taschhorn Dom Traverse, Switzerland
For the Love of Water (Supported By Finisterre)
Winner: George Karbus 'Dreamy Days On The West Coast Of Ireland'
Runner-up: Kevin Meredith 'elle From Brighton Swimming Club
Urban Adventure (Supported By Stance)
Winner: Matthew Robinson 'Walking The Line'
Runner-up: Greg Turner 'Evolution Of The Skater' Barcelona
Your View of The Lake District (Smartphone category supported by Lake District National Park
Winner: Vicky Hart 'First Steps On Sharp Edge' Blencathra, The Lake District
Runner-Up: Lee Gillies 'Two Hikers Climb Steadily Up The Path Alongside Glenridding Beck Toward White Side' The Lake District
Mountain Landscapes (Supported by John Muir Trust)
Winner: Rod Ireland 'The Long Walk' Cairngorms, Scotland
Runner-up: Steve Jacques 'Karst Bagging' Yangshuo, Guangxi, China
Mountain Culture (Supported by Julbo)
Winner: Neil Irwin 'Another Day Of Adventure Awaits' Private Cabin In Scotland
Runner-up: Gregory Cain 'Bivacco Slataper, Welcome Respite' The Sorapiss Circuit - Italian Dolomites
Climb (Youth Category supported University of Cumbria)
Winner: Aaron Sylvester 'Belay Buddy' Vallorcine Sport Crag, Chamonix Valley
Runner Up: Molly Gerrish 'scrambling On Red Screes' The Lake District
Literature Festival
The centre-piece of the Literature Festival, the Boardman-Tasker Award for Mountain Literature, was Friday afternoon's main event. The 2018 Judges Peter Gillman (Chair), Roger Hubank and Kate Moorehead had short-listed seven books from the 38 submitted. The 35th winner of the BT Award went to Limits of the Unknown (published by WW Norton & Sons) by veteran US author and climber David Roberts. Described as "An enthralling examination – part history, part memoir – of the motivations of mountaineers and other explorers" David Roberts beat strong entries from UK writers Nick Bullock and Doug Scott.
Nick Bullock raucously regaling the Saturday night crowd in the Malt Room with stories from his book, Tides. Photo Keith Sharples
Kendal 2018 also saw a number of book launches including No Easy Way by Mick Fowler and Waymaking by a collection of female authors. In addition, a number of other authors – such as Nadir Khan whose new book Extreme Scotland captures the wonders of Scotland - introduced their books to gatherings in the Malt House. Had Kendal 2018 included an award for the funniest, most raucous presentation then that award would surely have gone to Nick Bullock although perhaps the Burgess Twins might have had something to say about as anyone that caught their Sunday talk, Tales from the Alpine Club, will witness.
Film Festival
Arguably the biggest event at Kendal, the film festival, attracted over 497 films covering an enormous diversity across 12 separate categories. The judging panel, chaired by broadcast journalist Keme Nzerem and comprised Vimeo Staff Picks curator Ian Durkin, Kendal Mountain Festival co-founder Brian Hall, award-winning filmmaker Hannah Maia and author and founder of the prestigious Boardman Tasker Award for Mountain Literature Maria Coffey, watched all the short-listed films prior to making their final selections. Jury Chair, Keme Nzerem said: "The 2018 film collection represents the best of the best the adventure and mountain film community has to offer. It was no mean feat watching, discussing and deciding on which of the 90 odd films were worthy of being winners." He added "Advances in technology, of course, mean the technical quality of filmmaking is better than ever. We were blown away by how the winners in the technical categories captured images and sound in difficult circumstances and brought us a fresh new perspective on environments many of us are very familiar with."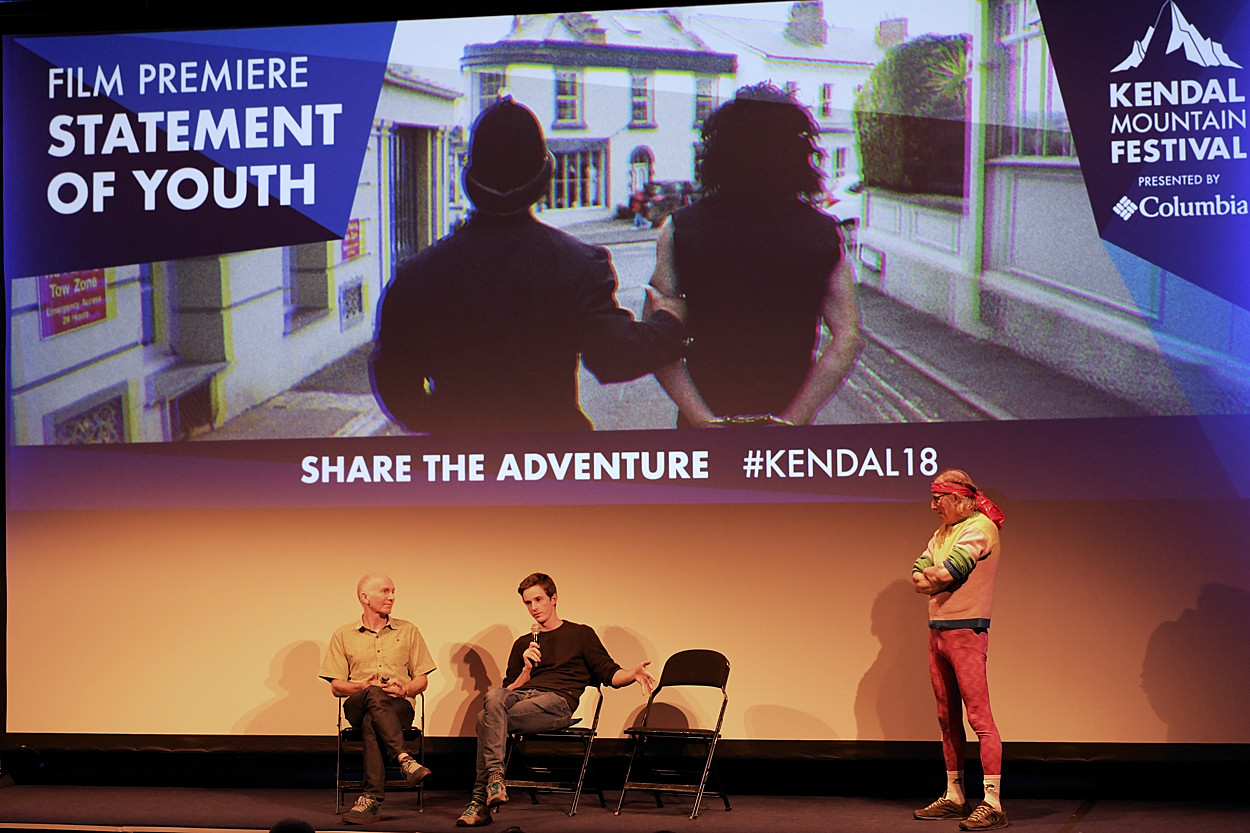 Eighties rock-star, writer, fashion-guru, Graham 'Streaky' Bacon turned his back on his trade-mark white decorators trousers to introduce film-maker Nick Brown and rock-star Chris Gore during the Friday night's Premier of Statement of Youth. Photo Keith Sharples
For those of a certain age, climbing persuasion and postcode Friday night's premier of Statement of Youth by Nick Brown/UKClimbing was an absolute corker! Charting the birth and stunning rise in standards of UK sport climbing in the Eighties; Statement was an evocative film pulling firmly at the heart strings – especially those that were around at the time! Unashamedly centred on two of the most infamous climbing houses of all time on Hunter House Road, Statement majors on how Jerry Moffatt and Ben Moon et al took on the climbing world!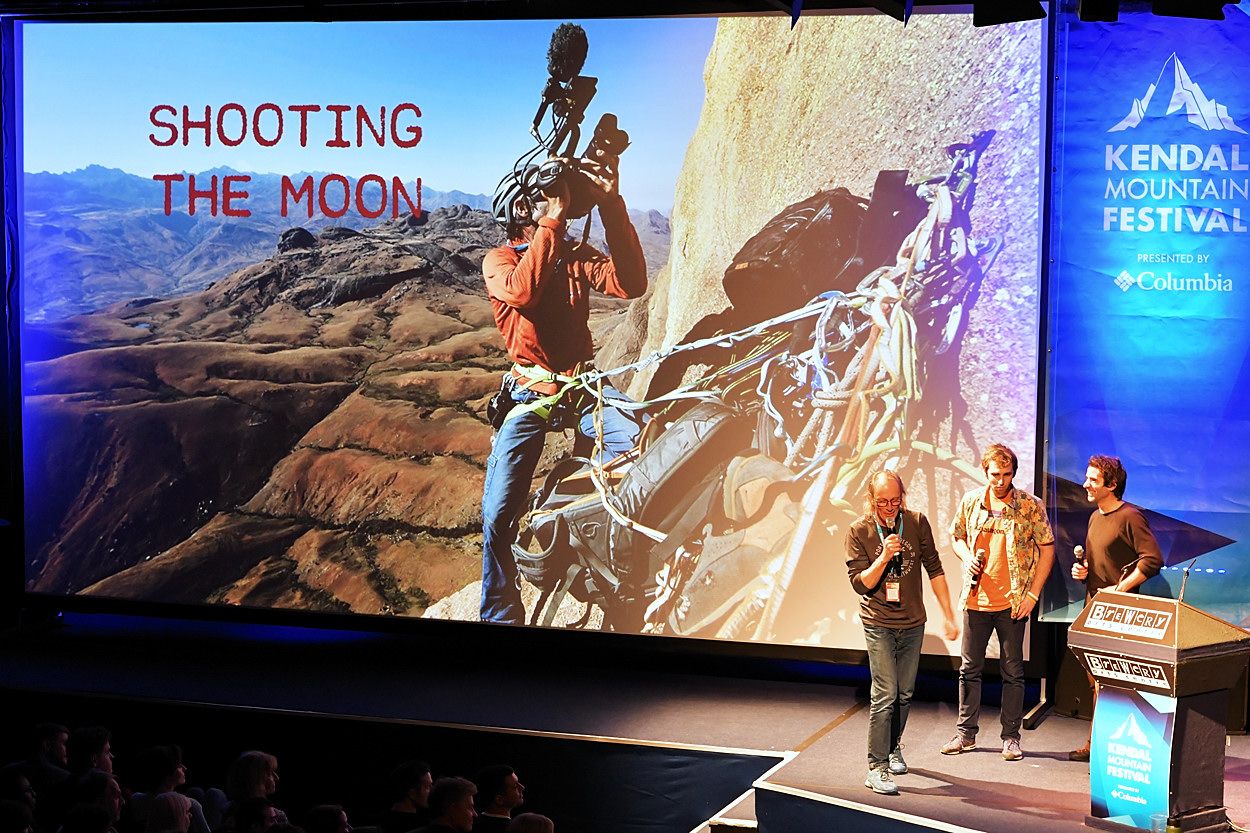 Graham Desroy, Robbie Phillips, and Alastair Lee on stage during the Q&A following the showing of Blood Moon. Photo Keith Sharples
Alastair Lee's film Blood Moon, was a high-octane, head-long look at multi-pitch new routing on the grand scale in the Madagascan outback featuring Robbie Phillips, Calum Cunningham and Alan Carne. Blood Moon shows what can easily go wrong when climbing in small teams in remote destinations. Alastair's one-man filming efforts produced an extremely effective and impressive film albeit one produced in very different circumstances to the Yosemite block-busters that followed. Featuring Dave MacLeod, 24/7 was a fascinating insight into his recent 24 hour dash around Scotland doing grade eight routes. Likewise, Liv Along the Way charting Liv Sansoz's ascent of the 82 alpine giants, was a feast for mountaineers.
So, to the eagerly awaited Yosemite block-buster films of Dawn Wall and Free Solo. Both are absolute epics staged on one of the biggest chunks of rock anywhere, El Capitan. Despite knowing the outcome of both films, the story in each is told with an engagement that is hard to resist. Dawn Wall sharply turns on its heels mid-way through from a hero film about how Tommy Caldwell conquered capture in Kyrgyzstan, the loss of a finger, the break-up of his marriage as well as freeing the Dawn Wall over an eight-year siege into a buddy film when Caldwell puts his own (succeeding) attempt on the Dawn Wall on hold to support his partner in crime, Kevin Jorgeson, as his efforts appears to be running out of time. Few climbing films could surpass Dawn Wall's big-wall drama but Free Solo is definitely one such film that can and does! It's edge-of-seat stuff as world famous soloist and the star of the film Alex Honnold, struggles with the development of his relationship with his new girlfriend and his own out-look on life whilst preparing mind and body for the most audacious solo of all time; Freerider on El Capitan. Free Solo is little short of amazing.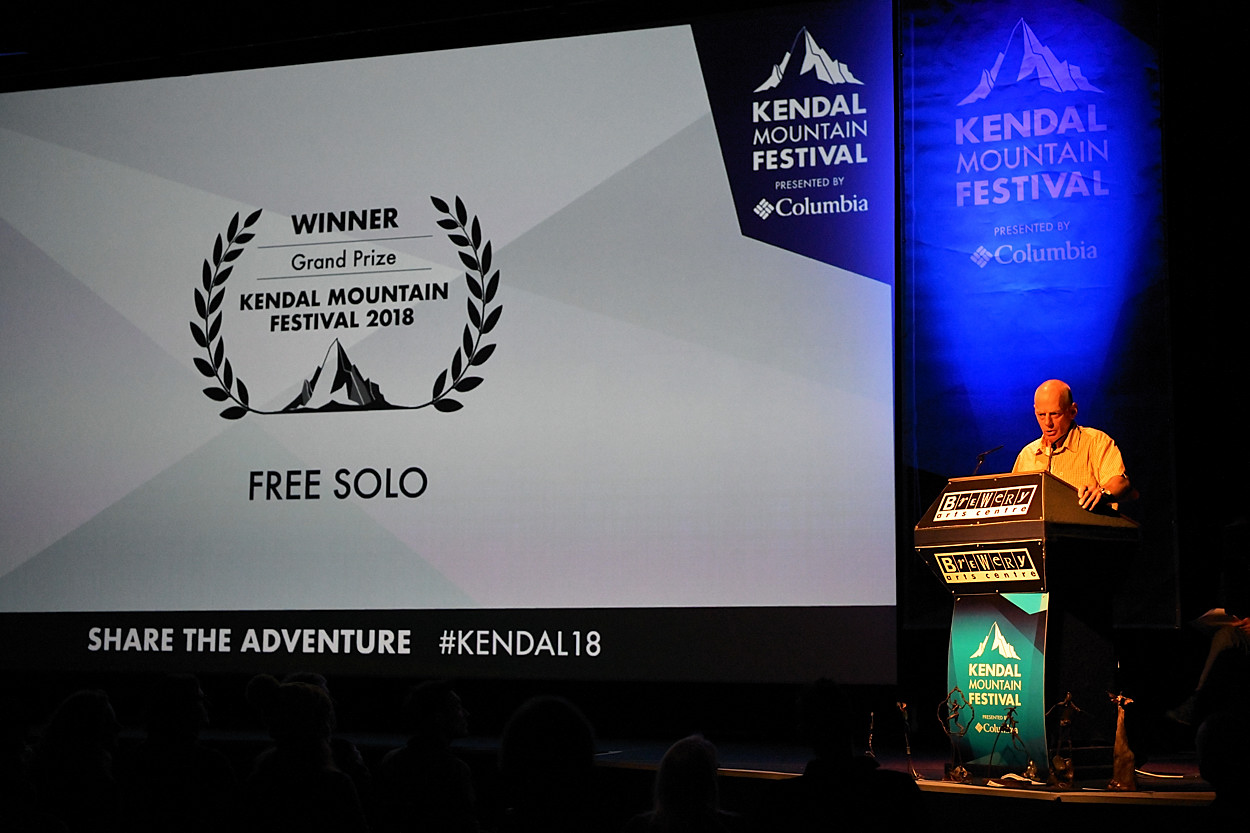 Brian Hall announcing the award of Grand Prize for Free Solo. Photo Keith Sharples
In another year Dawn Wall might have scooped Best Climbing Film and the Grand Prize but as it was it was deserved winner of Best Climbing Film. Free Solo, not understandably, won the Grand Prize.
The full list of award winners at 2018 Kendal Mountain Festival Film follows:
Grand Prize Free Solo
Judges Special Prize Wonderful Losers
Judges Special Prize Chasing Monsters
Best Short Film AMA
Best Environment Film The Island and the Whales
Best Mountaineering Film La Congenialità The Attitude of Gratitude
Best Adventure and Exploration Zabadast
Best Climbing Film Dawn Wall
Best Culture Ascending Afghanistan
Best Adventure Sport Divided
Best Sound Parasol Peak
Best Visual This Mountain Life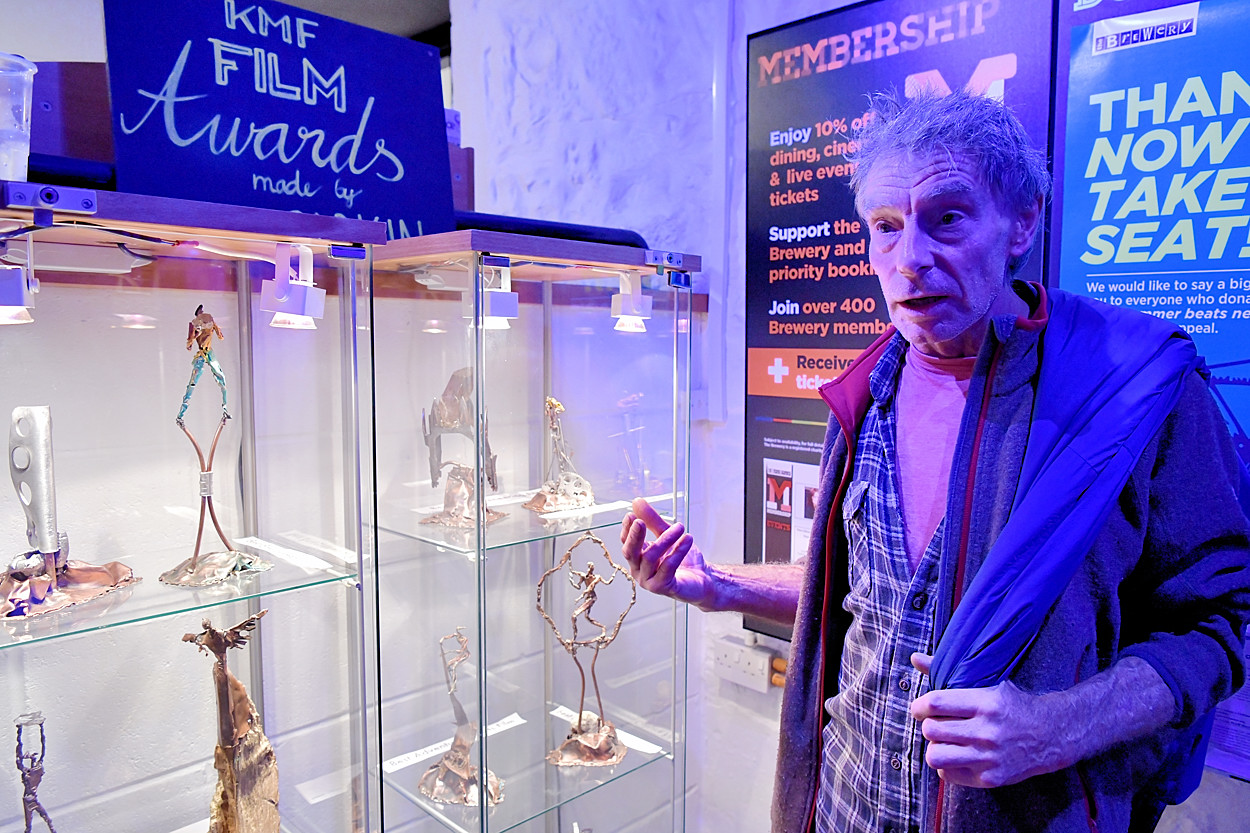 Chamonix-based climber and sculpture Andy Parkin with his 2018 trophies. Photo Keith Sharples
The Award winners are all presented with cash prizes and a trophy sculpted by artist Andy Parkin. As many will know, Andy Parkin himself is both a celebrated climber and artist. His world was severely impacted recently when his Chamonix studio was destroyed in a fire so it was with great relief that CLIMBER heard from Andy at the festival that he's working in temporary accommodation and very much 'back at it!". Andy told us that this year's awards had taken him five months to complete; and a stunning collection they were as well from the ex-Sheffield climber!