Kendal Mountain Festival 2016
Wednesday 23rd November 2016
Nov 23rd; 2016
As usual in mid-November, Kendal was once again invaded by hundreds of duvet and beanie-wearing festival-going folks flocking into town to feast on films, talks and gear exhibitions as well as photo, art and literature events and social gatherings.
Following a day of early-bird showings the festival kicked-off proper on Friday with an afternoon session related to the prestigious Boardman Tasker Award for Mountain Literature – an award which commemorating Pete Boardman and Joe Tasker who were lost on the North East Ridge of Everest in 1982.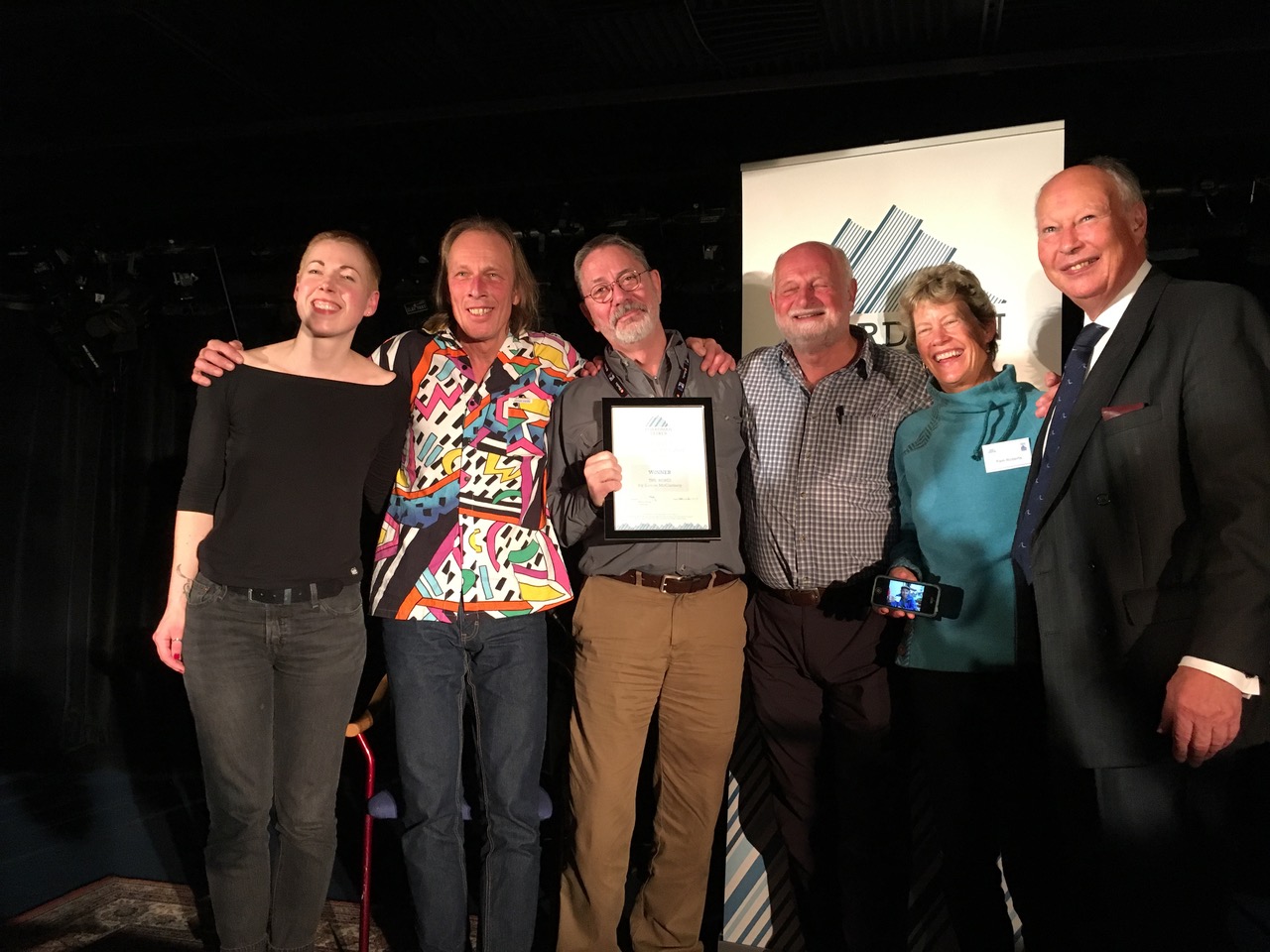 Simon McCartney – author of The Bond – collecting the BT Award for 2016. Photo KMF/Vertebrate Publishing
The award this year – the 33rd occasion that it's been presented – was won by British alpinist Simon McCartney, whose book 'The Bond' details the story of two legendary climbs in Alaska.
Alastair Lee's latest film Blocheads won both Best Climbing movie and the People's Choice. Photo Keith Sharples
Friday night gave film goers two world premieres; Mirror Wall, which documented Leo Houlding leading a team of five on the first ascent on the massive Mirror Wall in remote Greenland and Blocheads, an action-packed jaunt from Posing Production's Alastair Lee through UK bouldering both past and present.
Pasang Lhamu and Heather Geluk in full flow at the Sherpa Session. Photo Keith Sharples
Saturday was without a doubt an all-action day with literally stacks going on all the time – it was simply impossible to see everything. Kicking off the day at the Sherpa Session there was an wonderful opportunity to listen to adventurer and mountaineer Heather Geluk as she introduced the remarkable Pasang Lhamu Sherpa. The first ever Nepalese female mountain guide, Pasang has summited Everest, Ama Dablam and K2 as well as making immense personal contribution to the humanitarian effort following the devastating 2015 earthquake. She was National Geographic Adventurer of the Year in 2016.
Tim Emmett demonstrating Black Diamond's ski air-pack. Photo Keith Sharples
The mountaineering theme continued Saturday morning with the Black Diamond Alpine Session featuring New Zealand climber Mayan Smith-Gobat and the UK's own dynamo, Tim Emmett. A session by British Mountain Guides drilled down into a number of essential 'must-have' skills including glacier rope work. Runners gathered late morning to blow off the cobwebs in the 10k race round the streets of Kendal and beyond.
The White Knights of the Dart Art of Scottish Winter Climbing gathered together. Photo Keith Sharples
Saturday afternoon was a real treat for anyone keen to hear about the latest exploits of Sir Chris Bonnington, Germany's rock-climbing superstar Alex Megos or the celebrated WideBoyz Pete Whittaker. Also, Scottish climbing fans were suitable regaled by Nick Bullock has he hosted a session with Andy Nesbit, Guy Robertson, Mick Fowler and Greg Boswell on the whitest of dark arts – that of climbing north of the border in the winter.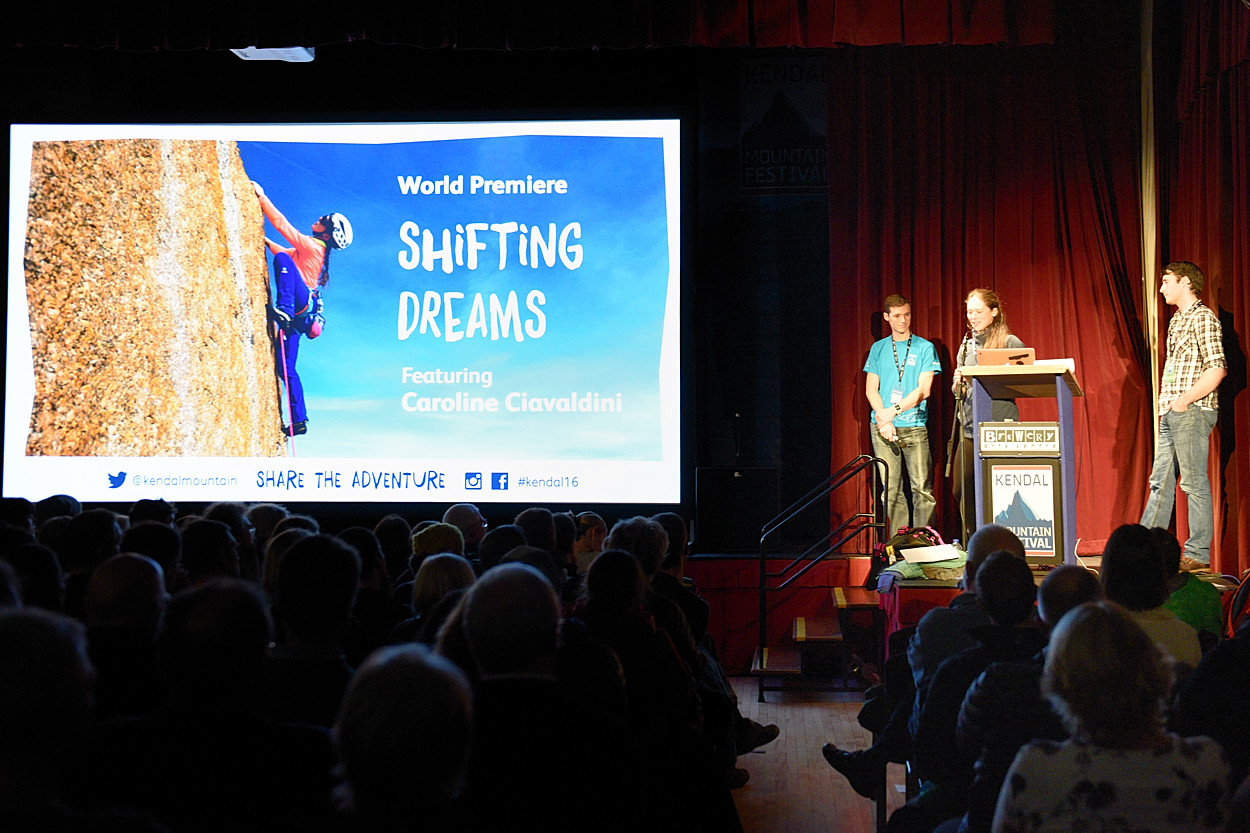 Shifting Dreams – featuring Caroline Ciavaldini – was very well received by many. Photo Keith Sharples
Climbing and adventure fans were suitable enthralled on Saturday evening firstly by the premier of Shifting Dreams, a Dark Sky Media production from Chris Prescott which followed Caroline Ciavaldini's journey from competition climber to the Voie Petit on Grand Capucin, Mont Blanc du Tacul - the hardest high altitude rock climb in the Alps. Caroline's story as she tackles the 450m multi-pitch route is both captivating and inspiring in equal measure. The film is a simple narrative and is told in an unencumbered manner – many there thought it was a cracking effort all-round especially given the extremely complex logistics of filming on the high altitude monolith.
US adventurer Cedar Wright winding-up to full bore at the start of his 'seven hour' show. Photo Keith Sharples
Immediately following Shifting Dreams was the climber-cum-filmmaker-cum-entertainer from the USA that is Cedar Wright. Shy and retiring is not a suitable description for Cedar Wright, a person who not only likes to suffer but fly and film and climb his way around the globe. A head-to-head with Niall Grimes and Cedar Wright would be one show worth getting tickets for!!
Saturday night also saw the presentation of film awards – the winners are listed below:
The results are as follows:
Grand Prize - The Accord, RC Cone
Judges Special Prize - Run Forever, Nick Brown
Best Short Film - King of the Mountain
Best Environment Film - Samuel in the Clouds
Best Mountaineering Film - Jurek
Best Adventure & Exploration Film - A Skiers Journey - Iran - Jordan Manley
Best Climbing Film – Blocheads, Alastair Lee
Best Culture - Drawing the Tiger, Amy Benson
Best Adventure Sport - Tom Seipp- A Mountain Journal, Dom Bush
Best Sound - The Place, Paul Diffley
Best Visual – Johanna, Ian Derry
By Sunday morning the rain had finally stopped and anyone sans headache headed for the early-bird session hosted by the irrepressible Niall Grimes who had escaped BMC Tower for the weekend. Those joining Niall were treated to three short films; Hard Rock, a tribute to writer and publisher Ken Wilson, Shauna Goes Crack Climbing, in which Pete Whittaker takes Shauna Coxsey through her crack climbing paces and Bothy Project, an art-cum-social project.
Sunday afternoon saw Mick Fowler take to the stage again to talk about his 2015 first ascent on Grave Ding after which Nick Bullock and Greg Boswell dished-up useful tips on bear-wrestling as well as mountaineering in the Canadian Rockies.
Another specialist session saw Rob Greenwood hosting the Petzl Rock Session with husband and wife duo Jorg Verhoeven and Katha Saurwein and Scottish climber Robbie Phillips who topped his incredible year last year with yet another incredible series of ascents in the Valley this year which included a 3-day ascent of Pre Muir Wall – his third and hardest route on El Cap. Finally, that session ended with a pre-recorded interview with one of the 80's and early 90's most wild climbing characters, Andy Pollitt.
Pete Whittaker – WideBoyz and master of understatement – proving that less is sometimes more to Liam Lonsdale, Claire Carter and Cedar Wright. Photo Keith Sharples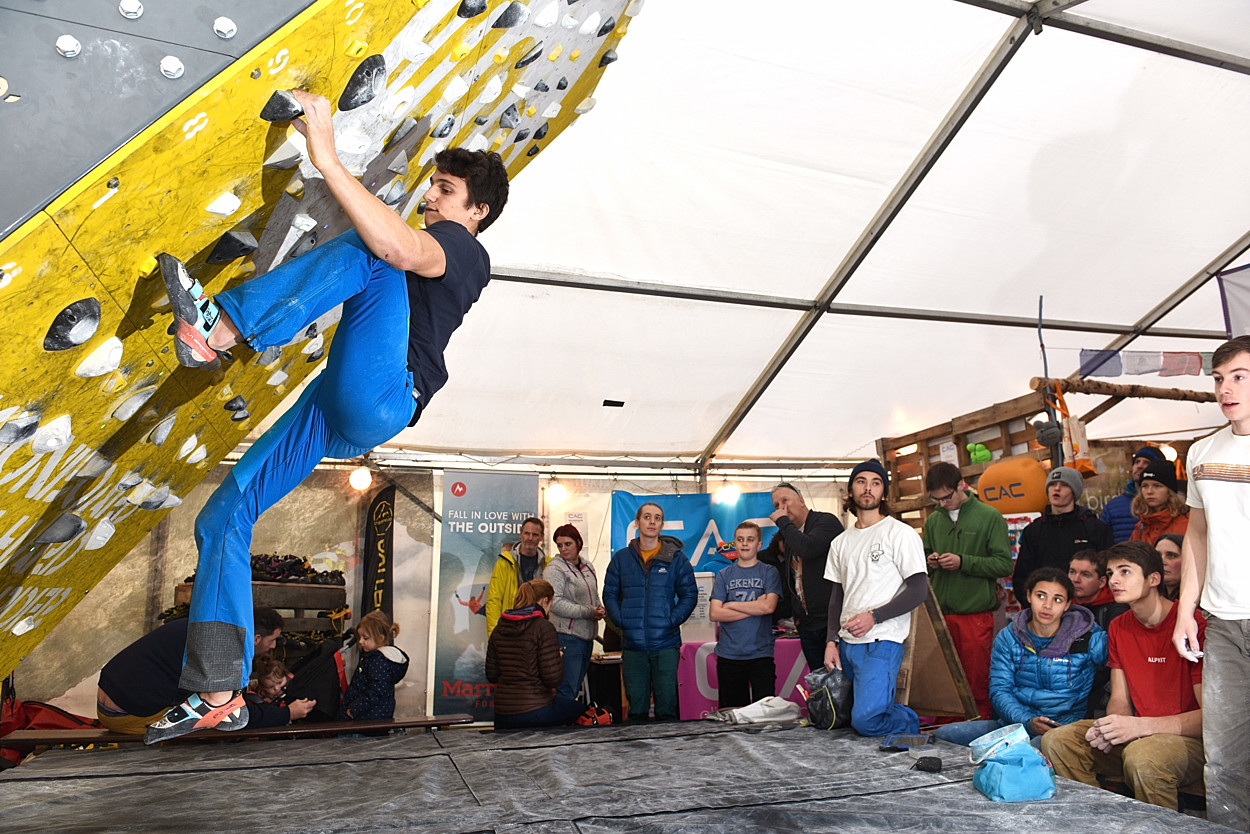 The MoonBoard was a massively popular addition to the line-up at Kendal. Masterclasses by Neil Gresham and featuring demos by numerous hot-shots as well as locals such as Aidan Roberts. Photo Keith Sharples
Numerous other events ran during the weekend including Liam Lonsdale's entertaining Basecamp sessions as well as training masterclasses from Neil Gresham which featuring leading rock stars such as Ben Moon, Steve McClure and the aforementioned Alex Megos.
One of the happy 'customers' showing grateful appreciation of Patagonia's 'If it's broke fix it' facility. Photo Keith Sharples
Patagonia were also at Kendal with their 'If it's broke fix it' travelling road show at which anyone can take any item of clothing along and the amazing seamstresses will fix it free-of-charge. This is a fantastic example of a premier brand within the climbing community doing their bit towards the environment by repairing damaged kit for the good of all. Numerous garments were restored to A1 condition over the weekend and lots of happy smiling faces were seen leaving the Patagonia space. Top effort Patagonia.
All in all, it was a thoroughly excellent – totally hectic – weekend.