Keith Sharples remembers Dave Gregory, veteran climber and writer
Monday 11th February 2019
Feb 11th; 2019
As previously reported Dave Gregory, the well-known Sheffield veteran climber, guidebook and short story writer and former BMC Guidebook Series Editor and Committee Chair, passed away in January. Yesterday, family and friends gathered at the Peak Edge Hotel, Stan Edge on the outskirts of the Chesterfield to celebrate a long, fruitful and giving life. It was a momentous gathering and, like Dave's own life, full of twists and turns, wonderful stories and a few surprises. Keith Sharples, who served alongside Dave on the BMC Guidebook Committee for nearly two decades, remembers the man known by many as Dave Greg…
Dave Gregory – in BMC guidebook mode
Born in 1934 in the Hunter's Bar area of Sheffield, Dave and his family then moved to live just north of the city in a house his father built in a 13-acre wood outside Grenoside called Harrison Spring. It had no mains electricity or water and relied on a diesel generator and stream water. Dave was educated at King Edwards VII School in Sheffield and subsequently moved but a mile or so up the road to complete his higher education at Sheffield University. Following his time at University Dave was appointed to teach Physics at Lady Manners School, Bakewell. Clearly delighted with this, his first post, Dave stayed there all his working life ultimately retiring as Director of Science. Like a great many since him, Dave found the lure of the Eastern Edges and the convenience of living in Sheffield too powerful a calling to ignore.
Writing much later in his life, Dave records that he "caught the climbing bug, as a schoolboy, during the October half-term in 1949". He continued to climb for another 65 years, finally hanging his boots up when he hit 80! In the meanwhile, he climbed not only in the Sheffield area but widely in Europe in France, Austria, Spain, Italy and Greece as well as the USA.
University gave Dave the opportunity not only to plunge deep into the pleasures of the world of climbing but also to build lasting bonds with others. Climbing with Sheffield University friends Dave was to make a number of first ascents on the Eastern Edges, such as Still Orange (Burbage North), whilst cutting his teeth. Later, whilst climbing with his Peak Climbing Club friends, Dave helped develop Lawrencefield; Limpopo Groove in particular bearing his name. During this period Dave also played rugby for not only the University but also for Sheffield Tigers. More however, of this later.
In 1959 Dave and a University friend, Jack Soper, travelled to Chamonix for their summer season. On one occasion however, the pair found themselves sheltering - as is often the case - from bad weather. The bad weather in this case inflicted nostalgia on the team for the cliffs back home. Jack subsequently describes the scene eloquently for readers in The Black Cliff; 'I was with Dave Gregory, a stocky, unflappable demolisher of gritstone cracks. We were in Shepherd's Hut Montenvers when he said, half seriously "Cloggy will be dry".'
Three days later Dave and Jack were roping up for action at the bottom of the famous cliff. They kicked-off their spree with Sheaf, the last of the older routes which they hadn't done. 'After that it had to be a Rock and Ice climb' wrote Soper. An ascent of The Corner followed and subsequently they did both Left Edge and East Gully Groove. Soper wrote of their thoughts having broken into the Rock and Ice routes; 'We rapidly realised that a fierce appearance meant nothing if there were holds and runners.' Emboldened, they continued their climbing repeating Llithrig before moving to the Cromlech to repeat Cenotaph Corner. Gregory and Soper had crossed the Rubicon as Soper again explained; 'The psychological barrier was very real in those days: now we realised quite clearly that we had crossed it. We knew that we had a fighting chance on any of the new "extremes".' Subsequently they returned to climb White Slab. It subsequently turned out that they made the fifth ascent of White Slab. As relative unknowns it signalled the opening of the flood gates; 'Before long the number of ascents had doubled. The myth of extreme difficulty and danger died with our ascent' concluded Soper.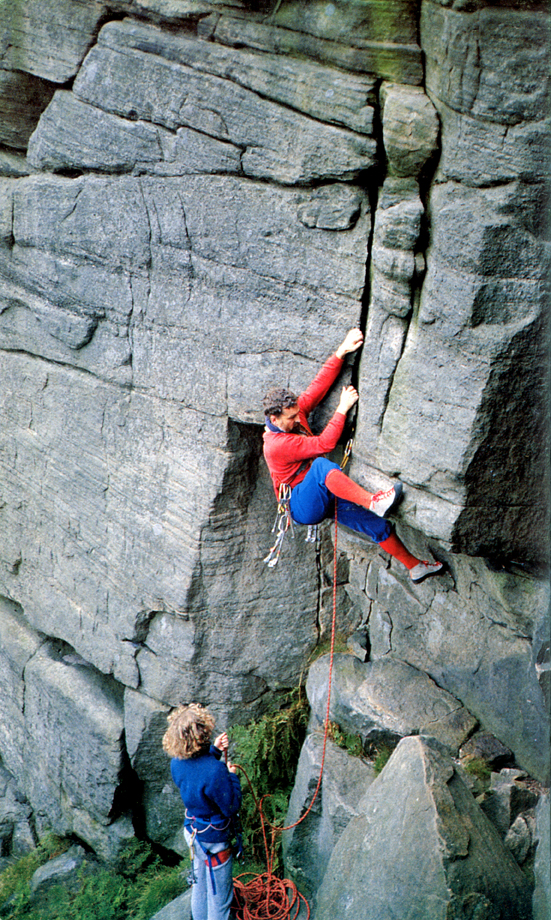 Dave climbing Amazon Crack, Stanage. Photo Bill Gregory
Whilst Soper was to continue his Welsh dreams climbing with others, Dave returned to his beloved Eastern grit and a new chapter in his life - guidebook work. By 1963 Dave became the secretary of the BMC Peak Area Committee, a role he retained until 1972. During that time Dave also became inextricably linked with Peak District guidebook writing; by 1969 he had, for example, contributed work to the Northern Limestone Guide then published by the Climbers' Club. By 1974 he became the Peak Guidebook Series Editor, a role he continued with until 1980 when he handed over to Geoff Milburn.
A perfect example of Dave's commitment to the quality of the guidebooks he loved came about in 1977 when an incident drew an insight into his character into the public domain. Peak District climbing developments were at their zenith and Dave, as then Series Editor, believed that the recording of activities needed new blood. Steve Bancroft from the new vanguard was therefore cajoled and pressed into service by Dave. However, with Steve there came not only an appetite for new routes but a voracious liking for stiff grades for those routes. Having introduced Steve Bancroft into the process Dave was clearly uneasy about the grades being given to the new routes, so much so in fact he was pressed to include a warning to the effect in the Bancroft-written, Recent Developments supplement of 1977; 'In the meantime, climbers are warned that they may find many pitches in this guide are undergraded in relation to existing grading systems.'
Dave's commitment to the Peak guides remained as strong as ever. Having handed over the Series Editor's job to Geoff Milburn Dave continued as a field worker checking routes and preparing scripts Dave and then became Vice Chairman of the BMC 'Guidebook Executive'. At that time the Guidebook Executive was a sub-committee of the BMC's Peak Area Committee. Dave assisted Ian Smith as the then Chair with running the Committee. However, Dave's role and contribution to the Peak Guides was soon to increase once more.
The world of Peak District climbing and guides continued to evolve. Not only were new routes being added all the time which need recording but both the way in which the guides were produced and the look of the guides themselves were also changing. At the same time the very structure of the 'guidebook committee' was also changing. Ian Smith, as Chair of the aforementioned Guidebook Executive, successfully steered these changes through the complex politics of the BMC such that the new BMC Guidebook Committee, a fully-fledged BMC Committee in its own rights, was formed. Once the reorganisation had been successfully completed Ian decided to step down as Chair. Ian recalls handing over the reins to Dave: "I could not have been happier that Dave agreed to become the first Chair of the new committee. Dave was a man of complete integrity and had a wealth of experience of Peak climbing and guidebooks and I could not have handed over to better hands."
With Dave in the Chair the newly formed BMC Guidebook Committee went through a remarkable period publishing not only the increasingly modern guides of the Fifth Series but the wonderful select guide that was On Peak Rock which was published in 1993. Dave's tenure continued until 1996 when things changed again. In total, and in different guises, Dave's stint working on Peak guidebooks had spanned all but 30 years; a truly remarkable period during which he'd been at the very heart of the voluntary effort which produced some of the very best guidebooks in the country. Dave's gargantuan efforts were recognised when he was made an honorary member of the BMC.
Dave's contribution to the Peak District guidebooks simply cannot be over stated; the guides of today were born back during Dave's time! Dave was always a friend, a mentor and a conciliator to others on the Committee; there was seldom anyone with such a calmer, more level-headed approach than Dave.
Dave in Yosemite Valley on one of his many USA Trips
As well has being a member of the Peak Climbing Club, Dave became a member of the Climbers' Club – somewhat belatedly it appears - in 1979. As well as his teaching job, his family and his guidebook work and his writing, Dave continued to climb. Then came early retirement, aged just 55. His maturing family and reducing guidebook work meant that he had more time for personal climbing. He had always travelled widely in Europe but the USA came onto his radar and it became a firm favourite and he visited many times. Dave's son Bill, commented on what he suspected was his Dad's favourite climbing locale; "It's heresy to say so but I'd hazard a guess that Yosemite was his favourite climbing area." Certainly, he enjoyed spending time over there with many old friends as well as US legends such as Alan Steck and Steve Roper.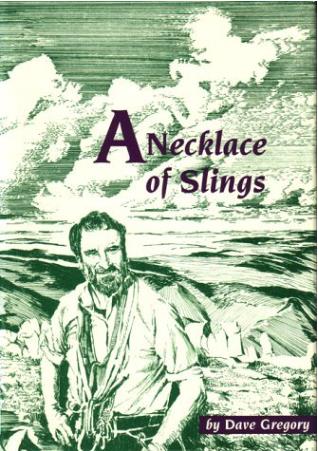 A Necklace of Slings – Dave's book of fact and fiction short stories
In addition to countless texts for the Peak guidebooks Dave was also a fond fiction writer. By 1996 he brought together and had published in collection of short stories in A Necklace of Slings.
Dave's 65th birthday was an interesting one; "not your typical 65th birthday for sure" as Bill, then aged 30, recalls. Climbing together, as they often did, Bill and Dave did Point Five Gully on The Ben. It was Bill's second shot at the famous gully, an earlier one having been aborted in the face of avalanches from high above the technically difficult crucial pitches. Pitching the upper section to minimise any possibility of avalanche danger they finally emerged long after darkness onto the plateau in the eye of a storm. Cautiously navigating to find the decent, Bill and Dave finally made it down to the hut in the small hours. As Bill said, not your typical 65th birthday but then again, Dave was never going to wear that mantle!
In 2001, and then aged 67, Dave was involved in a life-changing accident whilst climbing at the Roaches with one of his long-standing partners, Chris Craggs. Dave fell whilst leading the unprotected Central Route (VS 4a) on the Upper Tier. Dave was airlifted to hospital where he was treated for his injuries which could only be described as extremely severe! Typically, Dave had excelled at that too breaking a number of ribs, cracking various vertebrae in addition to breaking a shoulder blade, giving himself a minor skull fracture, concussion, bruised lungs and a bunch of minor cuts and bumps! Dave's injuries earned him a spell in intensive care before he was finally released and could set about a lengthy R&R campaign to get back to fitness. Bill explained the impact of the accident had on his Dad; "He led a lot less after his accident. It aged him ten years but he fought back from the edge by doing loads of physio including walking up Win Hill with a sack of gear to rehab his leg. He managed to get another 12 years of climbing in before hanging up his boots at 80."
Although Dave had stopped climbing he continued to enjoy his beloved Peak District and follow climbing developments. Bill again describing his Dad's thinking; "I think Dad was very impressed by the modern hard routes but had little time for sport climbing. He seemed more interested in travel."
David Molyneux delivering the Eulogy at the celebration of Dave's life. Photo Keith Sharples
Dave's was a life well-lived; fruitful, mindful of others and above all supportive and tolerant. It was no surprise then that at the celebration of Dave's life that stories about Dave were heard from all of those speaking that illustrated Dave's many admirable qualities and personality traits. His love and deep knowledge of literature, his understanding of the sciences, his dedication to the completion of the Guardian crossword – and then his helpful hints to other family members, his ability to answer countless quiz questions across a board range of subjects and his continued enthusiasm for European foreign languages were all evidenced to and appreciated by those gathered to celebrate Dave's life.
Dave was hugely fond of mantras too it seems. Whilst playing rugby for the Sheffield Tigers David, then aged 20/21, used to take Noel - his younger brother – along as well. Dave explained his version of the rules of the game for Noel's benefit:
Rule #1: See the ball, get the ball
Rule #2: If you've got the ball – keep the ball
Rule #3: If you've not got the ball – go get the ball…
Not only is it a simple summary of rugby but it seems reasonable fit for purpose – when suitable adapted – for life.
Dave will be deeply missed by many: Mary his wife, his son Bill and daughter Julia as well as his grandchildren and all his climbing partners from around the globe. Dave excelled at many things although climbing was his main indulgence. Dave's legacy is well remembered, as it always will be by those that he touched along his way. Rest up Dave - you did great.