Katherine Choong repeats Jungfrau Marathon
Oct 21st; 2019
Katherine Choong has just redpointed her second F9a, Jungfrau Marathon at Gimmelwald.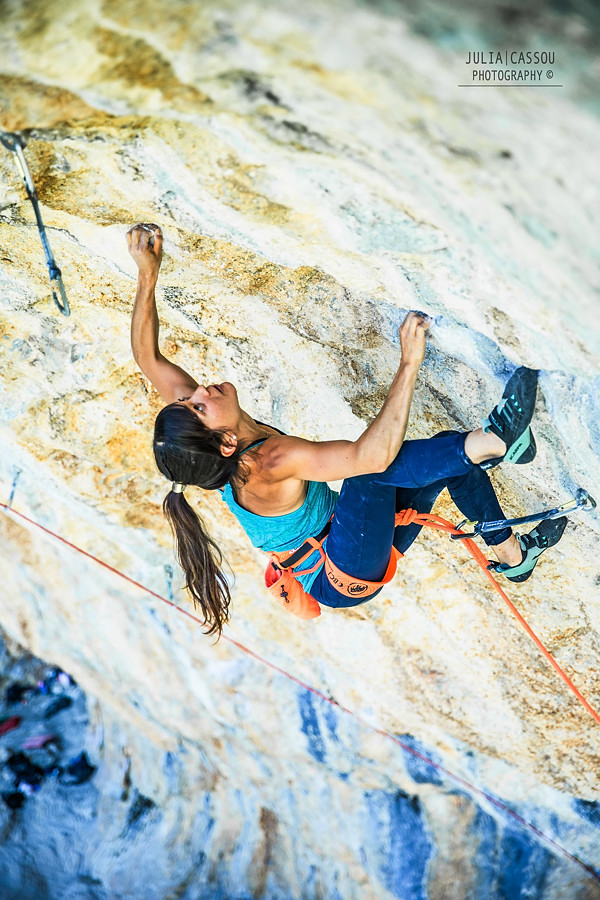 Katherine Choong on Jungfrau Marathon.Photo Julia Cassou
Katherine's first F9a was Cabane Au Canada at Au Rawyl, Switzerland which she did back in August 2018. Since then Katherine has divided her time across a number of different climbing activities and styles doing World Cup lead competitions as well as projecting more hard routes, quick repeats of single pitch routes and doing some multi-pitch climbs. Following her success on Cabane Au Canada Katherine had a very successful trip to Flatanger where she did a quick ascent of Nordic Plumber (F8c) in the Hanshallaren Cave. Mixed in with World Cup Lead competitions Katherine has been projecting a number of other hard routes such as Jungfrau Marathon and Era Vella but has also found time to on-sight Deep Blue Sea (F6b+, 6b, 7a, 7b+, 7a+, 7a+, 7a, 7b+, 4c) on the Eiger as well as redpoint all the pitches (not in a day though) on Tarrago (F6b, 6b+, 8b, 8a, 8b+, 8a) at Montserrat.
Following her latest success, Climber has been in touch with Katherine for details about her redpoint on Jungfrau Marathon…
Firstly, we asked Katherine to tell us a little about Jungfrau Marathon; how long it is, what style it is and how she originally came to try it.
Jungfrau Marathon is a 9a located in Gimmelwald in the sumptuous setting of the Bernese Alps in Switzerland. After having done my first 9a in Valais in 2018, I absolutely wanted to repeat the performance. It's a personal challenge, to go a little further out of my comfort zone and try a route that is not in my preferred style and that had not yet been made by a woman.
Gimmelwald is a magical place. Surrounded by snow-covered mountains in a peaceful valley where, apart from a few cow bellows or the screams of a few climbers falling down under the relay, it is an extremely peaceful place. A waterfall flows a few meters above our heads, it's definitely my favourite place. It's therefore quite naturally that I chose this place to invest time and energy in a new project.
The route is relatively short (about twenty metres), overhanging (35/45 degrees), with hard movements on bad holds. The crux consists in holding a bad shoulder to go far for a pinch. Since last year, I have been falling into this movement that consists for dwarves like me in a very dynamic movement that I could not succeed in the redpoint attempt.
And how has it been working Jungfrau Marathon?
I started last year in October. I quickly found my beta and I was already falling into the dynamic movement of the crux. I was very close to clipping the chains in November 2018 but the snow forced me to stop. The bad weather in the spring did not let me go back until early June 2019. It's not a good excuses but it was really hard for me with the extreme heat of summer. In parallel, I started the world cups at the beginning of July, which didn't go well. I arrived at the end of the summer and finally I had not progressed at all in my project on the cliff, on the contrary, and at the end of the first part of the disastrous competition season. I was stubborn in my method in the crux of Jungfrau Marathon and I was really beginning to have doubts about my ability to clip the chains one day. No remarkable ascent this year outdoor, no very good results in comps, it became very difficult mentally to keep the motivation and confidence in me and it was clearly felt in my attempts in the route. Last week, not even able to reach the crux, a friend finally suggested that I should try the guys' method, which involves putting my foot further sideways. 100% sure that I had tried this method the year before and that it didn't suit me, I still try the beta and I finally could do the movement almost statically, a relief for me! Then something clicked in my mind and I was again motivated and confident. The next session the route was ticked at the 1st try of the day! I really feel a little stupid for persisting with my method, convinced that the guys' method was too morpho for me.
It was a memorable day, surrounded by many friends who encouraged me, sharing this moment with them made it even more special. When I clipped the chains, it was first of all an explosion of joy. The joy of having once again exceeded my limits physically but above all mentally. All the effort, the time invested, the sweat, the frustration finally made sense.
You've had a pretty full-on year; a return trip to Margalef, some World Cup Lead competitions, the Verdon, then the Eiger for Deep Blue Sea, then Montserrat for Tarrago as well as a number of trips to Gimmelwald for your project. What's been the highlight for you?
From the beginning of the year until the end of June, I worked a lot to save money and had little time to climb. So I was really psyched for climbing and had many projects in my head. I like climbing for its diversity, whether it is competition, extreme routes, multi-pitch routes, I can't stop at just one discipline.
I know that this is not physically the best way to perform in competition but I need it for motivation and self-confidence. Clearly, the red point of Jungfrau Marathon will be the highlight of the year. But this summer I was able to do a little more multi-pitch routes and I discovered yet another dimension of climbing that I find less present in sport climbing. The climbing is not only about you but it is really an adventure for two where the performance for me really depends on the connection, collaboration you can make with your partner. And I loved it! My first trip to the Eiger, even if the route was not very difficult, was a beautiful experience for me.
You returned to Margalef again earlier this year and spend some time again on Era Vella after which you posted '…close again but the route remains unfinished. Always a bit frustrating but my mindset towards failure has changed and makes me see the positive sides'. Clearly pushing on hard on Jungfrau Marathon you managed to get the job done and that's a great way to have finished the season and go forward with plans for 2020?
When you have several projects and none of them finished, it's very difficult in the head to keep trust. Doubts devour your mind and you no longer give the best of yourself. So yes, the Jungfrau Marathon redpoint really motivated me. I have some ideas for projects for next year and I will probably return to Margalef one day or another to finish Era Vella.
In the immediate future, I am going to Lebanon for a week with Mathilde Becerra. The objective for once is not only cantered on me and the performance. I will join the ClimbAid association in order to share some of my experience, coaching children and young adults living in refugee camps. Then I would like to try to send the multi-pitch Tarrago 8b+ in Monserrat (I was there in August for 4 days, climbed every pitch but not in a single day). Then certainly I will start a new hard route project again but nothing has yet been decided.
Follow Katherine here on her Instagram page here.