Karin Magog and Steve Crowe redpoint Mundo Felix (F8b+)
Sunday 10th December 2017
Dec 11th; 2017
Karin Magog and Steve Crowe have both recently redpointed Mundo Felix (F8b+) at Villanueva del Rosario.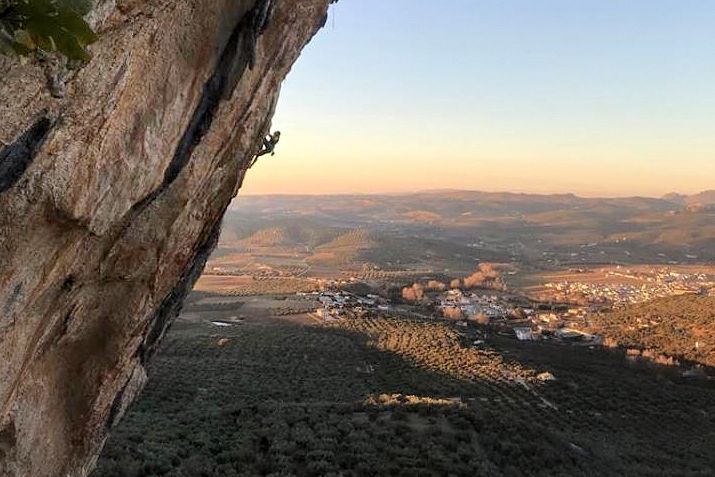 Mundo Felix (F8b+) at Villanueva del Rosario. Photo: Steve Crowe
The well-known, northeast-based climbing duo have been cranking their individual grade up over recent years. Both have previously climbed F8b but Karin and Steve have been searching for that elusive F8b+. In early October they rocked up to Villanueva del Rosario and started working through the routes. Those with an ear close to the ground will know that there have been a number of repeats of Chilam Balam over the last few years but Villanueva also hit the news recently when La Planta de Shiva (F9b) was repeated by Angela Eiter - click here for that report.
Having been in touch with them, Steve and Karin are emphatic that the story here is their 'team-ascent'. We won't argue with that but the angle that impressed us was that Mundo Felix at F8b+ represents a life-time best for both Steve and Karin. Aged 60, Steve's ascent of Mundo Felix is the hardest route ever redpointed by a British climber at that age. Karin's ascent also takes her into the limited group of British female climbers to have climbed F8b+ (or harder) joining Lucy Creamer, Hazel Findlay, Mina Leslie-Wujastyk, Emma Twyford, Katy Whittaker, Lucy Mitchell, Tanya Meredith, Maddy Cope, Gill Peet and Molly Thompson-Smith.
Steve Crowe on Mundo Felix. Photo: Pablo Lioveras
Keen for the low-down, CLIMBER fired some questions at Steve for more details of their ascent…
Can we have some route details please – how long is it for starters, what is the style of the climbing and what is the crux like?
Mundo Feliz is a 50m long route, following a continuously overhanging arete. It is predominantly tufa and starts as a 25m long 7c+/8a with two distinct crux sections split by a good rest. The extension continues with a 5m long crimpy boulder problem to a poor rest then 20m of power endurance tufa climbing.
How did you pick Mundo Feliz as a target?
We were both impressed by the line it followed. The initial objective was just the first 25m pitch which is a tough 7c+/8a. We knew we had to be able to do that without getting too tired if we were to have any chance of climbing the full 50m route.
How long has it taken you to do it and have you been doing any specific training for the route?
It took me 13 days over a few weeks. No specific training just climbing several other routes on the crag to increase my fitness. I did focus more on quality recovery this trip. Shorter days and more rest days. Pushing hard but desperately trying to avoid overdoing it is a tricky balancing act. We were both climbing really well last year (and I felt close to another 8b+) but were frequently frustrated by weather and other circumstances so had little to show for our efforts. This was long overdue.
Your hardest route before was Totally Free II at Malham. Can you compare and contrast the two routes please?
I've climbed four 8b's altogether. I was especially pleased to tick Golpe de Gas F8b at Bruixes. At 70m Totally Free II is much longer and took me a long time due to dislocating my shoulder trad climbing. This is shorter and steeper. Maybe I shouldn't say this here but nothing can ever trump climbing Malham Cove by the central line, however Mundo Feliz follows a strong line too.
You say your ascent of Mundo Felix has been a team game. Can you tell us a bit about that as well?
This was very much a team trip; in fact it was Karin's idea to try Mundo Feliz. I joined her to see if we could do all the moves on it. Between the two of us we worked out all the beta. Karin ticked it a few days before me and provided the final bit of crucial beta, as well as encouragement to keep trying despite deteriorating conditions. The temperature plummeted from 20 degrees one weekend to 4 degrees the next. I seized the moment when it warmed up to a balmy 6 degrees.
Rab Carrington and Alan Austin did New Age Traveller (F8a) at Malham when they were in their sixtieth year so you've raised the bar considerably with an ascent of an F8b+ aged 60. How long do you think you can keep climbing at this standard?
With the improved training knowledge (Tom Randall, Alex Barrows, Eva Lopez et al) and fantastic developments at both my local climbing walls I have a great opportunity to continue to raise my standard. Dave Stainthorpe raised his personal level at 65. Avoiding injury is the biggest concern.
What typically, is your training regime?
I am fortunate to have a good board at home. I also enjoy training on the pumpy 23m routes at Sunderland Wall and Danny Allon's excellent problems on their newly improved bouldering wall. I also boulder often at ClimbNewcastle. Last year I incorporated more conditioning, shoulder stability work and a lot more stretching & yoga into my regime. My biggest change came from increasing the intensity of my training and reducing the volume. This allowed me more time to read about training and try to really understand the science behind it. This knowledge is constantly evolving. Dave Stainthorpe, Suz Dudink, Tom Randall and Alex Barrows have all been particularly helpful. Richie Patterson and I enjoyed the race to 8b+ only Richie didn't realise I was in the race!
Any idea what you might try next?
Ultimate goals include Pata Negra at Rodellar and Mind Control at Oliana. Before that I have some unfinished business at both those crags but this trip is over now unfortunately. However I am looking forward to making regular visits to The Valley Bouldering Centre in Newcastle (especially downstairs in the dungeon) and trying Steve McClure's new routes at Sunderland Wall.
For the record Steve isn't sponsored but has had help and support from various quarters including Scarpa boots, Edelweiss Ropes, Friction Labs chalk and significantly Sunderland Wall.

*Report edited 14/12/2017. Tanya Meredith and Gill Peet added to list of female climbers who have done F8b+. Appologies for omission.