Judging winter conditions and protecting the environment
Thursday 1st January 2015
Jan 1st, 2015
As the New Year rolled-in so did the wet, warm and windy weather – right on cue! The notoriously fickle weather in the UK has flipped and the winter is on stand-down, at least for a few days. Judging the winter climbing conditions in the UK's variable climate is far from easy at the best of times and many a day out on the hill has been written-off by out-off-condition cliffs. Frustration however, isn't the only outcome when 'out of nic' routes are done as the environment might well loose out as well.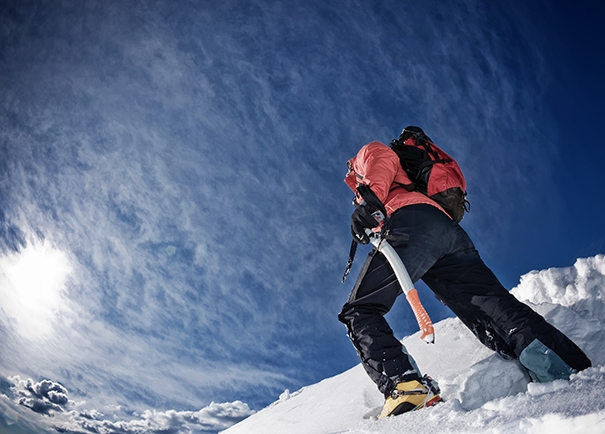 Photo BMC
It's relatively easy to look at a cliff in the full depths of a winter cold snap and decide it's 'in' - but it's a totally different call when temps are variable during an unsettled period and conditions are 'thin'. The UK's mountain environment is more fragile than is immediately obvious as rare and precious plants are often hiding in the nooks and crannies. When temps have been below zero for a while and there's a good, deep layer of snow/ice these rare plants along with other vegetation are typically well-covered and hence protected. However, under thin or marginal conditions when temperatures aren't well below freezing, these plants are susceptible to axe damage if/when climbers hook their axes into the vegetation.
Rob Dyer, from the BMC, explains; "The mountainous areas of England, Wales and Scotland provide an important fringe habitat for a number of rare arctic alpine plants. These have been drastically reduced in numbers over the years through intensive collection in the Victorian era and widespread upland grazing. This means that the last bastions for these species are on the crags we visit as climbers, where collectors and sheep have been unable to get to. Nowhere is this truer than on winter routes, which tend to follow naturally wet drainage lines and turf which provides the ideal habitat for these plants.
The good news is that if we're careful and climb only in well-frozen conditions, we can have virtually no impact on vegetation. Climbing on turf that is frozen solid will make your climbing experience far more pleasant – reducing those heart-in-mouth, will it/wont it rip moments – and also causes almost no damage to turf or the plants that live in it. Add this to the fact that climbers have an ulterior motive in preserving turf, as it often makes a route possible at a given grade, then conserving this delicate resource becomes a no-brainer.
Just because a crag is white with hoarfrost and looks wintery doesn't always mean the turf will be fully frozen. Likewise, snow can sometimes act as a blanket and insulate the underlying turf, preventing it from freezing if there hasn't been a cold spell before it snowed. This isn't a problem in banked-out gullies, where the thickness of snow itself protects anything underneath, but on face routes, where snow collects on vegetated ledges which often provide crucial turf placements, it's important to check before setting off on your big lead."
Until recently advice and help has been limited but now things are changing.
Firstly, a group of climbers - working with the FRCC (the Fell and Rock Climbing Club of the English Lake District – to give it its full name), the Lake District National Park Authority, the National Trust and Natural England - have jointly supported a new winter guide to climbing in the Lakes. The guide, a free-to-download booklet, contains a wide variety of essential info includng a list of the crags which give the best winter climbing conditions, where to get topos and info on dry tooling as well as good practice guidelines.
Welsh climbers too have recently been given a leg-up on winter conditions. Firstly, and as with the Lakes, a Welsh specific guide has been produced; the North Wales White Guide which gives topos showing areas of particular sensitivity.
In addition to the North Wales White Guide, and as previously reported, under an innovative new scheme in which temperature sensors have been installed in key locations in the North Wales mountains, climbers can now log on to the BMC website and get the actual temperatures and therefore see whether or not climbing conditions are good for climbing and good for the environment.
The
Lake District Winter Climbing and the Avoidance of Damage
booklet can be downloaded
here
…
The North Wales White Guide can be obtained here…
Finally click through
here
to watch a video on winter ethics…