Josh Ibbertson redpoints Rainshadow as 2020 ends!
Sunday 13th December 2020
Josh Ibbertson, aged 16, has become the latest young gun to tick Rainshadow at Malham clipping the chains last Sunday.
Josh's ascent comes hot on the heels of Toby Roberts who redpointed the Steve McClure Malham classic the previous Wednesday. Josh and Toby had been working Rainshadow together. Click here for our report and extensive interview with Toby about his ascent.
Josh describes the day that Toby sent Rainshadow and his Dad, James, did Bat Route as his first F8c, as a brilliant day. Although a bit miffed he missed on the send himself that day it's a sign of Josh's maturity as a climber that he wasn't phased out and that he continued battling deteriorating weather and the "end-of-season" vibe. Four days later he also clipped the chains to conclude what was a remarkable end to the 2020 season at Malham!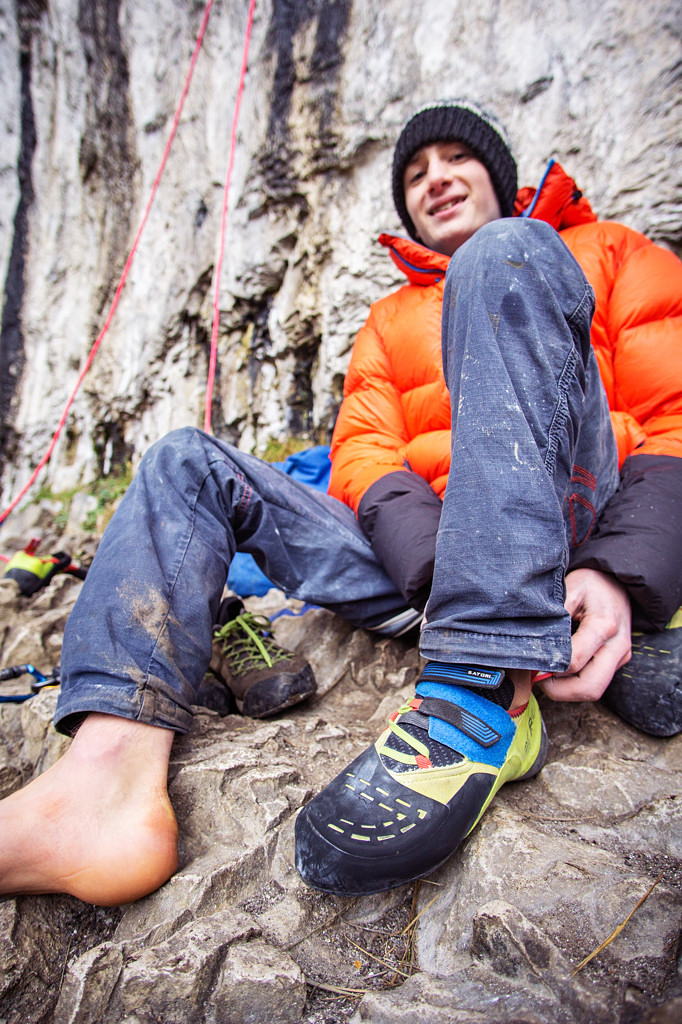 Josh first came to prominence in February 2015 when aged just 10, he redpointed Innuendo (F8a) at Raco de les Espadelles, Margalef in Spain. That ascent earnt Josh the 'youngest ever Brit to redpoint F8a' title. Josh went on that year to have an amazing year; firstly ticking two more F8as in Spain before redpointing Raindogs (F8a) in June having turned 11 in May. Prior to Josh climbed Raindogs the youngest climber to have clipped the chains was Aiden Dunne who added that to his CV aged just 12. By October 2015 Josh's 'title' was snatched away by Toby Roberts when he too redpointed Raindogs (F8a); Toby at that time was aged just 10!
The young Josh, along with his even younger brother Jack, seemingly went underground with their climbing after that. In fact, the Ibbertson's decamped and spent a year touring Europe in a motorhome and climbing on the Euro honey-pot crags so they were naturally away from the spotlight.
Enjoying the never-ending stream of climbing opportunities Josh steadily ticked his way through the testpieces and grades. Aged 11 Josh ticked F8a+ and then he went on to redpoint his first F8c+ aged just 13! Remarkably, Josh set himself – and achieved – the ambitious goal of climbing 100 routes graded F8a and harder before he turned 14! News of his progress filtered through in dribs and drabs but it was clear that he was getting stronger. More on this period of Josh's climbing later.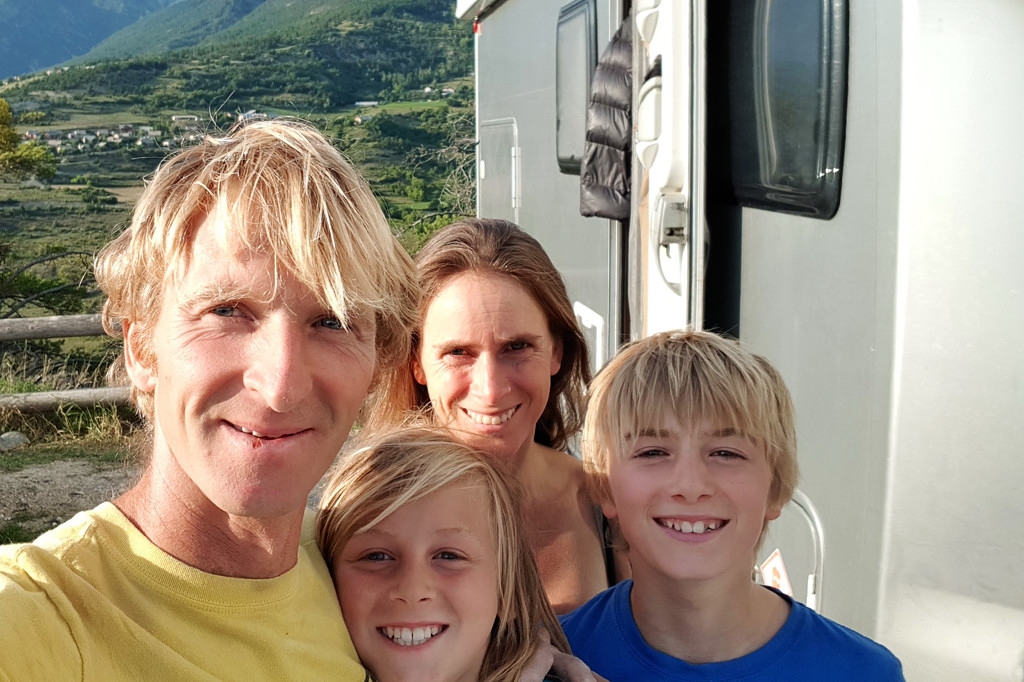 After their time away the Ibbertson's returned to the UK. Josh, Jack and James spent their time on the Yorkshire crags when at home whilst travelling abroad for climbing holidays. However, like everyone else, Josh's plans for 2020 were continually scuppered by the ongoing covid restrictions. In autumn, however, Josh turned his attention to Rainshadow but even then things didn't go smoothly as illness and poor weather intervened. Josh stayed focused however and finally prevailed redpointing Rainshadow last Sunday.
Climber has been in touch with Team Ibbertson and now we're pleased to be able to bring you the low-down on Josh's Rainshadow ascent and to fill in a bit of detail from the missing years since Josh redpointed Raindogs back in 2015.
Here's a Q&A with Josh…
Great effort on finishing off Rainshadow and adding your name to list of top climbers who have repeated it! How did it feel clipping the chains?
At first, I couldn't quite process that I'd done it! I just really wasn't expecting to send when I did as the top section looked like it would be too wet to climb. I guess this probably took the pressure off somewhat and meant that I was way more relaxed. I remember getting past the crux on the send thinking there was no way I'd make it through the damp traverse but just kept going expecting to slip off at any moment. When that didn't happen, and I found myself at the last rest before the final bit of climbing I genuinely didn't believe it and had to take a moment to stay calm and compose myself before the last section. Needless to say, getting to the top on that go was a surprise! I was going to take a victory whip when my dad reminded me that I'd skipped the last clip and was facing a bit too big of a lob.
You've been trying Rainshadow at the same time as Toby Roberts and sharing beta etc. Firstly, did that work well for you both and secondly when Toby did it before you did that increase the pressure on you or where you even more determined to finish it before the end of the season?
It's been great working on the route together, it's always fun to climb with someone who is also super psyched and motivated, especially on cold days in December. I was really happy when Toby sent, especially since it was his last go of the last day. My dad sending Bat Route made the day even better, even if I did feel a bit left out of the send club! It didn't really add any extra pressure though, the most worrying thing was the rubbish weather forecast for the next two weeks and the thought that I might have missed the last opportunity to send this season.
Having climbed three F8a in Spain during the winter/spring of 2015 when you were still 10 years old you then redpointed Raindogs for your fourth F8a (your first in the UK) which you climbed when you were 11. You must have been on massive high then? Did you consider the possibility of trying Rainshadow at some point having done Raindogs or did your interest in Rainshadow come later?
I watched Ben Moon send Rainshadow whilst I was trying Raindogs and it's still one of the coolest and most inspiring ascents I've ever seen! I'm sure I must have thought about trying it one day but at the time I was happy enough with Raindogs. I know my Dad was super inspired watching Ben's ascent too. Seeing someone who was a few years older than him get back into climbing and climb hard definitely got him psyched!
In 2017-18 you went travelling for a year with your family. How was that? What really stood out from this time?
It was a really great experience. We spent our time living in a motorhome, climbing, biking surfing…. My parents are both teachers so every day we had van school. We got to meet and hang out with so many cool people.
Highlights climbing wise? Climbing a 26 pitch route on the Dent D'Orlu with our friends Jacob Cook and Bronwyn Hodgins really stand out… even if it's because I was slightly terrified most of the way up!
I set myself the goal of climbing one hundred F8's before my 14th Birthday and was really made up to achieve this (100 routes from graded 8a to 8c+) with a few weeks to spare.
We finished off our trip climbing at Ceuse, this was a really special both because the climbing there is amazing but more because there was a really great van scene. We'd all cheer each other on at the crag and then hang out together at night… cooking together, playing games… We made some good friends.
With all that rock available you must have been just hammering away at the routes rather than doing any training or pulling on dirty plastic crimps?
Whilst we were away I just climbed on rock and didn't train. I think we went to an indoor wall twice in the whole year and that was mainly to get showers when our water heater broke!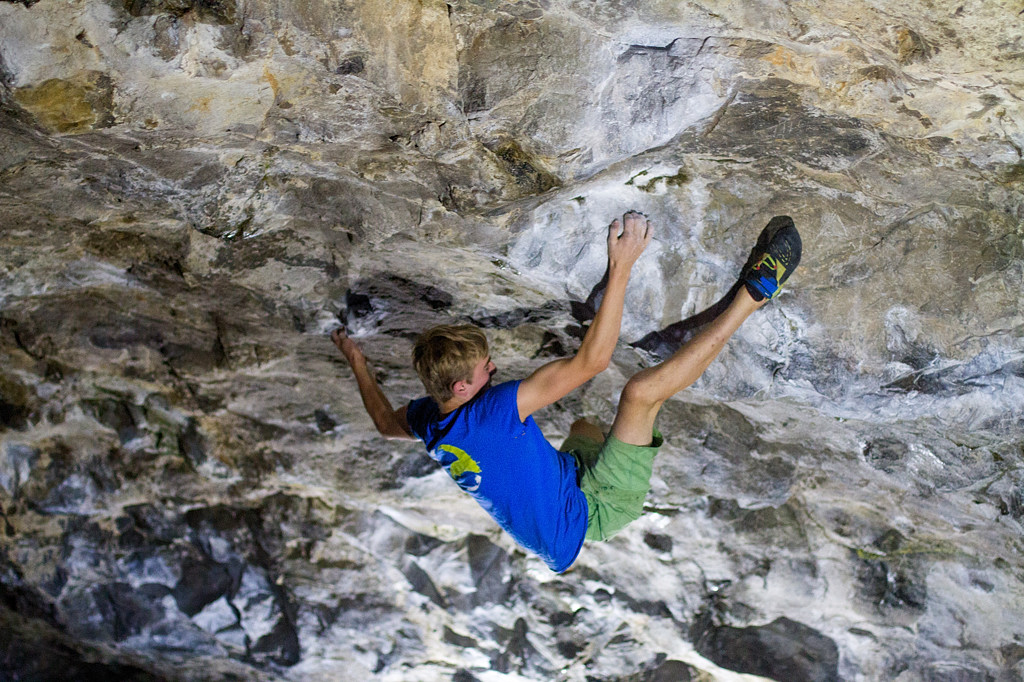 Let's get back to Rainshadow then. When did you start on Rainshadow and how did your first forays go?
I didn't originally plan to get on it this year but I first got on it at the start of October. We spent the second half of the school holidays climbing at Kilnsey and I was working my way through the classics there. I was just getting stuck into Progress (F8c+) when the rain arrived and North Buttress was written off for the season. We turned our attention to North Wales where we spent our weekend's surfing and climbing at LPT and bouldering in Parisellas. I was gearing up to try Pilgrimage 8b+ but again my plans were scuppered, this time due to travel restrictions. Luckily it coincided with bird bans being lifted at Malham. That's when I thought I'd give Rainshadow a try. My first tries were pretty successful and I did all the moves reasonably quickly. Within a few sessions, I'd managed to link the crux (Font 8a Boulder) and after a couple more I'd linked from the start of the crux to the top. I knew that the main challenge for me was going to be linking the crux from the ground. However, at the time I was using some difficult beta for the crux move and it was only later that I discovered a toe hook which unlocked it for me.
Rainshadow is well known for placing heavy demands on your energy systems; did you have to do any specific training for Rainshadow and if so what?
I trained pretty hard over lockdown but not specifically for Rainshadow. Also, like a lot of people I came out of it with a bit of a finger injury. Our plan was to go on a climbing/surfing road trip around Europe for the summer holidays where I was going to try and do lots of volume to build up some more endurance and let by finger recover after no sport climbing in months. I didn't do much training whilst I was trying the route. During October half-term while the route was wet I did some extended boulders to try and gain a bit of power endurance for the boulder [on Rainshadow]and maybe a couple of circuit sessions but that's about it. I either tried the route when I could or rested to make sure I was fully recovered for the next session. I don't think I've ever taken so many rest days!
How many days have you had on Rainshadow, how have your attempts gone and what's been the hardest part for you?
I'm not sure how many days I had on it in total. I wasn't really counting. Apart for a couple of weeks around the half-term holidays when it was too wet I was on it every weekend and managed to get a few days on it midweek too. The main sticking point for me was linking the boulder from the ground, for a long time, I was doing the crux a really desperate way. It was only towards the end that I discovered a toe hook that made it loads easier. Once I found the toe hook I fell several times trying to find it on the link, including three times in a row on the day that Toby and my Dad both sent. I thought I would stand a pretty good chance of doing it if I could find the toe hook straight away on the link.
Can you talk us through your actual redpoint?
Walking into the crag on the send day I really wasn't optimistic as we'd had quite a lot of rain and snow the night before, Luckily the crux had stayed dry and the upper section was a bit wet but climbable, I got to the rest at the top of Raindogs feeling pretty fresh and relaxed, I got up into the crux and the crucial toe hook stuck straight away and like that, I was at the top of the crux for the first time. After that I just kept going, I couldn't rest at the usual point as the hold was soaking wet. I managed to navigate the damp traverse with enough in the bank to climb the last hard section and clip the chains!
So, now you've added one of the UK's finest routes to your CV what's next for you?
The plan now is to get back into training mode over the winter. I haven't trained properly since mid-July so I need to get back on it before I get too weak!
Hopefully, we'll get some dry cold days over the winter so we can get out bouldering on the local grit bouldering and maybe have a go on some of the safer grit routes.
In the spring I'm keen to get back on the limestone, I'd like to get back on Progress at Kinsey and have a go on some more of Steve's test pieces.
As well as Josh, Jack and James are pushing on hard with their climbing too. Jack actually redpointed F7c in the Frankenjura aged just 8 years old and then redpointed Raindogs a year later aged 9!
James has also had his most successful year ever redpointing his first F8c, Bat Route at Malham.
Thanks to Henry Giles for the great photos of Josh and James.