Jordan Buys nabs second ascent of Bat Shadow
July 12th; 2017
Despite the typically British weather – ie copious quantities of both heat and rain – Jordan Buys has repeated Steve McClure's Bat Shadow (F8c+) at Malham. By all accounts, it's the second ascent as well. Ryan Pasquill and Neil Mawson have also been trying the route.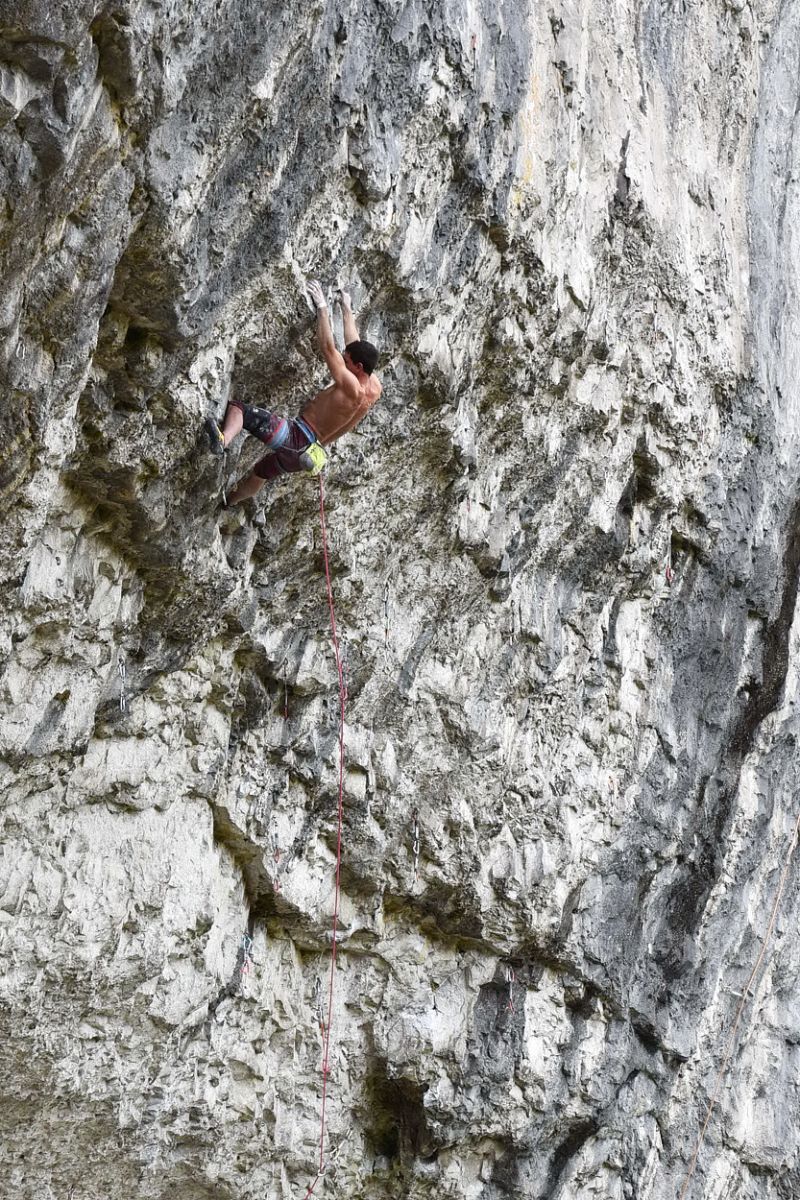 Jordan Buys on Bat Shadow. Photo Keith Sharples
Back in 2013 Jordan repeated Rainshadow making him one of the then few climbers to have made it past the cut into the super grades. Since then he's been popping up in lots of places doing hard trad – see here for our report about him repeating Talbot Horizon on Scafell East last year.
Jordan nearly did Bat Shadow just after Rainshadow but in the end it's taken a bit longer to close out as Jordan explains in the mini Q&A below…
You described doing Rainshadow as "the best climbing day of my life so far". How does doing Bat Shadow compare?
Of course it felt good, its great to feel fit and light but to be honest I felt more relief than anything. Having gotten close previously and it also being on the cover of the latest Yorkshire lime guide it had serious potential to be a millstone around my neck, no one likes unfinished business.
Tell us a little about Bat Shadow please; how long it's taken you and how hard you feel it is?
Well I got close in 2013, a few months after doing Rainshadow. In fact it nearly was a megaday -early afternoon I did Dalliance (8b+) at Kilnsey. Then drove round to Malham in the evening and fell off with my hand on the hold that marks the end of the difficulties. Then in 2015, fresh from doing the first ascent of King of Thieves (8c+) at Giggleswick I managed to again fall with my hand on this flat hold.
I found it hard because it's so long. No move/set of moves are stoppers, so it just required top end endurance for me. I don't think I'd really given it respect those other years as I was always trying it on the back of just doing something hard and therefore was simply riding the wave of fitness. 2017 I went on it early in the year as a reason to get fit. Having had a bit of disaster following a training plan that just did not work, I felt like I was starting from scratch. I was barely able to do any links, I was heavy and getting burnt off by everyone. It was nice to be able to train myself up again and work out what is best for me to peak.
Ryan Pasqual and Neil Mawson have also been on Bat Shadow at the same time as yourself; that's quite a party?
Yeah those guys were a source of inspiration. Early this year they were both looking really good on it and my money was on them to do it quickly as they were fresh off the back of a good winter training schedule. I felt like I was never going to get it back at one point. I was wrong thankfully.
You were there the day that Steve did Rainman and afterwards you said you were so psyched you wanted to put your clips back in your route. How do you maintain your psyche generally for these hard projects?
Yes I did, after watching his earlier go where he looked tired and even he exclaimed he was tired and it was probably too hard for him! Then he somehow whipped his mind into shape for another redpoint and just nailed it. I could visibly see him digging deeper than I've ever seen anyone dig before. Made me realize I should not give up. I maintained focus by really wanting to do it - half-hearted won't make you diet well or dedicate the necessary time and commitment to see it through.
Since doing Rainshadow in May 2013 you've been mixing your climbing up doing some sport and quite a bit of trad. Presumably that was a deliberate policy – perhaps to have a break from projecting?
We always love doing trad and yes it's a great break from hard redpointing, problem is I like mixing it all up too much. This works well for being fit for trad itself, but the trad doesn't always help the top end sport. I end up with tired legs and a massive appetite.
Having done Bat Shadow you commented that you were "Back in the game". Will you be concentrating on sport for the rest of the summer – maybe something at Kilnsey?
I'm going to keep the ball rolling I think. I've got to finish off Progress (8c+) at Kilnsey and have Gresham's new things there to do. Then maybe look at Overshadow as a long term battle. Gulp...