Jordan Buys climbs new F8b+
Oct 7, 2014
Jordan Buys has recently climbed Jenga, a new F8b+ at Kilnsey. This is the latest in a string of new routes in the Yorkshire Dales that Jordan has climbed this year taking advantage of both the good weather and his own excellent form.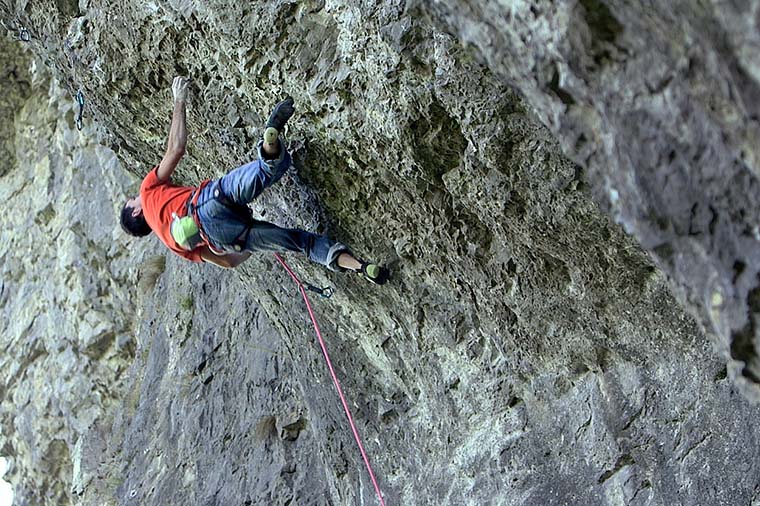 A screen grab from a video of Jordan climbing Jenga from Nick Brown/Outcrop Films
Jenga starts up Rubble (F7c) then breaks out right and heads up the impressive prow taking a parallel line to the left of the old Pete Gomersall classic, Ecstasy (F8b). The line of Jordan's new route has been an obvious opportunity for quite some time, and certainly to anyone who has been on Ecstasy, but to his credit Jordan rose to the challenge and now has another new route on his CV. Jordan has blogged: "Many people walk under it, look up and think to themselves, 'something must be climbable up there, it's a great line'. Others even say it out loud. I was one of those people, until I took some action."
The prow which Jenga and Ecstasy takes is wildly overhanging and feels pretty exposed to climb. According to Jordan, Jenga is sustained throughout its length rather than cruxy. Given its position and nature Jenga could well become another Kilnsey classic.
Finally, we asked Jordan for a quick listing of some of the other new routes he's done this year which are as follows:
Epic Adventures, Kilnsey (F8b+) though probably (F8c) takes Hardy Annual (F7b) up through the roof, the crux is turning the lip at c30m; proper epic.
Aladdin, Holywood Bowl (soft F8c) extends Illywaker (F7b+) up through the horizontal roof above to finish at the tree belay; total class.
King of Thieves, Hollywood Bowl (F8c+) extends Aladdin all the way across and under the roof to join the finish of the F8b on the right. Very unusual for the UK; a full body workout.
Jordan Buys is sponsored by Boreal, Wild Country, Edelweiss Ropes, Outdoor Research, Deuter and Boulder UK