Jim Pope nails super-fast repeat of Mecca Extension
Thursday 15th October 2015
Oct 15th; 2015
Just under a year after sending Mecca, Jim Pope was back at Raven Tor last weekend for a super-fast redpoint of Mecca Extension.
Jim Pope's FB page post send.
Jim's ascent of Mecca – completed when he was just 15 years old – was not only the youngest ascent of the Peak's classic endurance test-piece but also one of the fastest. See the video below to watch Jim's ascent a year ago.
Since then, Jim has gone from strength to strength. Back in late June of this year Jim did what we believe to be the second ascent of Helvetica at Shipwreck Cove on the Gower. Earlier this month Jim took top honours in the BLCC at Awesome Walls, Sheffield wining both his age group category as well as the senior title.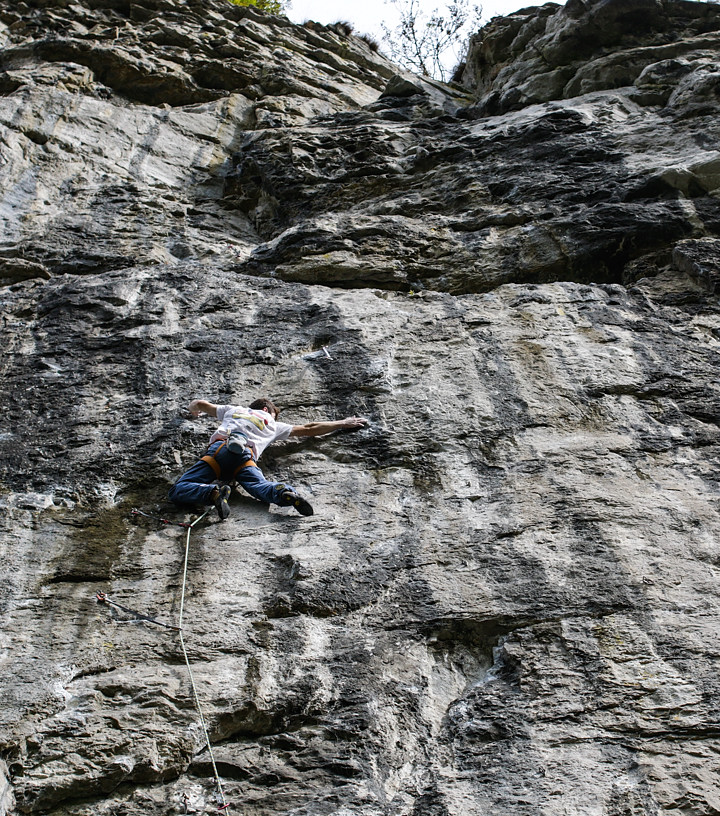 Jim on Mecca Extension. Photo Char Williams
Jim's ascent of Mecca Extension is yet another remarkable story. Not having set foot on it since doing Mecca the year before; Jim basically worked and sent ME in the day. When Jim did Mecca a year ago Ian Dunn, the Team GB manager, told CLIMBER about Jim's work ethic; " He is a very talented climber but he also works very hard too…" Ian added; "He [Jim] is always psyched to climb and train and has boundless energy". It sure looks as though Ian's comments are totally bang-on as Jim continues to mature into an astonishingly good climber.
Super-quick ascents of routes this hard are reasonably rare. Years ago, Ian Vickers banged out a two-hour ascent of the Kilnsey classic, True North F8c; this at a stage when Ian was outrageously fit. Having ticked the classic Mecca Extension so quickly and whilst so young, Jim now faces the inevitable challenge of either continuing his comp climbing – perhaps even with an eye to the 2020 Olympics – or else stepping up the grades to project something considerably harder. Time will tell but don't be surprised if he doesn't do both!
Watch Jim on his Mecca ascent in 2014…
Finally, many thanks to Char Williams for the use of his image of Jim on Mecca Extension