Japanese climbers take Gold in Navi Mumbai
May 16th; 2016
Japanese climbers, Miho Nonaka and Kokoro Fujii, take top podium positions in Navi Mumbai.
Miho Nonaka winning in Mumbai. Video grab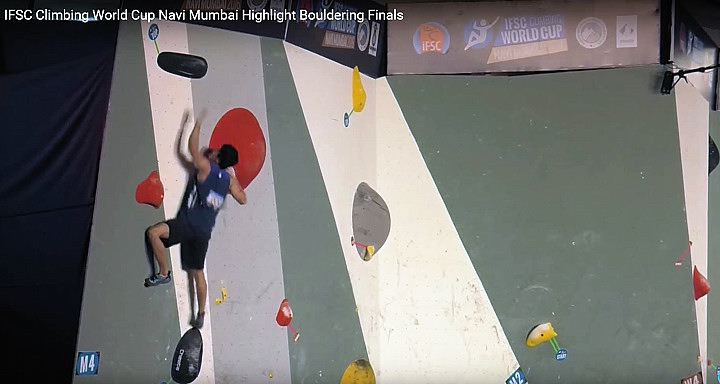 Kokoro Fujii winner in the mens comp in Mumbai. Video grab
The first ever world cup comp in India held over the weekend in Navi Mumbai provided considerable revelations. The previous three rounds in the men's event had seen considerable churn in the podium positions – Navi Mumbai however served up a considerable shock as Shauna Coxsey, winner of the first three events in 2016, failed to make the cut beyond the semi finals and so had to sit-out the final. Posting on-line Coxsey said; "It was so hot out there today and I just couldn't handle the heat!" The next comp, in Austria, over the coming weekend should see a return to more favourable climbing conditions.
Women's top placed results
Without Shauna in the finals the way was open for her rivals, Melissa Le Neve, Miho Nonaka and Akiyo Noguchi to capitise and pull back some points. Melissa Le Neve, currently in second place overall to Coxsey, finished alongside Akiyo Noguchi – both athletes getting one top and two bonuses in identical attempts. However, the third place on the podium in the end went to Noguchi based on her better semi-final results. Germany's Monika Retschy took second place – her first ever podium – with one top and four bonuses leaving top spot to go to Miho Nonaka with two tops and three bonuses.
Men's top placed results
The men's final, once again sans Sean McColl and Jan Hojer, saw no less than four athletes top three problems and collect all four bonuses so it was down to attempts to separate the top slots; third going to Alexey Rubtsov, second to Tomoa Narasaki and first to Kokoro Fujii.
Overall, Shauna Coxsey still leads the standings with 337 points. Melissa Le Neve now has 258 points and has closed the gap a little on Shauna. Miho Nonaka has 254 points in third with Akiyo Noguchi trailing in fourth with 212 points. Britain's Michaela Tracey (117 pts) is in eighth and Leah Crane (102 pts) in 13th.
Over in the men's overall standings just 39 points separate the top four climbers although it's Kokora Fujii with 255 points out in front followed by Alexey Rubstov (242pts) in second and Tomoa Narasaki (218 pts) in third. Best placed Brit is Tyler Landman (97pts) in 12th overall whilst Dave Barrans (20pts) is in 35th and Nathan Phillips (7pts) in 44th.
Women's top placed results