Janja Garnbret and Tomoa Narasaki take gold in Moscow
April 23rd; 2018
In a closely contested final, Janja Garnbret and Tomoa Narasaki took gold in the Moscow leg over the weekend of the 2018 World Cup bouldering competition.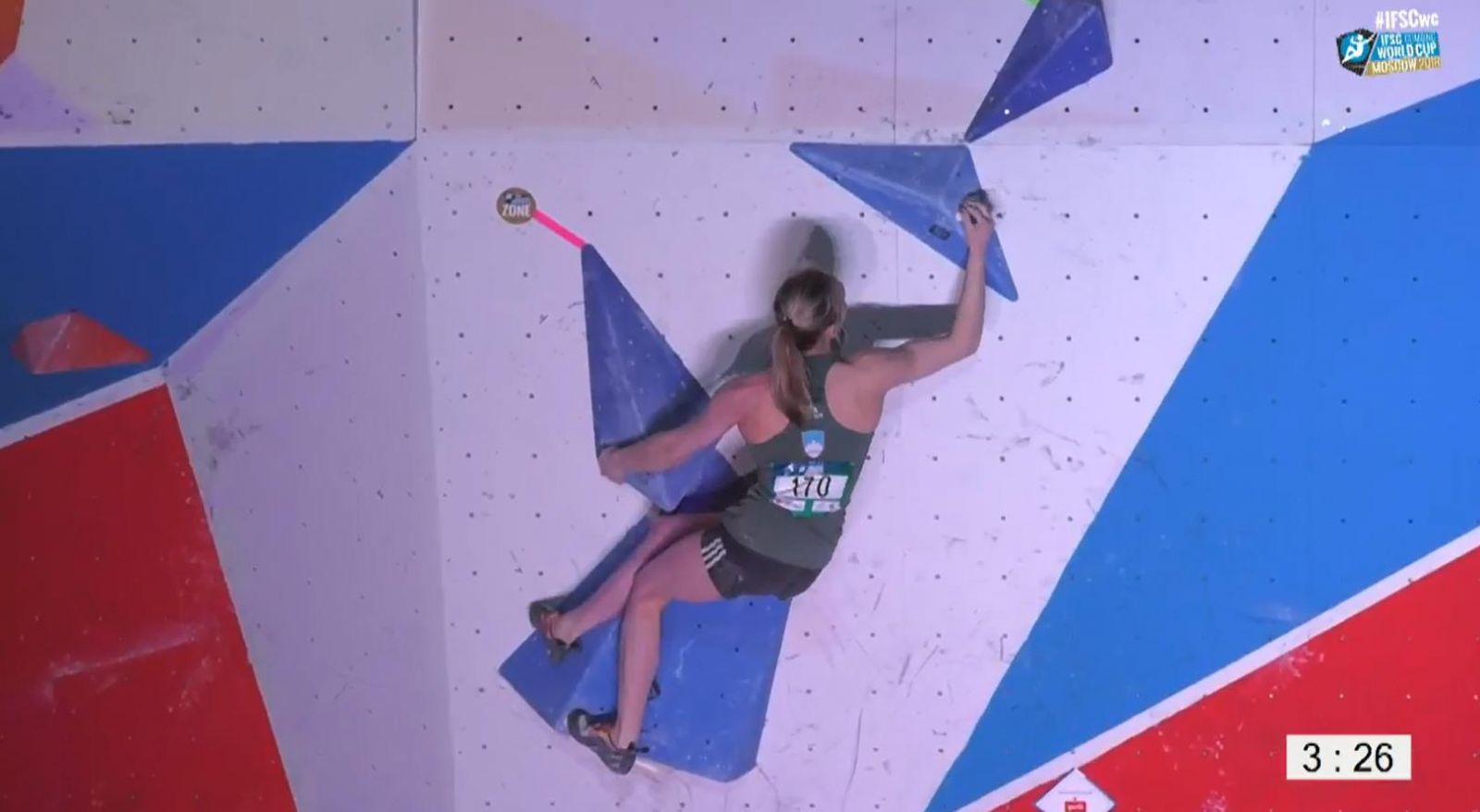 Janja Garnbret flashing W4 to take the gold.
Amidst a plethora of outrageous dynos and tops, the final round of the Moscow leg of the 2108 WC Bouldering closed yesterday leaving the competitors much to think about before the next WC. Posting on social media after the qualification round Shauna commented; "The boulders were pretty old school. Much more basic which was quite cool actually. A nice change if pace." However, by the final round many of the blocs were seemingly once again back to the new skool, parkour-style bloc setting. Some of the blocs, W2 for example, necessitating multiple dynamic moves in a row. Another, W4, appeared to require a dyno but first Miho Nonaka and then Akyo Noguchi used entirely different beta utilising heel hooks – a sequence that looked more high percentage if more powerful. As competitors de-brief after the event and watch videos of how others tackled the blocs it seems possible that down-stream competitors might keep a more open mind as how to attempt blocs which are seemingly demanding dynos and double moves. Similarly M2 involved a double move that is until Jongwon Chon came out a promptly did the sequence statically.
Tomoa Narasaki on M4 taking gold
Unusually, the top position in both the men and women's event are held jointly; Janja Garnbret and Miho Nonaka for the women and Jernej Kruder and Tomoa Narasaki for the men are all sitting jointly on 180 points – each having won one round and come second in the other thus far. Third placed athletes in each stream, Aleksei Rubtsov (116pts) and Akiyo Noguchi (130pts) though are both climbing well and maintaining a consistent scoring.
It looked for a while yesterday that Jernej Kruder's fellow Slovenian, Gregor Vezonik, might well upset the proverbial apple cart given that he was leading the men's standing at the half-way point in the final – and that on this first every appearance in a WC final! As it was, he slipped back to finish in third, beaten on this occasion by Tomoa Narasaki and Jernej Kruder, but climbing well enough to edge the season campaigner, Jongwon Chon out into fourth. Italian Gabriele Morini was similarily a new name for the men's finals; he ultimately placed sixth in Moscow but was threatening at one point to upset the big guns having climbed out of his skin all weekend.
Over in the women's event, the final round featured well-known and well-versed climbers. Our own Shauna Coxsey, still climbing under-powered given her recent finger injury, once again made it into the finals albeit finishing in sixth place with a solitary top. Third and fourth place Akiyo Nonaka and Petra Klinger were separated by the narrowest of margins as were Janja Garnbret and Miho Nonaka who placed first and second respectively. Last week's winner, Moho Nonaka had piled on the pressure on Janja Garnbret and the latter needed to flash the last problem to win the comp. Unsurprisingly, the Slovenian did exactly that and hence promptly won the comp and added another medal – her 25th from 28 starts. This is truly and astonishing record in what is still a relatively short WC career – just three years to date and counting. The other women competitors will perhaps take some solace from the fact that Garnbret will not be competing in the Asia legs of the WC given she has to stay at home and focus on her exams! What effect that will have on the rest of the other leading women will be early awaited when the next WC takes place in China.
Leah Crane, who finished ninth in Meiringen, didn't contest Moscow but she lies in 16th with 37pts. Nathan Phillips, the UK highest ranking male climber is in 34th on 9pts.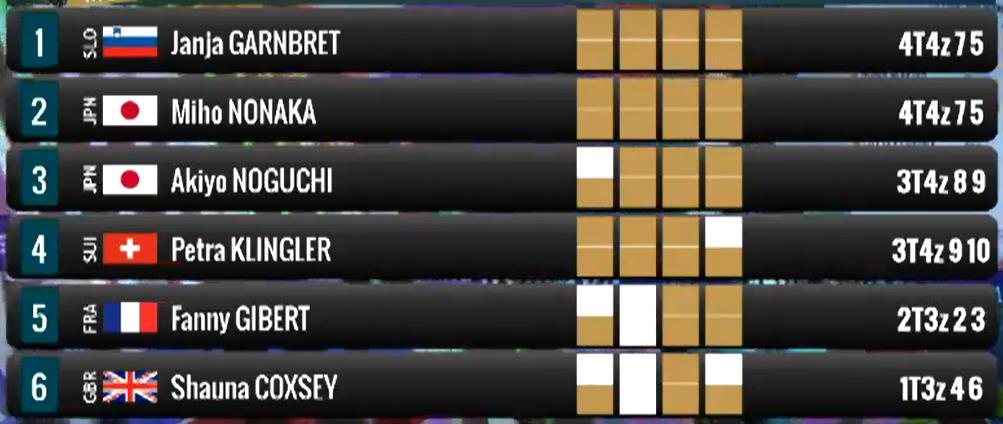 Womens results
Mens results
Watch the Moscow highlights below...