Janja Garnbret and Jongwon Chon take IFSC Bouldering WC gold at Chongqing
April 24th; 2017
The world's best boulderers and speed climbers rolled into Chongqing, China over the weekend for the latest IFSC event of the season.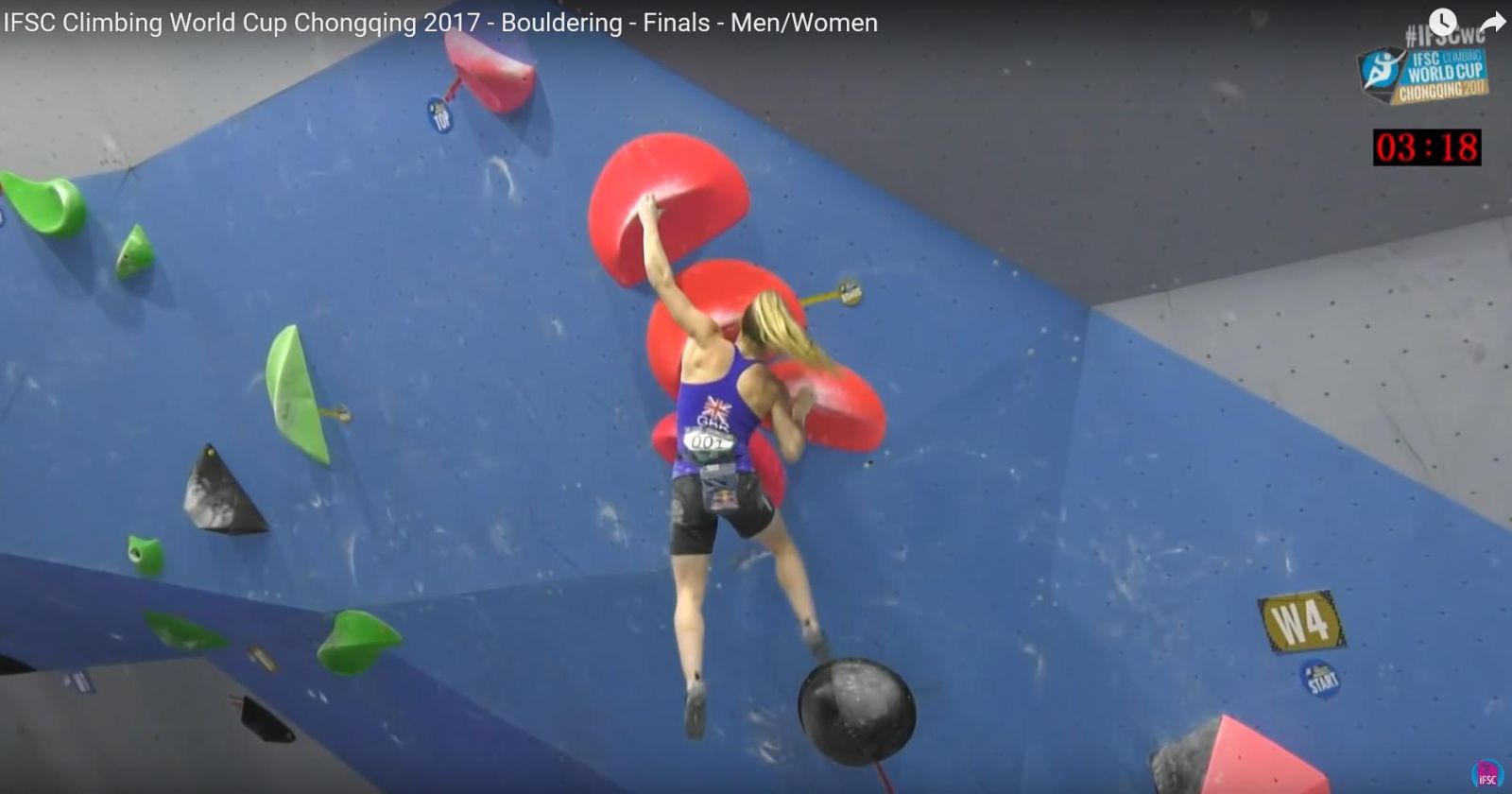 Shauna Coxsey flashing W4 in the final on a way to silver at Chongqing
Defending champion Shauna Coxsey, who had had the perfect start to the 2017 when she won in Meiringen earlier in April, was clearly one of the favourites to win and once again she started strongly. However, Coxsey's five tops in seven goes in the qualification round was bettered by both Janja Garnbret , and Miho Nonaka who respectively won their qualification heats with a perfect five tops in five. Two further athletes, Chloe Caulier and Michaela Tracey, also lodged five tops apiece – albeit taking more goes. Was an upset on the cards?
By the end of the semi's Janja Garnbret was ahead with four tops (in five goes) whilst Shauna Coxsey and Akiyo Noguchi had two tops (in three goes). The upset was looking more and more likely but Shauna Coxsey is a renown cool competitor and there was all still to play (climb) for. However, it was Janja Garnbret that continued to dominate and edged ahead of Coxsey in the finals taking her first every WC win with four tops ahead of Shauna Coxsey and Akiyo Noguichi with their three tops (in four and 13 goes respectively). Anna Stohr made a welcome return to the finals also finishing in fourth whilst a special mention should go to Canadian Alannah Yip who finished in fifth and collecting the honour of the first ever Canadian to compete in a WC final event. Michaela Tracey and Leah Crane finished in 15th and 33rd respectively.
Winners Janja Garnbret and Jongwon Chon at Chongqing
The men's qualification rounds was a high scoring round with no less than eight climbers topping all five blocs and a further 11 climbers collecting four tops. That was all-change for the semi's however when only five climbers got two tops with Jongwon Chon and Tomoa Narasaki finishing that round in first and second respectively. In a staggering team effort all ten climbers in the Japanese team competed in the semi's – perhaps a pointer for the further?
However, the men's finals belonged to one climber alone, Jongwon Chon. Chon took gold with all four tops (in six goes) convincingly beating Tomoa Narasaki and Aleksei Rubtsov who each finished with identical scores of two tops (in two goes) and three bonus holds (in three goes); Narasaki taking the silver however on countback. Nathan Phillips and Orin Coley finished in 29th and equal 71st respectively.
In the 2017 standings Shauna Coxsey leads on 180 pts with Janja Garnbrett on 147 pts whilst in the men's event Aleksei Rubstov leads with 145 pts ahead of Kokoro Fujii on 137 pts.
The results from Chongqing
For the full results and the low-down on the speed climbing event – won by Iuliia Kaplina and Vladislav Deulin - click thru here to go to the IFSC website.
Watch the finals from Chongqing here…