Janja Garnbret and Jacob Schubert take gold in Villars
July 10th; 2018
Janja Garnbret and Jacob Schubert started their 2018 lead campaigns in Villars over the weekend in fine style picking up where they finished the 2017 season - with a win!
Janja Garnbret cranking high on the final route to collect her first lead gold of the 2018 season.
The first IFSC lead comp in Villars, Switzerland got the lead season off to a blazing start although the weather did it's best to upset the proceedings in the earlier rounds. Having missed the last four IFSC bouldering comps due to academic studies all eyes were on Janja Garnbret to see what form she was in. After a top on her first qualification route she dropped the second in an unusual low scoring run. However, by the semi's Garnbret had regained her composure and the final it was the experienced competitor that moved convincingly ever upwards only to fail on the final holds.
As well as a pretty big whipper from the final moves Garnbret collected yet another gold for her trophy cabinet. Jessica Pilz and Jain Kim finished in second and third respectively behind Garnbret. Despite smooth performances they both failed to get close to Garnbret's high point yet both finished convincing distances above the next nearest competitors which included such bouldering stars as Akiyo Noguchi and Miho Nonaka. US-based Ashima Shiraishi also made the finals though finished in eighth place. Emily Phillips from Team GB finished in 49th place.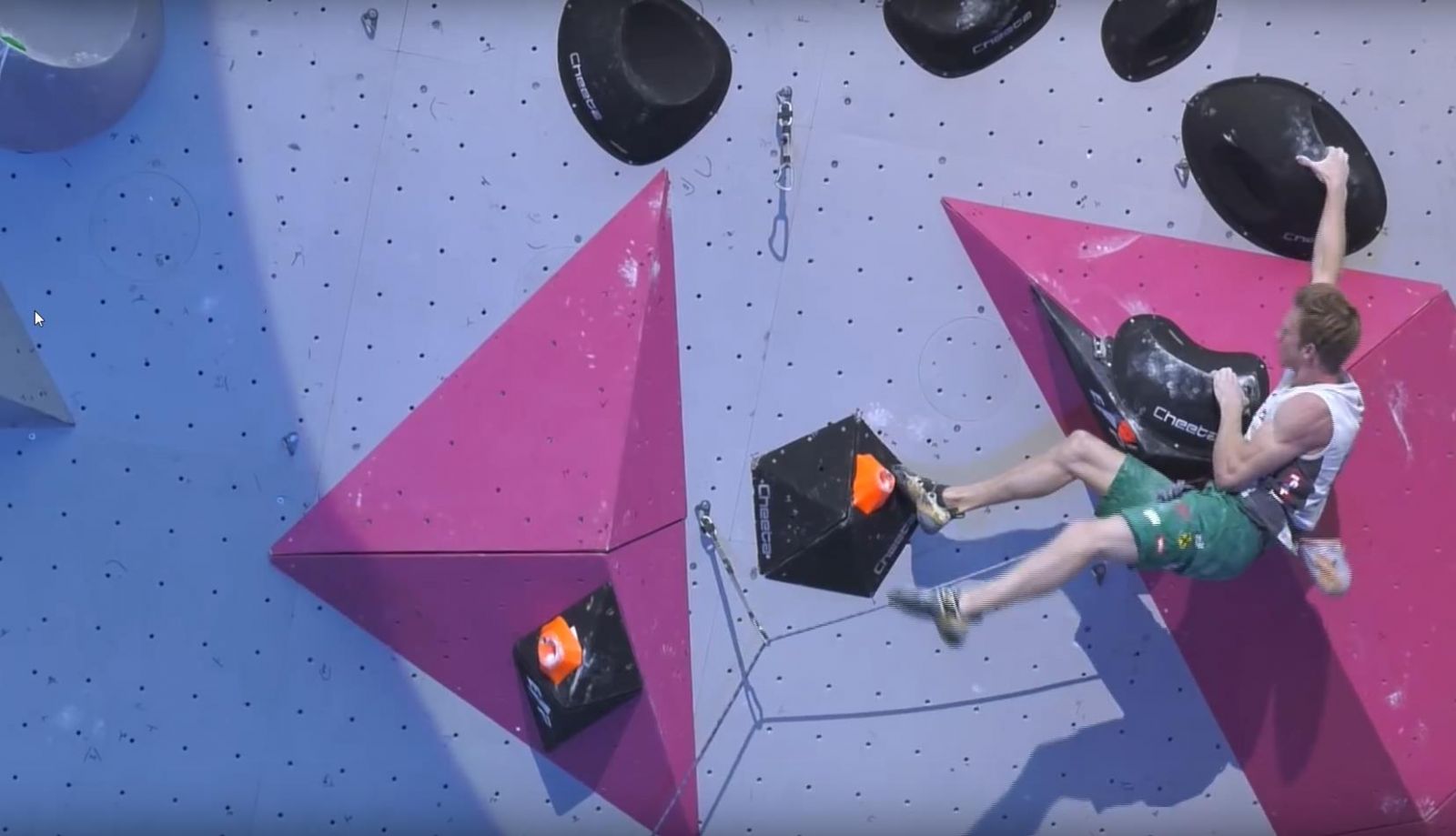 Jakob Schubert on the final route on his way to IFSC gold – his 20th!
2017 Lead winner Romain Desgranges got off to the perfect start with double tops on both qualification routes, a feat matched by Sascha Lehmann. Max Rudiger alone topped the semi's route leaving most other competitors languishing some way down. However, Romain Desranges and Jacob Schubert both pulled away from the rest of the field on the final route; both flying off the same sloping volume; Schubert taking the gold based on count-back. The 2017 combined champion, Tomoa Narasaki took bronze edging out 2017 runner up Stefano Ghisolfi into fourth place. Top semi-finalist Max Rudigier was bumped into fifth. Alex Megos finished in 9th place – one below the final cut. Brits, Will Bosi and Jim Pope, finished in 33rd and 52nd respectively.
Watch the highlights from the final below…