Janja Garnbret and Aleksei Rubtsov take gold at Hachioji-Tokoyo
May 8th; 2017
Janja Garnbret and Aleksei Rubtsov took gold at Hachioji in the fourth leg of the IFSC Bouldering World Cup over the past weekend.
The fourth leg of the 2017 IFSC Bouldering World Cup over the weekend was in Hachioji-Tokoyo; the strong Japanese climbing contingent promised much and the home crowd turned out in force to relish the action and the anticipated podiums by their stars.
Janja Garnbret taking her second gold of the season. Photo Eddie Fowke
Following the usual pattern, qualification was a high scoring round in the women's event; defending World Champion Shauna Coxsey was on fire finishing with five tops in five attempts. Janja Garbret and Michaela Tracey shared the glory of joint second – each securing five tops/bonuses in six goes. Janja Garnbret and Akiyo Noguchi jointly led the pack after the semis – a round in which Shauna Coxsey appeared to be somewhat off her game; she qualified for the finals but had to settle for fifth place. There was no mistaking the clear winner in the finals however and Janja Garnbret took the honours in fine style topping all four problems in five goes. The massive Japanese crowd however were delighted when Akiyo Noguchi and Miho Nonaka took silver and bronze respectively edging Shauna Coxsey off the podium for the first time in a long time. Shauna finishing fourth. Michaela Tracey and Leah Crane finished in 11th and joint 21st respectively.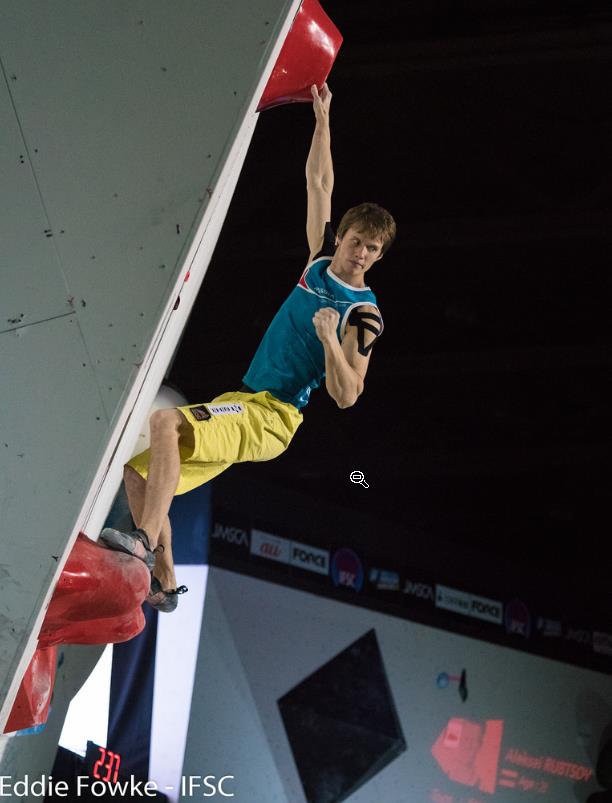 Aleksei Rubtsov taking the men's gold. Photo Eddie Fowke
In the men's event Jongwon Chon and Tsukuru Hori completed qualification with the perfect result – five in five although last week's winner Keita Watabe usurped the field to take the top slot in the semis. The finals saw the lead finely balanced between Aleksei Rubtsov and Tomoa Narasaki however and in the end it was Aleksei Rubtsov that took the gold with Tomoa Narasaki and Keita Watabe in silver and bronze respectively. Tyler Landman finished in 13th as the highest placed Brit whilst Dave Barrans had his best result for a while coming in 25th. Matt Cousins, Orin Coley and Nathan Phillips finished in 33rd, 47th and 59th respectively.
Shauna Coxsey (335 pts) still has the overall lead albeit that lead has been slashed to a mere eight points ahead of Janja Garnbret (327 pts). Miho Nonaka is in third on 232 points. Michaela Tracey is in eighth overall on 130pts and Leah Crane in 34th on 12 pts. Last week's men's winner Keita Watabe still leads on 285 points ahead of Aleksei Rubtsov on 252 pts and Tomoa Norasaki on 249 points. Tyler Landman leads the British men in 24th place (44pts) whilst Nathan Phillips is in joint 30th (25pts) and Dave Barrans in jint 42nd (5pts).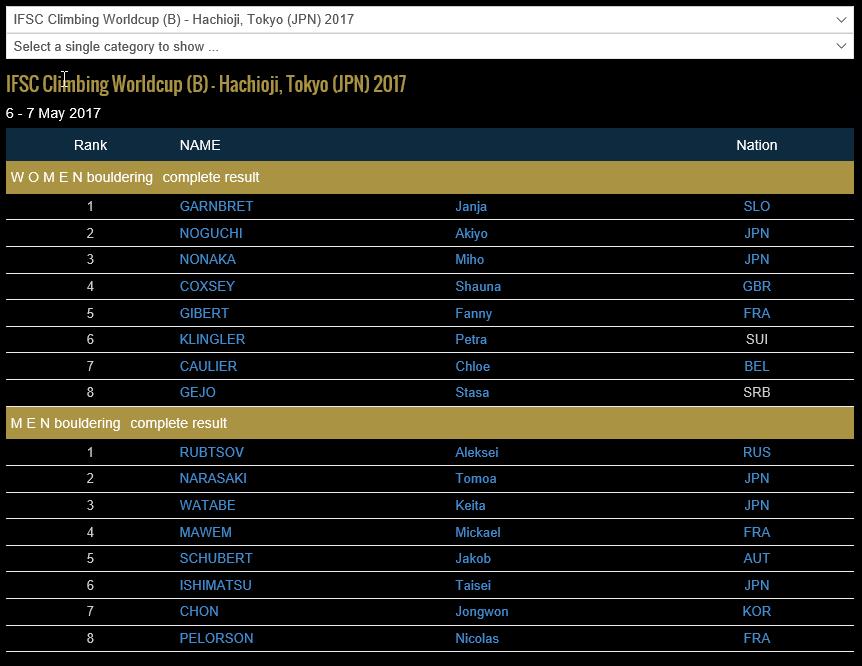 Results at Hachioji-Tokoyo.
Click through here for the event webpage and the full results and watch the highlights below.