Jan Hojer's 2015 rampage rocks-up at Fontainebleau for latest destruction
April 13th, 2015
Jan Hojer has had an astonishing two-day sending spree in Fontainebleau repeating four 8b's and an 8b+.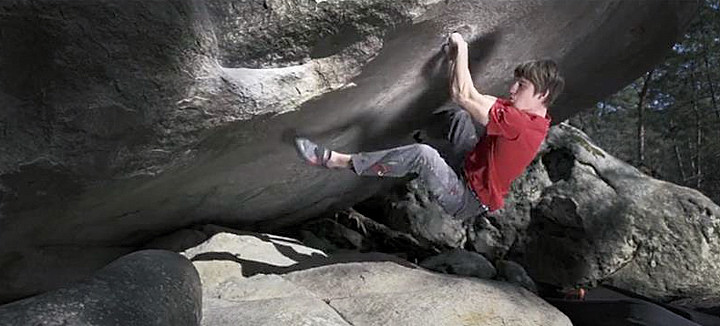 Jan Hojer on the first ascent of Jour de Chasse at Fointainebleau. Video grab from Vast Motions Pics film.
Jan Hojer won his first World Cup competition back in the autumn of 2013 after which he went on to win three WC comps in 2014 and place 2nd in two others. His strength is legendary having done an incredible 1-9 on campus board.
Hojer rolled his great form from 2014 over into this year starting off his outdoor campaign with a bang in Switzerland by tucking away such test-pieces as Confessions 8b+, Big Pow 8b+, La Proue 8b, Santoku 8b, Soilwork 8a+ and Big Mammoth 8a+ in late February/early March. Finally on March 8th he succeeded on From Dirt grows the Flowers 8c at Chironico.
In early April Hojer returned to Fointainebleau where previously he had put up Jour de Chasse at 8c. Jour de Chasse had been in the news in March when our own Ned Feehally repeated that and Mecanique Elementaire sending both problems in the same day. That said, on the 8th April Hojer repeated Dire 8b+, Ouroborus 8b and Tajire 8b and then went on to do Chaos 8b and L'illusion du Choix 8b the day after.
In total, Hojer has now climbed 12 problems between 8a+ and 8c in a five week period – surely one of the highest number of hard blocs ever done before in such a short space of time?
Click through here to see the video of Hojer training and doing 1-9 on the campus board…