James Thornton and Dom Bridgewood prevail at The Plantation and send The Ace and Careless Torque
March 4th, 2015
In somewhat 'changeable' conditions, James Thornton and Dom Bridgewood had a storming day at Stanage Plantation today sending The Ace (Font 8b) and Careless Torque (Font 8a) respectively.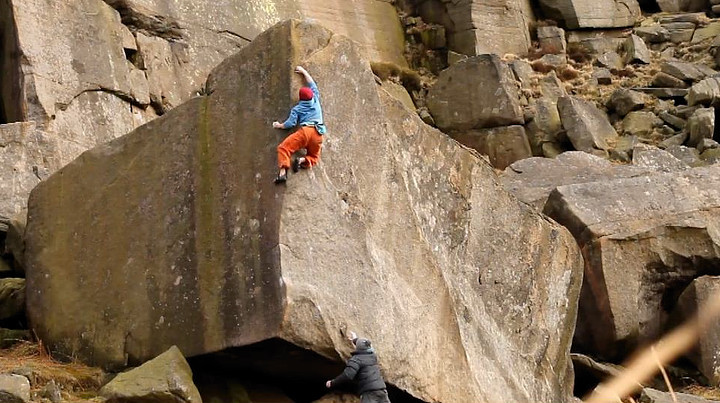 Dom Bridgewood reaching the finishing flake on Careless Torque. (Video grab)
James told CLIMBER that when he and Dom arrived at The Plantation it was soaked from overnight rain – but that it was super windy. James is well-known to us for his early (super psyched) starts so an 8am arrival isn't especially early for him. The wind did what it does and three hours later Dom topped out on Careless Torque on his first go today having fallen off yesterday going for the flake. Quite what James must have been thinking as Dom topped out is anyone's guess as James broke his ankle in autumn of 2013 taking that same fall.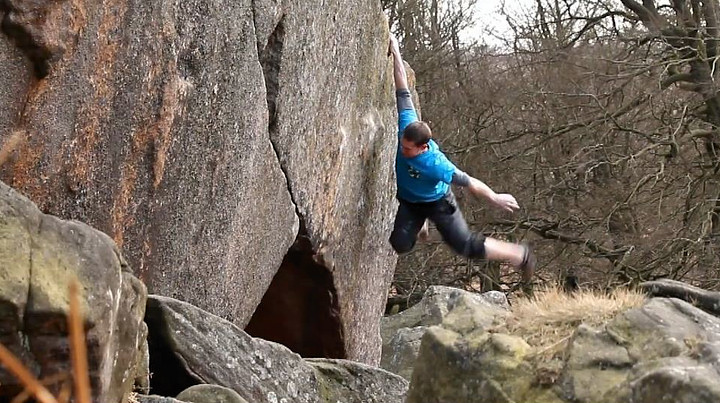 James Thornton latching the top of The Ace (Video grab)
With one send in the team bag, it was over to The Ace and James' turn to get involved. Like a fair few boulderers, James has been getting close to The Ace for a while – laps on The Joker were end-of-the-day stuff but The Ace was proving elusive. And when the snow started to fall it looked as though it would be game over for another day – again! Not so however, holding pads and towels over the crucial holds it stayed dry and in the ensuing minty conditions after the snow shower passed James topped out on what we believe is the 11th ascent of the Jerry Moffatt classic test-piece.
To see a video of Dom and James in action click through here. As you 'll see in the video James did have a 'heart-in-his-mouth' moment topping out on The Ace as the lip of the foothold he used to top-out broke off as he pulled over. James told CLIMBER that he initially thought that it was the jug that had come off again but it was, in fact, the lip of a small flake which he used rather than using the more normal heel-hook which can be used anywhere on the top. James has the piece of grit so it can be repaired.
James's ascent of The Ace is the hardest of the blocs he's done since moving to the Peak in 2013. It's highly likely that James would have done much more had he not broken his ankle but now he's back on track and super psyched watch this space – as they say. Finally, to see more of James's ascents on Vimeo click through here.