James Squire adds Pursuit of Slappiness
James Squire added yet another testpiece bloc to the southeast circuit recently; Pursuit of Slappiness (Font 8b) at Kilmar Tor, Cornwall.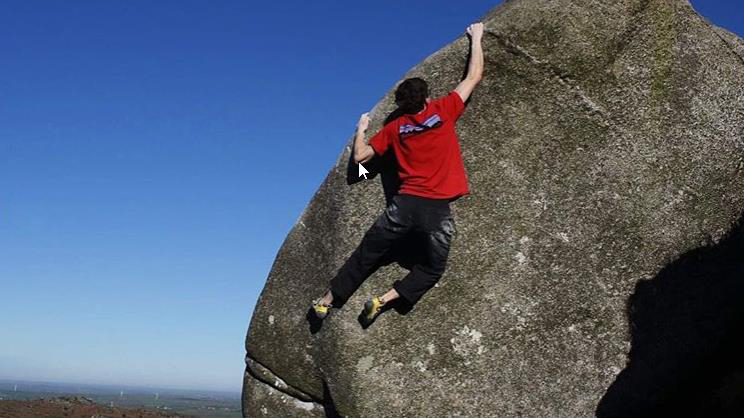 James Squire on the first ascent of Pursuit of Slappiness (Font 8b) at Kilmar Tor. Photo/Video Grab: Ed Gow Smith
James has been beavering away in the southwest adding more and more testpiece blocs to the bouldering scene. Last year was an excellent year for James, as well as repeating Spray of Light (Font 8c) – a Daniel Woods problem from 2015 – at Rocklands in South Africa, he also added a number of hard blocs in this country, namely: The Vault (Font 8b) at Hartland Quay, Keep it Real (Font 8b+) at Biblins Cave, Skyfall (Font 8b+) at Secret Spot and then Infamous (Font 8b) and Rocket Science (Font 8b/+) on the Devon Sent Boulder at Bovey Woods.
It looks as though James is starting 2020 in the same vein with his send of Pursuit of Slappiness. Climber has been in touch with James for the low-down.
Another stonking line you've added; that must be very satisfying?
Yeah! I think I have been pretty lucky. This boulder in specific was probably the best line I have ever developed.
Can you tell us a little about Kilmar Tor, how Pursuit of Slappiness climbs and how long it took you?
The rock at Kilmar Tor is a finer granite than the rock at more popular areas such as Haytor and Bonehill but still quite rough. Character building! Specifically, Pursuit of Slappiness involves very subtle climbing on granite slopers. You have to line up your fingers perfectly in-between crystals. You think you will fall off at any moment before catching the finish jug. It took me two sessions.
You compare the difficulty of Pursuit of Slappiness on Instagram to the two problems you added late last year on the Devon Sent Boulder – i.e. Font 8b/8b+. Unlike many hard boulders which are hugely overhanging compression problems, these are more vertical problems. Taking all that into account what's your thoughts about the grade for Pursuit of Slappiness?
Pursuit of Slappiness is probably a shade easier than the two boulders I added on the Devon Sent boulder last year. It is so hard to grade these boulders as the style is so different to hard problems and there isn't much to compare these too, so I fully respect the grades could be wrong. The lines are fantastic, so I am sure they will get a repeat. On reflection, I think the grade of Pursuit is Font 8b.
A friend, Ed Gow Smith, showed you the line at Kilmar Tor – it seems you must have an army of mates all showing you potential lines?!
Ha, ha. Ed is local(ish) and was super kind to show me this boulder (and many others nearby). I would not have climbed this project without Ed spending hours on a rope cleaning the whole arête. I should also say a massive thanks to Tom Rainbow and Walker Kearney who have done a significant amount of work on Dartmoor and Cornwall, and I am very grateful for all the info they have shared. They are responsible for finding these king lines!
It's great to see lots of hard blocs being added to the southeast circuit but where can visiting climbers get the latest info and is there a guide being planned?
Getting info on the sooutheast circuit can be hard at times. I have frequently climbed what I thought at the time were first ascents but later found out that they have already been done by locals. Not much is recorded however I think a guidebook is in the making. Something to look forward to. The area of Kilmar Tor is absolutely beautiful and I can't wait to go back!
Follow James via his Instagram page here.
Finally, watch James climbing Pursuit of Slappiness in a video below made by Ed Gow Smith.