James Squire adds Dexter (Font 8b) to Forest of Dean testpieces
Monday 12th February 2018
Feb 12th; 2018
James Squire has just finished off an old project at Huntsham to give one of the harder blocs in the area; Dexter (Font 8b).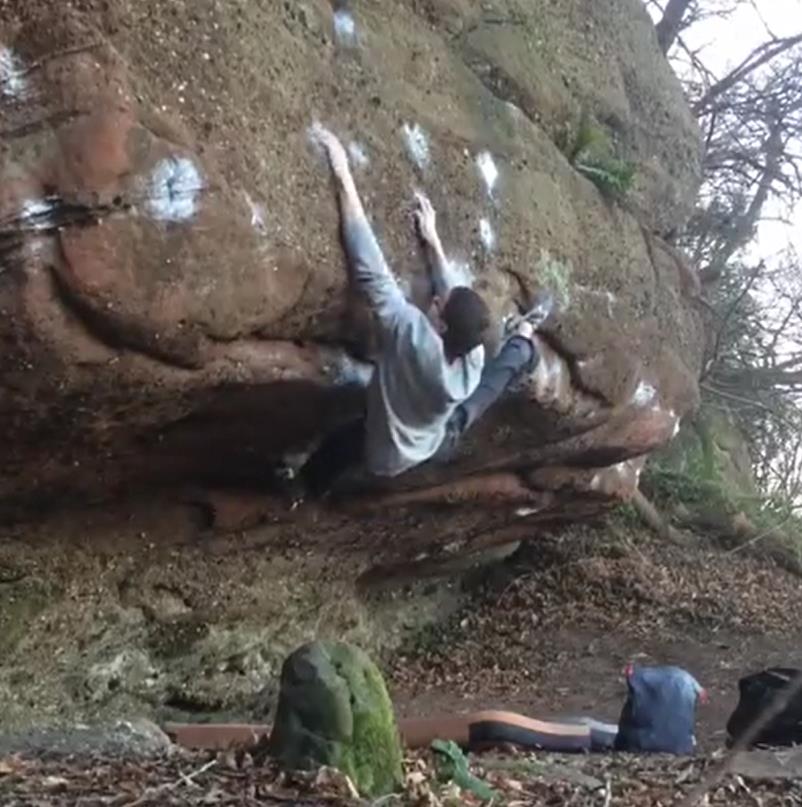 James on the latter section of Dexter. Screen grab from video
James has amassed an impressive tick list over the last few years - not least climbing classic testpieces like The Ace which he did way back in Oct 2015 – see CLIMBER report here of that. Since then, James has been working hard on breaking through into the even harder grades; success came when he repeated Never Ending Story (Font 8b+) in Magic Wood last year.
Keen for the low-down on his first ascent of Dexter, CLIMBER have been in touch with James with a few questions…
It's always nice to get old projects ticked off; how long have you been trying this one?
I've looked at this roof for a few years when trying other problems at Huntsham but always wrote it off as impossible, until I finally worked out a more realistic sequence last week.

What made the difference do you think; the micro-beta or New Year psyche?
New Year psyche is always good but I think the micro-beta saved me on this one. I was surprised how such tiny changes in how you hold on can make something feel a lot more doable. It is not something you really plan on doing but more comes naturally with the more time you put into working a boulder problem.

How would you compare the climbing on Dexter to other blocs – either in quality, type of moves and say difficulty?
Quality wise it feels very similar to Elephunk in Fontainebleau, high friction compression (OK the rock isn't quite as good as Font). The moves on Dexter are quite unique! Difficulty wise I feel it is one of the harder 8B's I have done, but it annoyingly is quite reach dependent so it could be half a grade harder for the short and half a grade easier for the tall? Interested to see what people think!

Can we expect to see more projects like this going down this winter in the area?
I hope so! I need to find a few first. I have a couple of potential hard project here and there. Psyched to get to work on them.
Click through here to go to James's Instagram page and watch a video of him climbing on Dexter.