James Noble talks Fat Lip and three-in-a-day at Font
May 15th, 2015
We reported yesterday that Sheffield-based James Noble has just made the long-awaited second ascent of Fat Lip (Font 8b), Steve McClure's 'lip trip' traverse across the lip of Ben's Roof at Raven Tor. CLIMBER has been in touch with James for the low down but before we share with you James's thoughts we thought we'd set the scene a little and run-down James's recent bouldering exploits.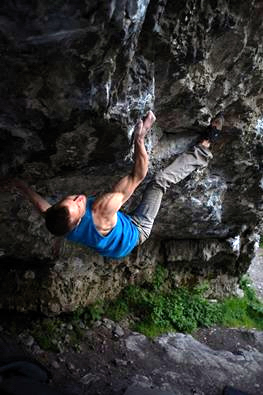 James Noble on Fat Lip (Font 8b), Raven Tor. Photo Rob Greenwood
James, also an accomplished sport climber, has been concentrating on bouldering recently and it's fair to say he's been knocking it dead! We reported back in February about his repeat of Serenity (Font 8b) at The Impossible Roof, Maltby. That was the first of the Font 8b's that James has climbed this year. The second Serenade, also at The Impossible Roof, came in early March. His third, Elefunk at Marlanval, came in early April and Fat Lip is James's fourth at the grade. James has also been banging out the Font 8a+ and 8a with what seems alarming regularity. Of the five Font 8a+'s added to his scorecard this year, three were done during his visit to Font. He's also done six Font 8a's this year as well – three of which were done in the same day!
If you're getting the idea that James is more than a bit good – you're on the right lines. Add in that James has a regular job - "blood, sweat, hard graft and a 50 hour week" he says - and that he (as they say) ain't no sponsored hero, then it makes his achievements all the more impressive. As you will see when you read our Q&A below, we think James is best described by the old adage 'a climbers, climber' – one that just gets on with it. Check-out his views on training too – interesting!
Here the short Q&A with James…
Congrats on getting Flat Lip done. It must be great to be getting plenty of harder stuff polished off?
I'm on a lucky bit of form at the moment! I've been a bit more relaxed about trying harder stuff recently, it's easy to just write things off as being too hard etc. but I've finished a few things off recently that I didn't think I would be able to do at all. It must be a confidence thing.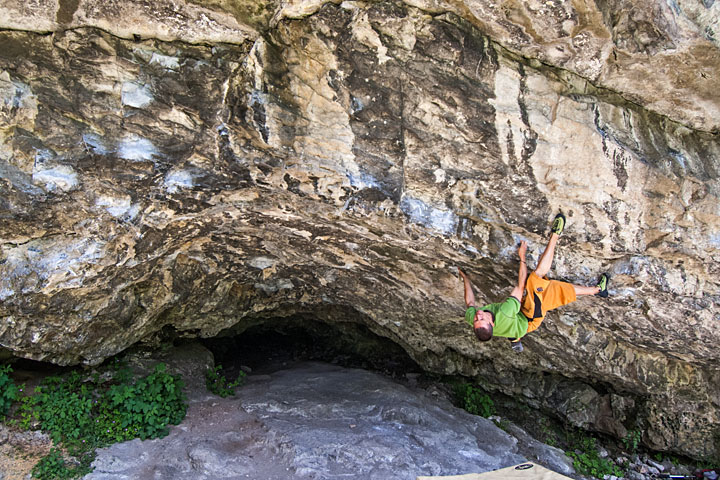 Steve McClure on Fat Lip (Font 8b) back in 2007. Photo Keith Sharples
What attracted you to try Fat Lip and why do you think it's not been repeated since Steve McClure did the first ascent back in May 2007?
I'm not sure why I tried Fat Lip really. I remember seeing a pic of Steve on it in a mag somewhere and thought it looked amazing. I've no idea why it hasn't had a second ascent already; hopefully it will see more attention now. It's not as powerful as it looks, there is a lot of subtle body positioning and technique involved.
You've just been out in Font itself where you climbed three Font 8a's in a day early in April and nearly did a fourth. Some day – how did that come about?
Yeah, it was a good trip. I went without much expectation and managed to climb really well. Did stuff in a few goes that I was genuinely expecting to take several trips over / life time ticks. I hadn't tried any of the problems before and they were all at different areas too. I flashed the first one, next went third go and then I had to wait till evening as it was about 20degrees. The third one was quite a fight and then I fell off the top of the fourth later on. Doing the three-in-a-day was an awesome day out!
Have you been following your usual regime or have you got a new training plan and if so would you care to share it with us?
I haven't really changed what I do with my training as I don't really 'train'. I don't follow any plan, I'm personally not a believer in finger boarding, I'd rather just try fingery problems for a session instead.
And finally, where's the Noble machine off to next?
I'm off to Rocklands for a month in August, - quite excited about that, a few things I want to get on out there. We're off back to Font again in November - I can't believe I hadn't been to the forest for nearly 4 years before this spring.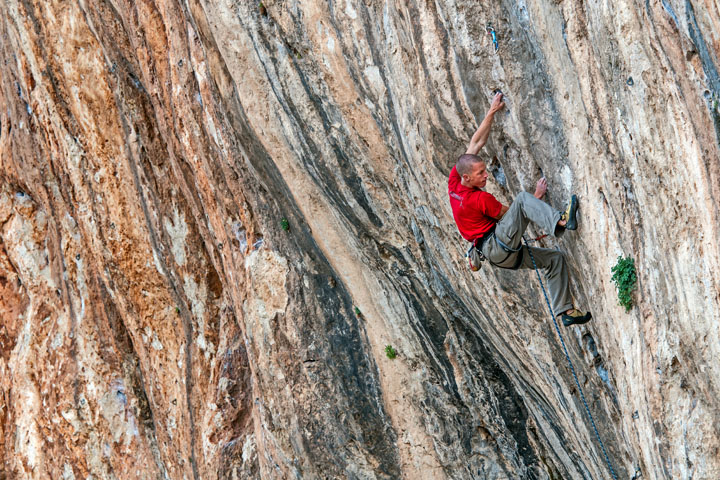 James climbing Mar de Ortigas (F8a) at El Triangulo, El Choro, Spain. Photo Keith Sharples
Finally, we'd like to thank James for sharing an insight into his climbing. And just for the record the three-in-a-day Font 8a's were Sacrebleau @ Cassepot, L'art de la fugue @ Saint Germain and Le toit de greuau @ Rocher Greau and the fourth one he nearly did was Tigre et dragon.
Thanks also to Rob Greenwood for the use of the shot of James on Fat Lip.