James McHaffie and Emma Twyford in double E9 sendfest at Dyer's Lookout
May 24th; 2018
James McHaffie and Emma Twyford had a cracking day yesterday at Dyer's Lookout on the northern end of the Culm Coast; Caff dispatching Walk of Life and Emma polishing off Once Upon a Time in the South-West – both E9's.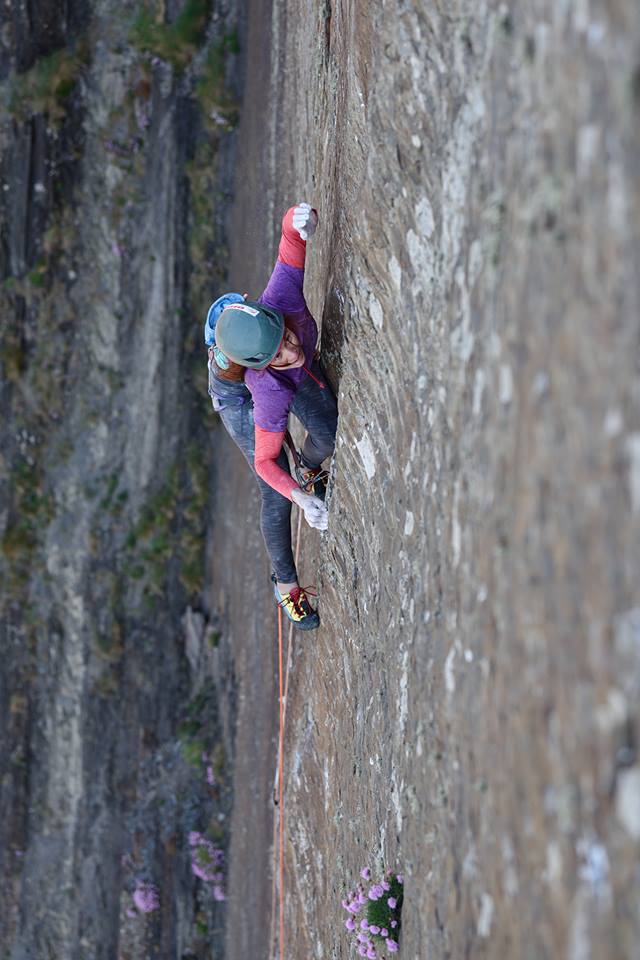 Emma Twyford captured climbing the upper section on Once Upon a Time in the South-West. Photo Ray Wood/DMM Climbing.
Arguably the most impressive cliff on the Culm Coast, Dyer's Lookout has attracted top-end climbers since the late 80's when Nick White and Dave Thomas did The Earthsea Trilogy Part 1 (E6) in 1989. A decade or so later, Ian Vickers ventured onto the wild-looking slab left of White's test-piece so record Dyer Straits (E8). The direct start to Vicker's route however remained the obvious challenge – as did the slab to the left again. James Pearson entered the scene in 2008. He pulled the pegs out of the direct start to Dyer Straits and then did the line to give Walk of Life. Originally given E12 by Pearson, Walk of Life dropped to E9 a year later when it was repeated by Dave MacLeod. Third ascensionist Dave Birkett agreed and for good measure took on the slab left again to give Once Upon a Time in the South-West – also at E9. To complete the chronology of Dyer's, Walk of Life has since seen repeats by Charlie Woodburn and Keita Kurakami whilst Once Upon a Time in the South-West has also been repeated by Charlie and then Hazel Findlay; Hazel's ascent of Once Upon a Time was the first ascent of an E9 in the UK by a women.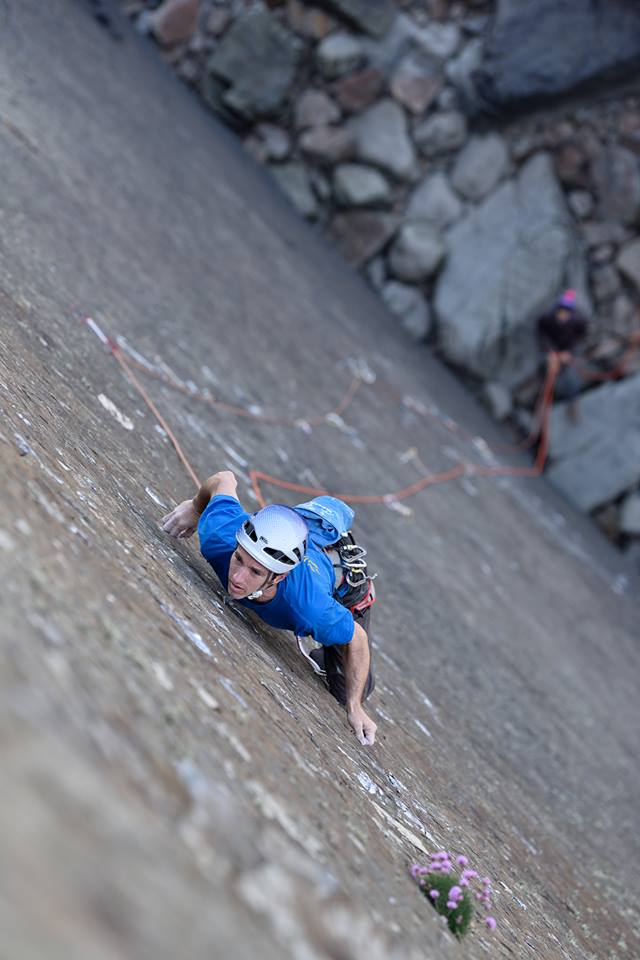 Caff cranking out the final crucial section of Walk of Life. Photo Ray Wood/DMM Climbing
Fast forward to this week James 'Caff' McHaffie, Ryan Pasquill, Emma Twyford and Maddy Cope have all been in action at Dyer's. Ray Wood has been along with the team to record the action for DMM Climbing. Whilst top-roped inspection of routes on the wall are typical, Caff and subsequently Ryan, both tried to flash Once upon a Time. Sadly, neither attempted succeeded. Yesterday however saw Caff do Walk of Life and Emma do Once Upon a Time.
Commenting on the DMM FB page Caff described Walk of Life: "a fantastic slab climb that if the start wasn't so serious would be more popular". Adding a bit more detail he said: "After the precarious start, protected by a hook and a pecker, steady climbing led to a sustained 10-15 metres section at around half-height. Overall, it felt around 8a+/soft 8b French grade."
By comparison Once Upon a Time has more fixed gear and a harder crux than Walk of Life. Emma is no stranger to hard trad climbing but her focus has been on sport climbing recently having done Mind Control (F8c) earlier this year – click here for that report. Writing on-line Emma was clearly setting herself quite a challenge when she tied in to start Once Upon a Time: I've not done much trad this year let alone anything that has felt serious so I wasn't sure if my head was in it. My initial plan has been to go for a recce lead and sit on the gear if I got scared but somehow managed to push on through crux and not fluff the spicy head wall."
Emma told CLIMBER that the best thing about Once Upon a Time was: "working it with Maddy so it felt less scary and the climbing which is 50m of superb and intricate moves that keep you involved all the way sprinkled with a few rests to contemplate the next hard moves."
On the flip side Emma said: "The hardest thing was leaving the ground, having to place lots of small kit and dealing with pretty sore feet. Luckily I'm good on a crimp which bailed me out a couple of times. I haven't done much trad this year so being quick with placing the kit wasn't my strong point."
Emma told CLIMBER she's taking a break today and is planning to top-up her tan! Stay in touch with Emma via her FB page here. Catch more of the story and see more amazing shots of the action from Ray Wood on the DMM Climbing FB page here.