James McHaffie adds House of Talons to Cromlech
April 24th; 2016
Topping out in cold and damp conditions, James 'Caff' McHaffie added House of Talon to the Cromlech on Saturday April 23rd.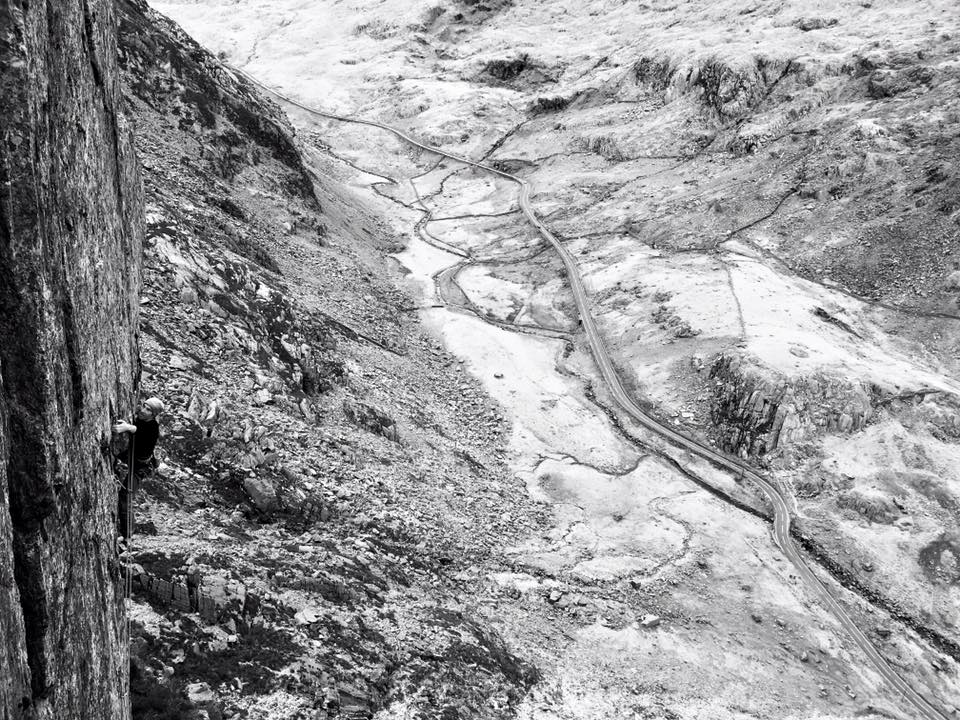 James 'Caff' McHaffie on the first ascent of House of Talons (E9 6c). Photo Dave Turnbull
The giant 'open book' of The Cromlech - sitting high above Llanberis Pass - has long exerted a powerful pull on climbers. Few opportunities exist for new routes and after Caff's ascent of the House of Talons (E9 6c) yesterday there's now one less.
Few climbers make the effort to go 'top-side' on The Cromlech – but that's their bad. Nestling above the much-travelled and world-famous Left Wall, Right Wall and Lord of the Flies there is a 'hidden kingdom' in which successive generations go and leave their calling cards. Don Whillans did Grond (E2 5b) in 1958 and then Ron Fawcett left Atomic Hot Rod (E5 6b) in 1980. Craig Smith, Adam Wainwright and Steve Mayers respectively left Rumblefish (E7 6b), The Bastard Practice (E7 6c) and Overlord (E7 6c) during the lycria years between 1986 and 1992. Now, Caff has stamped his name up there.
Taking the wall left of Rumblefish, Caff's House of Talons (E9 6c) is his calling card – and some card it is too. Protection on the Cromlech's walls can often be hard-won and Caff had to resort to skyhooks along with some poor wires to protect House of Talons. Caff spilled the beans to CLIMBER "Think I used 11 [skyhooks]. There are 2 ok RPs very low down but they are too low. There is 1 bodyweight RP at 2/3rd height but the 3 skyhooks are better if pumpy to place."
Caff also explained how long he's been tinkering with the line; "I'd abbed it twice last weekend and again once before I led it to check the gear and some moves".
So there you have it; another Caff special.