Jakob Schubert scoops-up Alasha and Es Pontas
Having arrived on Mallorca three weeks ago Jakob Schubert has repeated both Alasha and Es Pontas!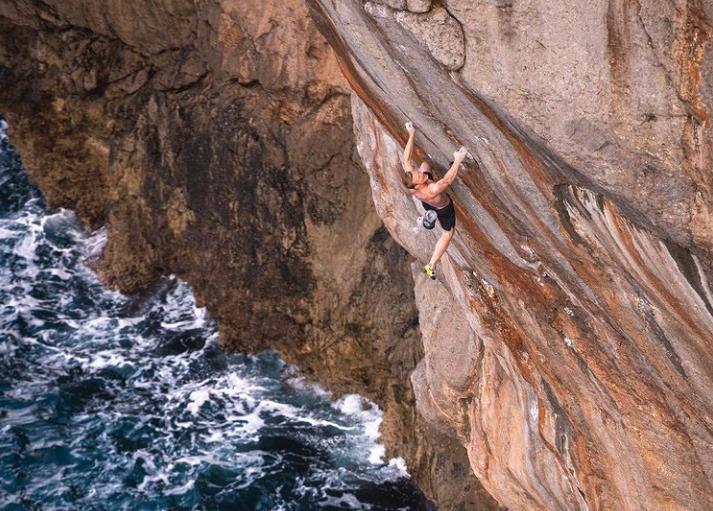 Schubert has been to Mallorca previously for a holiday; this trip is something else though! It was the end of September that Jakob arrived on Mallorca and he got straight down to business. "So this is my first real deep water solo trip and I'm having a blast. Going all in so high above the sea certainly gives a new sense of excitement." Schubert said commenting on the world class DWS on the island. Clearly, he had radar-lock on Chris Sharma's testpiece DWS routes there - Alasha and Es Pontas.
Sharma climbed Es Pontas back in 2006; since then only Jernej Kruder (2016) and Jan Hojer (2018) have been able to repeat it. Alasaha is Sharma's more recent addition from 2016. Jernej Kruder has been close to repeating it but prior to Schubert Alasha was unrepeat however.
Conscious that Alasha was on the north of the island and that the climbing there would finish sooner than in the south Schubert kicked off with Alasha. Writing on his blog Schubert commented: "So after a first session at the more mellow spots like Cala Varques we went to Soller where we were lucky to be able to go on a motorboat tour with Sebastian from Rock and Water Mallorca who showed us around and made us get a nice first feel of the north coast."
Amazingly Schubert topped out on Alasha on his fourth attempt as he explains on his blog: "I climbed into the crux ground up twice before checking out the moves from the rope. I was lucky to have Jernej Kruder there as he had everything dialled and he also shared beta etc. I managed to climb Alasha on the next go (4th try)."
Sharma never graded Alasha but Schubert addressed this saying: "If I remember correctly, Chris never set out a grade for Alasha or Es Pontas, it was more that he compared the process with some of his hardest sport climbs and this is how numbers made their way into media. Most of all I think sport climbing grades aren't ideal for deep water solo climbing, especially the difficult and high ones where more factors come into play than just the ability to send hard. Even if you check out some sequences on a rope the whole endeavour is still so different from a sport climbing process, where you have all options to practice or rehearse moves or sequences countless times without the consequence of big falls into the sea. What I can say is that during my send of Alasha I physically felt like climbing in the F8c+ range. Taking also the commitment and fear factor into account calling it F9a feels about right to me. But the centre of attention on such a climb is something else, if you just want to send hard stuff you need to go elsewhere. After this comp season with Olympics and World Championships I felt hungry for adventure and experience outside. I got plenty of that here."
Having got the second ascent of Alasha Schubert switched to the south and Es Pontas. Success wasn't long in coming there either. "I stuck the dyno and didn't let go anymore! ES PONTAS ✅"?" Schubert said posting on-line on Thursday.
Remarkably, Schubert – despite having done very little DWS'd – has added two of the hardest DWS's anywhere to his CV in a short three week trip; undeniably, that's real class.
Watch a short vlog below in which Schubert talks about his Mallorca adventure…