Jakob Schubert flashes Anam Cara (Font 8B+)
Last Monday, Jakob Schubert flashed another Font 8B+, Anam Cara - his third of the grade.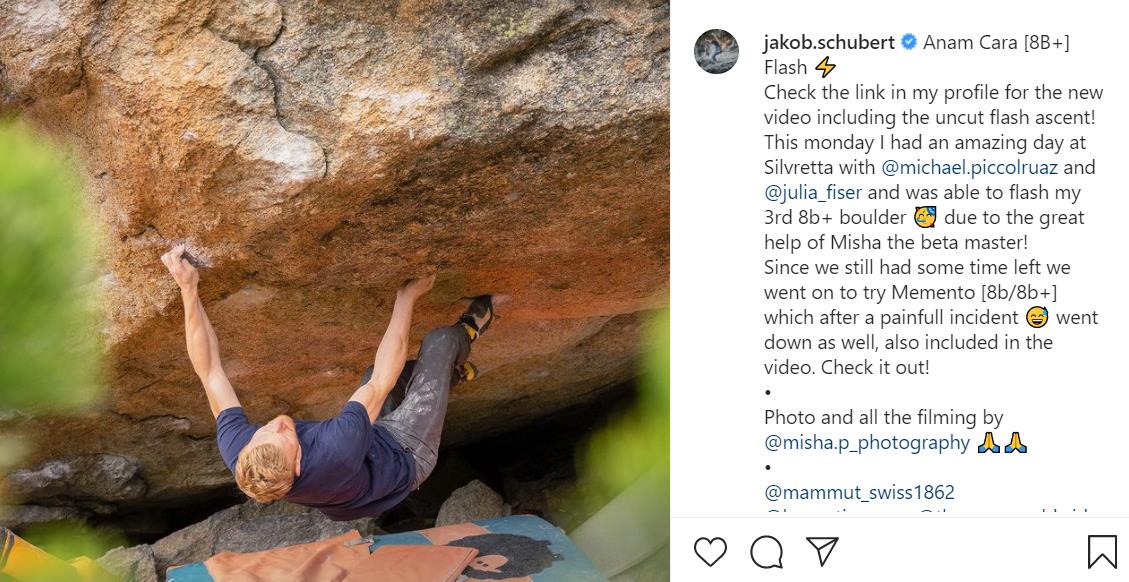 "This Monday I had an amazing day at Silvretta with @michael.piccolruaz and @julia_fiser and was able to flash my 3rd 8B+ boulder 🥳 due to the great help of Misha the beta master!" wrote Schubert.
Schubert first V14 flash, back in January 2018, was Chris Sharma's Catalan Witness the Fitness in Cova del ocell near Barcelona. Since then Schubert has also flashed Never Ending Story in Major Wood.
Having flashed Anam Cara, Schubert went on to get very close to flashing Memento (Font 8B) before falling off the last move. After a nasty fall when practising the top-out of Memento Schubert topped out later in the day.
A number of other climbers have also flashed V14/Font 8B+ including Daniel Woods (Entlinge), Adam Ondra (Gecko Assis and Jade), Jimmy Webb (The Globalist), Ned Feehally (Trust Issues), as well as Tomoa Narasaki (Decided).
Watch a video of Schubert flashing Anam Cara and repeating Memento below.