Jain Kim and Hiroto Shimizu win Gold in Inzai
Oct 28th; 2019
Legendary Jain Kim and Hiroto Shimizu have taken the final gold medals of the 2019 Lead World Cup in Inzai, Japan this weekend.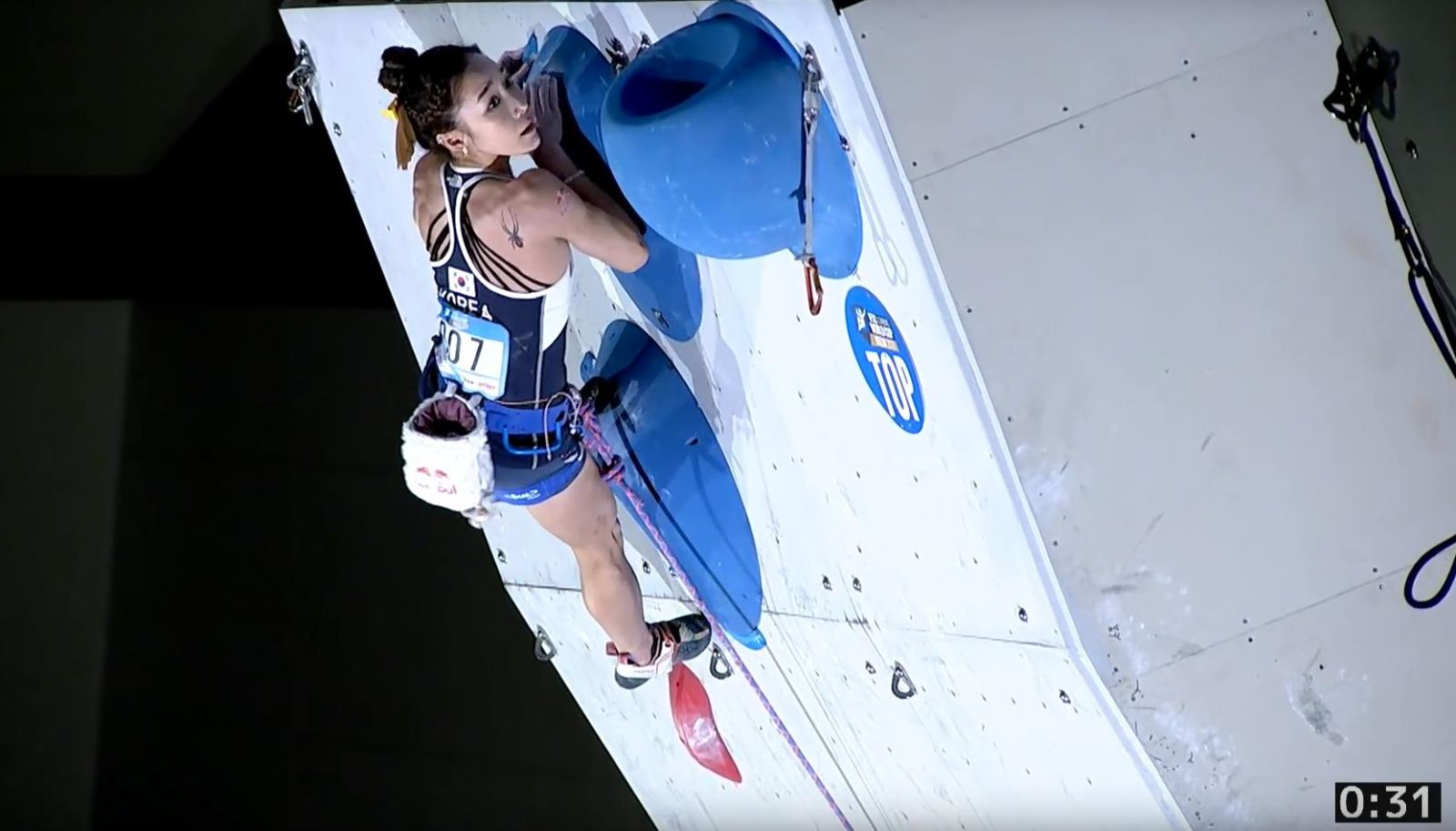 Legendary Jain Kim winning at Inzai and becoming the first ever climber to win 30 IFSC Gold medals
Almost inevitably there was something of an end-of-term feel to the final World Cup Lead competition this weekend after a long and hard season. Although Chaehyun Seo and Adam Ondra has already won the overall 2019 Lead title, the rest of the podium places were still up for grabs. Despite that however, the starting line-up for the men's event was missing a number of significant players; Adam Ondra, Jakob Schubert and Tomoa Narasaki all absent as well as the injured Alex Megos. The women's event by comparison had pretty much all the big names plus the likes of Miho Nonaki and Jain Kim were back in the game after recent injuries etc.. After the setting in Xiamen the weekend before everyone was hoping for a good set of routes from the team led by Christian Bindhammer.
The women's qualification routes saw Janja Garnbret, Akiyo Noguchi and Jain Kim climb especially well; all three climbers collecting tops on both routes. Unusually, Chauhyun Seo looked a little under par in comparison with her normal stellar performances. Garnbret however was seemingly back on top form after her recent performance dips and finished the semi's with a commanding lead ahead of Kim and Seo. The remaining semi-final contestants were pretty well strung out so thankfully we didn't get a repeat of last weekend's problems with lots of competitors falling at the same place. Sadly, despite her best endeavours, Molly Thompson-Smith finished the semi's in 9th place and just missed out of the cut and was so denied the opportunity to go through into the finals. To add context to Thompson-Smith's performance she finished higher than Margo Hayes!
No less than four Japanese female climbers were included within the final line-up; amazing that excluded Futabu Ito, Ai Mori and Natsumi Hirano – again confirmation of the strength and depth within the Japanese team. After a trick start the route steadily built up into an endurance fest. Natsuki Tanii and Miho Nonaka both fell going for hold 35 but Akiyo Noguchi pushed on beyond only to fall going for 37 having struggled with a clip. That left Seo, Kim and Garnbret to climb in that order. Seo posted a spirited performance but didn't, for once, top the route. Climbing next in her customary super smooth style Jain Kim delivered an absolute masterclass topping the route with around 30 seconds to spare. Once again, Garnbret was climbing last and once again she had to top the route to win. Despite her solid performance in the earlier rounds Garnbret started to look pumped well before the final moves and fell a couple of moves past Seo high-point but short of the top. Jain Kim's win, her thirtieth World Cup gold, was very well deserved and she enters the IFSC hall of fame as the first climber ever to win 30 IFSC gold medals. Garnbret finished in second, Seo in third and Noguchi in fourth just off the podium.
Hiroto Shimizu blowing hard as he approached his high-point and the win at Inzai
Like in the women's event, tops on the men's qualification were limited – the only double top was recorded by Ukrainian climber Fedir Samoilov. The semi-final route was a typically tough set from head setter Christian Bindhammer and it was the young Spaniard, Alberto Gines Lopez, that provided the only top. Sean McColl and Sean Bailey finished in joint second after the semi's with Stefano Ghisoli – having recorded one of his better performances in 2019 - and Hiroto Shimizu finished in joint fourth. Jim Pope put in a very strong effort and finished in 11th place just two places outside the cut for the finals. Unusually, the semi's saw two climbers, Kai Harada and Mathias Posch fall off on the second move. This was something of a repeat as Mathias Posch had fallen off going for the fourth move on one of the qualification routes although given that Sean McColl had also fallen off going for the third hold on that routes it's clear that competitors, no matter their experience, sometimes had bad days!
The men's final also had technical and insecure start leading to a 'show-stopper' move out left relatively low down. Although many of the finalists breezed through it a couple dropped it. Once through that section the route built steadily. Yuki Hada, climbing mid-field, was the first climber to progress into the mid-section of the route before falling off going for hold 29; ultimately, sufficient for fourth place. Next up was Hada's team mate, Hiroto Shimizu, who climbed with determination and composure at a one point seeming shaking-out on a particularity nasty looking crimp that had seen other competitors fall from. Shimizo pushed on onto the headwall and a collection of dual-texture wooden holds before finally falling off going for hold 39. Ghisolfi couldn't match Shimizo high-point but just squeezed past Hada's position and ultimately finished in third – a welcome podium for him in an otherwise somewhat lackluster season. Having posted a super strong semi performance all eyes were on Gines Lopez but even he with his battling spirit couldn't better Shimizu's high point and he had to settle for second behind Shimizu who took his first IFSC Gold in front of a home crowd.
As the dust settled at Inzai, the World Cup season has now been completed. Amazingly, Seo has won the overall Lead with Garnbret finishing in second and Tanii in third. Likewise Adam Ondra's lifted the men's overall 2019 Lead win with Alberto Gines Lopez and Sean McColl finishing the season in second and third respectively.
Finally, the 2019 Combined titles for 2019 went to Janja Garnbret and Tomoa Narasaki; both will be strong favourites for Tokyo.