Jacob Cook and Pete Whittaker do Freerider in sub 17hrs
Saturday 5th November 2016
Nov 5th; 2016
Jacob Cook and Pete Whittaker have just topped-out on the 33 pitch Freerider on El Cap in 16hrs45mins.
Pete Whittaker and Jacob Cook after doing Freerider in 16hrs45mins
Pete Whittaker has been bashing out the pitches all year across the pond – firstly over in Squamish and then latterly with fellow WideBoyz, Tom Randall, in Utah. This time he's hooked up with Jacob Cook for a 'in-a-day' attempt on Freerider.
Pete made the news back in Oct 2014 when, climbing with Tom Randall, he flashed Freerider over a three day period as part of his extended trip to Yosemite. Jacob had previous attempted a 'in-a-day' ascent of Freerider but had been defeated late into the night on the second of the Endro Corners high on the route. Rather inconveniently, that had necessitated a 20+ pitch abseil retreat in the dark – no doubt an experience he wasn't keen to repeat!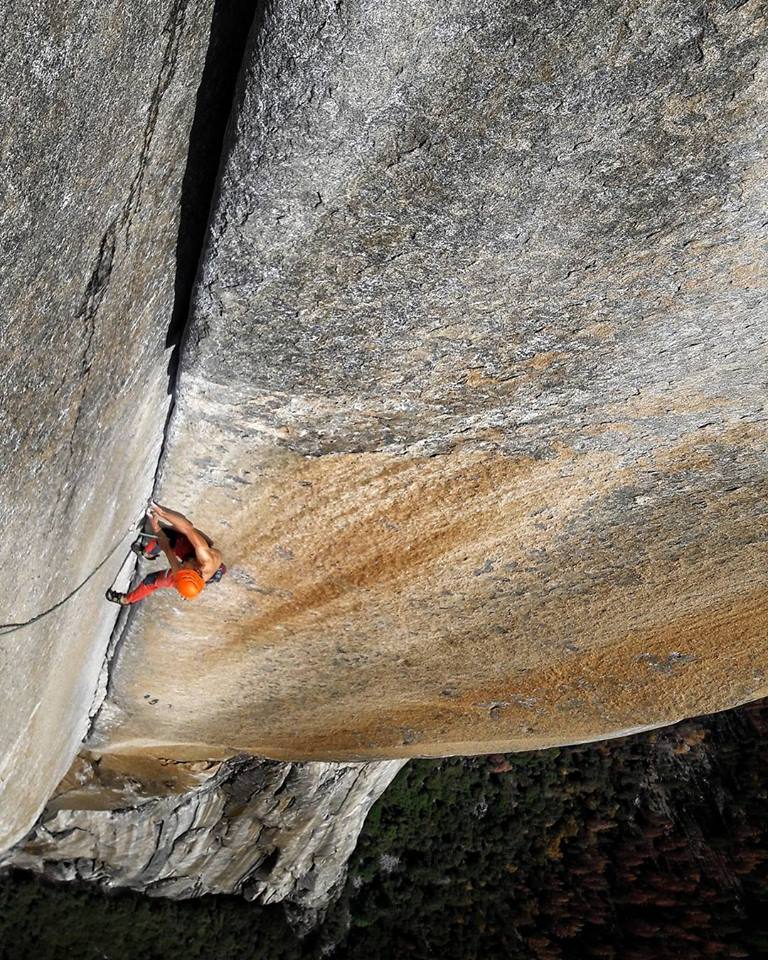 The second Enduro Corner
Jacob and Pete had stashed both gear and supplies on-route as Jacob explained: "We have water, 2 cams and a rope stashed at pitch 11, a tag line at 18, water and bagels at 19 and more water at 29." Despite the preparation Jacob was clearly feeling the pressure: "It's a huge challenge and it's definitely close to the limit for me, I could do it, but I also could definitely not do it." Two pitches have been causing Jacob particular concern; the Monster Offwidth pitch which is pitch 19 of Freerider and then the second Enduro Corner which is higher on the route. Having finally 'sorted' the Monster Offwidth pitch - rated only 5.11a - it was the second Enduro Pitch which had defeated Jacob on his first attempt earlier in October.
On this occasion the pair successfully topped-out doing all 33 pitches in 16hrs45mins.