The Power Station by Dream Climbing Walls
Short of time to travel to the nearest climbing wall to train? Or perhaps you just hate training in crowded places? If so, training at home is the obvious answer but what if you can't screw a fingerboard onto your walls? It's time to take a look at the Power Station from Dream Climbing Walls.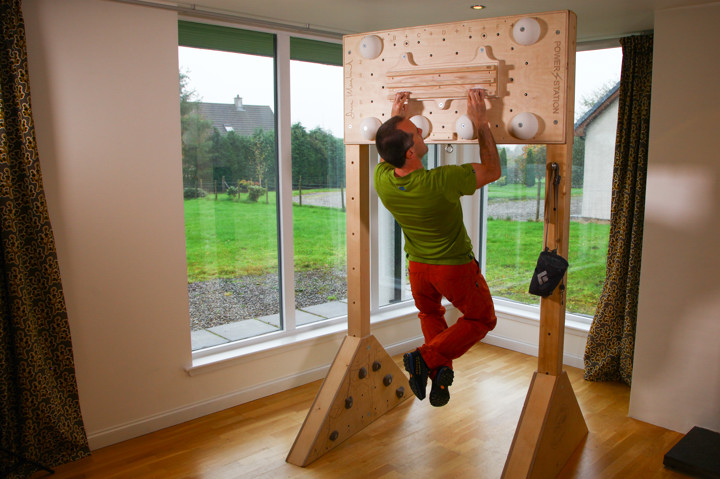 Dave MacLeod getting down to it on the Power Station.
Working with Dave MacLeod, Scott Muir at Dream Climbing Walls has designed the Power Station as a modular and free-standing training system suitable for home use. CLIMBER have been in touch with Dave MacLeod for the low-down on the Power Station. Here's what he fired back at us…
"The Power Station concept is something Scott Muir at Dream Climbing Walls approached me to help him develop. He wanted to create something that would allow climbers to have a home training setup that would offer more than just the standard fingerboard, and allow climbers who live in rented or temporary accommodation to be able to have a home training setup. To me this latter issue is an especially big deal so I was delighted to help Scott and we worked on getting a design together that would give the most functionality out of something that is still simple enough to be assembled in a few minutes. Scott always builds climbing walls to a very high standard and the materials used are high quality and the station is bombproof, solid and looks good as well. It's kind of a training shrine in a way for training geeks like myself!

The basic concept is a free standing setup for mounting a fingerboard, some campus rungs and a selection of holds. The sections bolt together in a few minutes to erect it or take it down and move it. There are various hold packages you can add to make whatever customised package you like. But the really nice thing is that you can hang a small 45 degree board from the Power Station (The Sub Station). When we first discussed the possibility of this, I wondered if it might be too small, but it is much bigger and better than I expected. You can make some nice 3-4 move problems on the board, either in your own layout or 'system style'.

I think this setup will be a really nice option for climbers who want to have something at home to train on. Either they can't mount a fingerboard at all (no permission) or they want something more than a fingerboard but don't want to permanently take up a whole room with a home climbing wall. Not everyone lives really near a climbing centre, and even those that do might only have an hour or two to spare in their day (work and kids?) and don't want to spend half of it sitting in traffic trying to get to the wall."
Check-out a video of the Power Station in use below or for more information, including the options and the price, head over to the Power Station website here…