IFSC World Youth Championship concluded with lead comp
Tuesday 8th September 2015
Sept 8th; 2015
The IFSC World Youth Championship ended in Arco over the weekend with the young guns slugging it out in a fiercely contested leading competition.
Ashima Shiraishi in the IFSC World Youth Championships - Lead Finals. Photo Giulio Malfer / Planetmountain.com
With one gold medal already in the bag, Ashima Shiraishi (USA) was looking for another and hence it was no surprise that she out-classed her opposition and took gold in the Female Youth B comp. Mia Krampl (SLO) won silver and Laura Rogora (ITA) bronze. The GBR climbers Kitty Morrison placed 29th, Isabell Adams 38th and Pippa Watkin 52nd.
Over in the Female Youth A comp, Janja Garnbret (SLO), who had also taken gold in her bouldering event, beat the rest of the field to take gold. Margo Hayes (USA), silver medalist in the bouldering comp, won silver while bronze went to Aika Tajima (JPN). GBR athletes Rebecca Kinghorn and Hannah Slaney placed 24th and 31st respectively.
Perhaps surprisingly the two separate comps were both held on the same route. In the end, both Shiraishi and Garnbret easily topped-out the same route.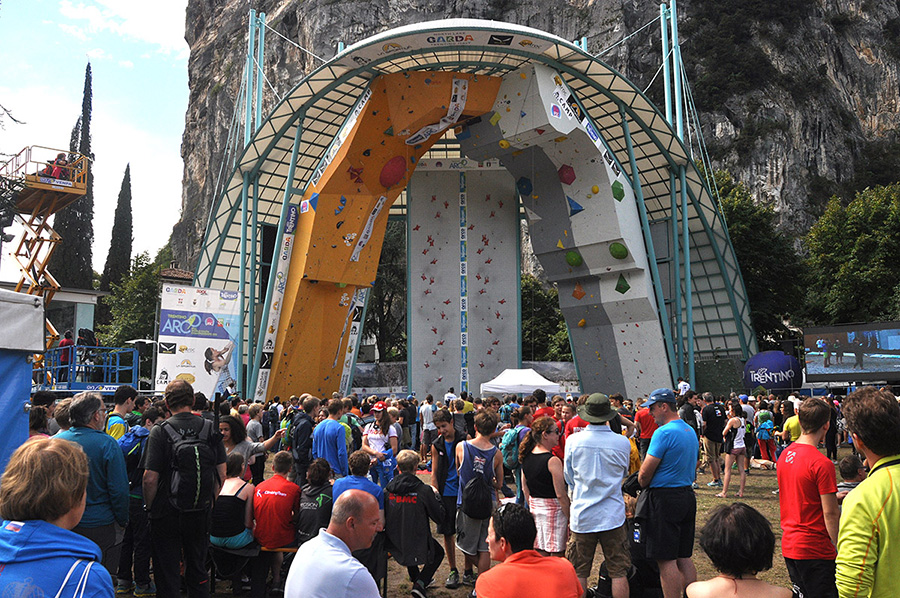 Arco Comp wall for the IFSC World Youth Championships - Lead Finals. Photo Giulio Malfer / Planetmountain.com
The Female Junior's comp however, was much closer – Anak Verhoeven (BEL) taking gold by the slimmest of winning margins over Jessica Pilz (AUT) who pipped Julia Chanourdie (FRA) into third. Molly Thompson Smith (GBR) finished in 19th.
The Male Youth B comp was also a closely fought affair with Sam Avezou (FRA) taking gold, Harold Peeters (BEL) silver and Pietro Biagini (ITA) bronze. The GBR contingent comprised Kieran Forrest (41st), Alex Norton (47th), Sam Oakes (50th).
Male Youth A was yet another close comp with Sascha Lehmann (SUI) taking gold by going just one hold better than Stefano Carnati (ITA) who collected silver with Hugo Parmentier (FRA) picking up bronze. Team GBR was represented by William Bosi (13th), Jim Pope (15th), Angus Davidson (37th) and Peter Dawson (44th).
The final comp, the Male Juniors was won by Bernhard Rock (AUT) over Jesse Grupper (USA) but since both climbers topped out on the route the result was decided on count-back with Rock taking gold by dint of his better result in the semi's. Keiichiro Korenaga (JPN) collected third place. The GBR climbers Alex Waterhouse placed 20th and Connor Bryne 28th.
Overall, the final places after the week-long comp were:
Female Youth A
1st Grace McKeehan (USA)
2nd Janja Garnbret (SLO)
3rd Asja Gollo (ITA)
Female Youth B
1st Elena Krasovskaia (RUS)
2nd Brooke Raboutou (USA)
3rd Laura Rogora (ITA).

Female Junior
1st Gejo Stasa (SRB)
2nd Jessica Pilz (AUT)
3rd Kyra Condie (USA)

Male Youth A
1st Carlos Granjia (ECU)
2nd Hugo Parmentier (FRA)
3rd Anselm Oberdorfer (GER).

Male Youth B
1st David Piccolruaz (ITA)
2nd Pan Yufei (CHN)
3rd Dichong Huang (CHN).

Male Junior
1st Matthias Erber (AUT)
2nd Hans Moritz (GER)
3rd Anze Peharc (SLO)
Click thru here for the full result from the full competition.