IFSC World Cup season restarts at Villars
IFSC World Cup season restarts at Villars
July 7th; 2019
Following a mid-season break the World Cup competitions resumed this weekend in Villars, Switzerland with golds for Janja Garbret and Sascha Lehmann in lead and Anouck Jaubert and Alexsandr Shikov in speed.
Despite the summer heat in Villars, the athletes were eager to return to the action after a short recess in the competitions. With Olympic qualification on the minds of many athletes Villars was the first lead event of the season and the fourth speed event.
Prior to Villars, the 2018 lead champion Janja Garnbret was the red-hot favourite to win the 2019 title not least considering she's been in storming form thus far this year having won all the bouldering events this season. How amazing would that be if she's able to replicate that in the lead event!! Likewise, overall 2018 winner Jacob Schubert came into Villars going flat-out especially with Adam Ondra skipping the event due to a wrist injury.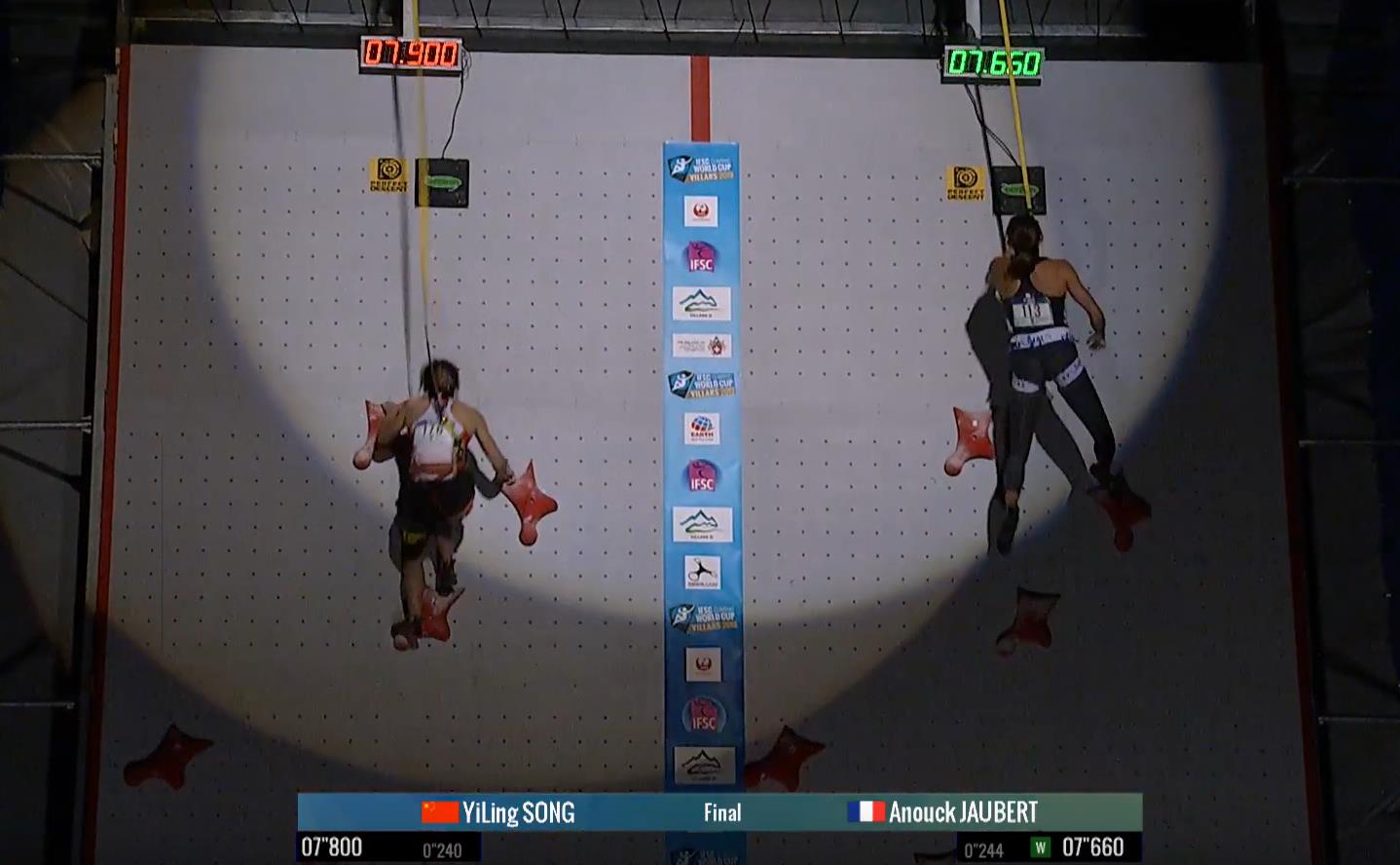 Women's Speed final where a slip by YiLing Songs at the very top of her run handed the win to Anouck Jaubert
Villars started on Thursday with the speed event. Although a number of athletes suffered slips during their speed runs – seemingly down to the heat – a number of blistering times were posted; YiLing Songs's qualification run of 7.224secs being a case in point. Unfortunately she wasn't able to maintain that form and ultimately finished in second place with 8.415secs. Despite a disastrous ½ final, Anouck Jaubert came good in the final to take the win with 7.660secs. In a very impressive effort Miho Nonaka progressed beyond qualification to finish in 10th place with a time of 8.432secs – an excellent effort for the non-speed specialist. Many other non-speed, Tokyo hopefuls had some excellent speed times going under the 10sec barrier; Futuba Ito (9.256secs), Sol Sa (9.366secs), Janja Garnbret (9.529secs), Alannah Yip (9.598secs), Akiyo Noguchi (9.697secs), Shauna Coxsey (9.798secs). Shauna Coxsey's time shattered Emily Phillip's former British Speed record by a considerable margin; her time sufficient to finish in 32nd – her best ever speed result and a massive increase on her previous speed event results.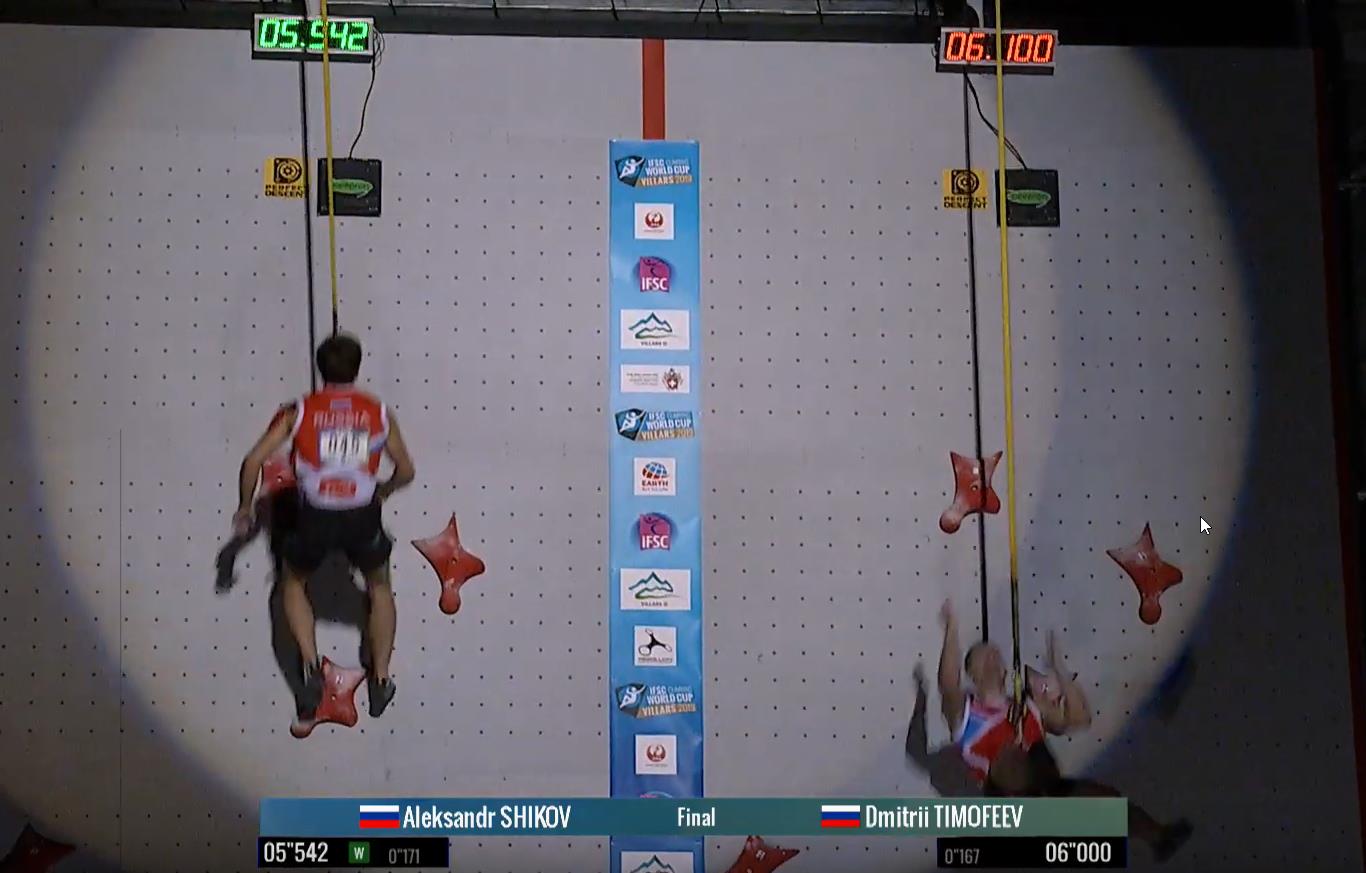 Men's Speed final where a slip by Dimitrii Timofeev handed Aleksandr Shikov the win
Aleksandr Shikov took the men's win – his second Villars title in a row - with one of the fastest time of the event (5.542secs) ahead of Dimitrii Timofeev who fell in the final after doing the fastest time of the event in the ½ final of 5.513secs. As with the women's speed, the men's lead and bouldering specialists are increasingly making in-roads into the speed rankings; Kokoro Fujii, for example, finished in 26th place with 6.497secs. Behind Fujii was Tomoa Narasaki (6.562secs), Jan Hojer (6.671secs) and Kai Harada (6.753secs) whilst Will Bosi finished in a creditable 36th with 7.072secs ahead of Jacob Schubert (7.268secs), Jongwon Chon (7.282secs), Sean McColl (7.694secs), Stefano Ghisolfi (7.849secs) and Alex Megos (8.329secs).
Janja Garnbret opens her 2019 Lead campaign with a win and seventh WC Gold in succession in 2019
It wasn't a surprise to see Janja Garnbret dominate the qualification round with tops on both routes; the only climber to do so. Garnbret also topped the semi – again the only competitor to do so – but what made that even more remarkable was that her chalk bag fell off at the start of the route and she climbed the entire route chalk-free! The semi-final saw no less than 15, the bulk of the competitors in fact, fall off two moves. Jessica Pilz, Miho Nonaka and Molly Thompson-Smith all fell going to 29 whilst Brook Raboutou, Petra Klinger and Shauna Coxsey fell going to 27. Molly Thompson-Smith (=13th) and Shauna Coxsey (21st) would clearly have been looking for higher finishes but both will have been pleased to climb in the semis. Of the finalists, two – Natsuki Tanii and Chaehyun Seo – were not only competing in their first ever final but were still aged only 15! Seven of the eight finalists all fell of the same move – a long move back right off two crimps – yet Janja Garnbret almost literally strolled through that move only to fall off the next one to take the gold, her seventh of the season! Ai Mori, also aged 15, took silver ahead of Chaehyun Seo.
Local Sascha Lehmann Takes his first ever WC gold in front of his home crowd
Alex Megos got off to a flying start in the men's lead event topping both qualifiers. Unlike the women's event the men's semi – won by Tomoa Naraski - saw a good spread of falling positions. Will Bosi made the semi's and finished in 20th but given Stefano Ghisolfi, Rei Sugimoto, Jacob Schubert, Kai Harda nor Seam McColl made the finals and all fell around the same point as Will it's an indication he's climbing well. Unusually, the finals saw tops from no less than three competitors Sasch Lehmann, YuFei Pan and Alex Megos so their respective positions on the podium were decided on countback with Lehmann delighting his home crowd with his first ever WC Lead victory. The Narasaki brothers, Meichi and Tomoa, finished in fifth and sixth respectively in an impressive display of family climbing talent although Tomoa Narasaki was in absolute cruise mode until he fell when he stood on his rope close to the top. Sadly, Kokoro Fujii was relegated into last place as a result of a technical issue at the start of his final climb when he stood on a bolt hanger by mistake.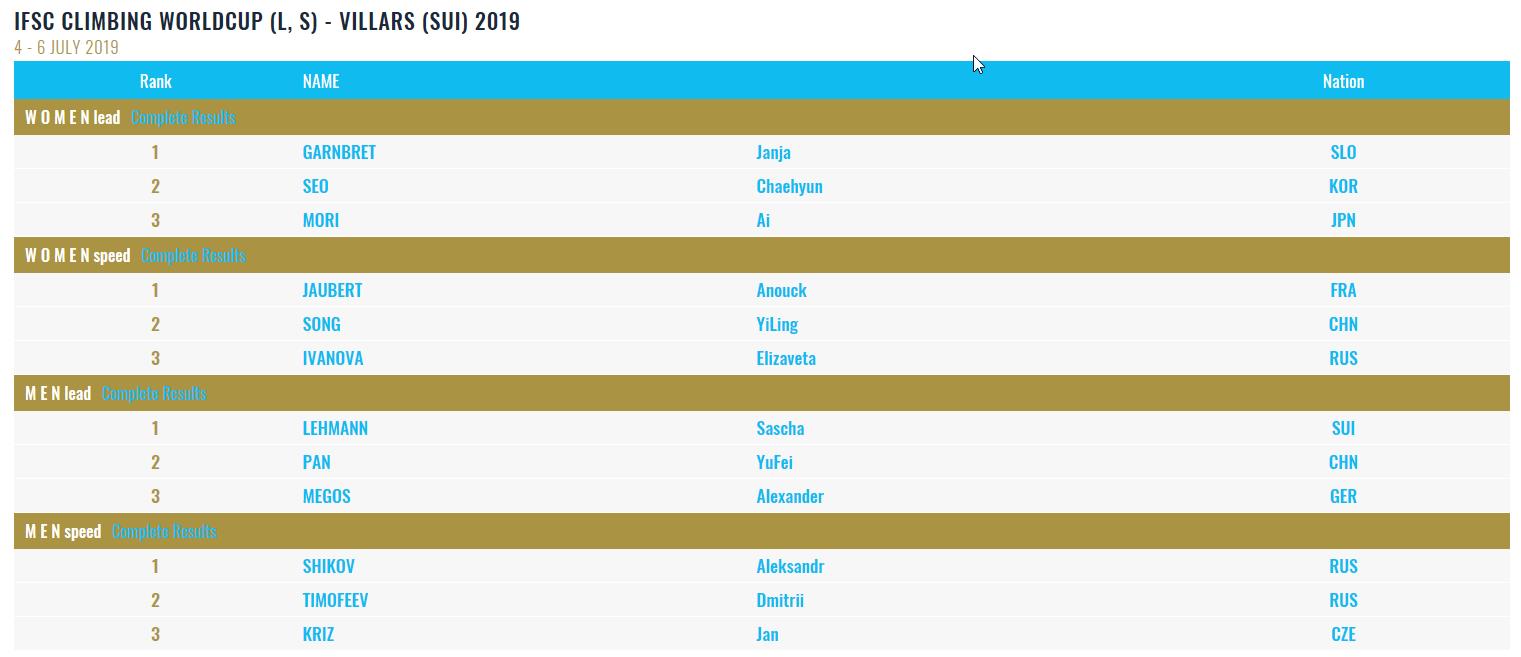 Villars results
Click through here for the Villars event page and the full results.
All the competitors will now travel the short distance across to Chamonix for next weekend's lead and speed competition after which provisional standing for many of the Olympic hopefuls can be calculated assuming of course that they have completed a minimum of two events in all three disciplines. Watch this space, Olympic qualification is hotting up!