Honnold and Haley push hard in Patagonia
Alex Honnold and Colin Haley have had a busy February in Patagonia doing various enchainments including Crystal Castles Traverse, a multi-day link-up of Cerro Pollone, Cerro Piergiorgio and Domo Blanco.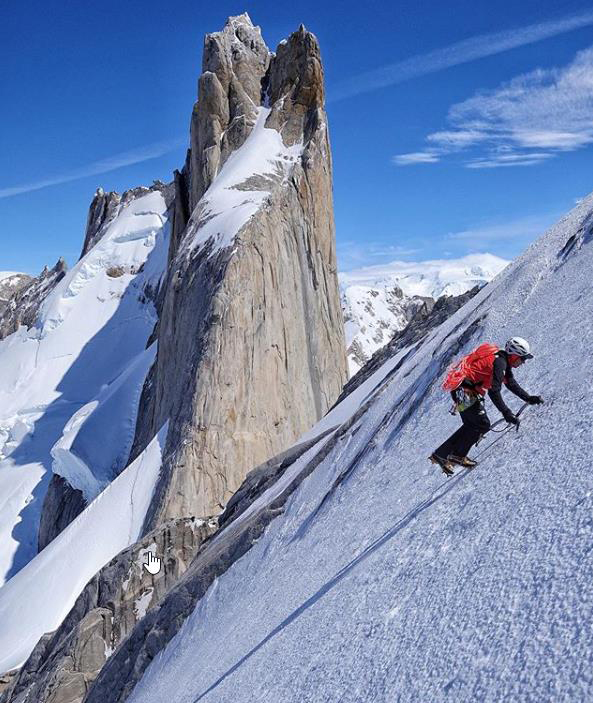 As we reported previously the 2020 season in Patagonia has been dogged by poor weather. By mid-February however, things had settled sufficiently for Brette Harrington, Quentin Roberts and Horacio Gratton to successfully completed a new route - Marc-Andre's Visión - on the East Face of Torre Egger. Click here for that report.
As the weather started to settle Alex Honnold and Colin Haley got ready for some action. For their first foray proper, Honold and Haley did a 'little traverse of Guillaumet, Mermoz and Val Biois'. Typically understated Honnold's post-match write was brief; 'Marginal conditions but nice outing.'
Honnold's subsequent trip into the mountain was a solo venture and from the details he posted on-line it sounds something of a hair-raising escapade. Honnold's objective was Thaw's not Houlding Wright on Aguja de l'S, a route first climbed by Kevin Thaw, Leo Holding and Cedar Wright. Posting on-line Honnold confirmed the somewhat dodgy forecast and his thinking at that stage; 'The weather forecast was marginal - a chance of precipitation throughout the day, medium winds, chilly temps - but seemed ok to at least stroll into the mountains and see how things unfolded.'
It was clear however that this went south pretty quickly; 'after scrambling up the initial 2k ft buttress it started snowing pretty hard and the winds increased. But by then it seemed easier to finish the hard climbing and descend the East face of de l'S than to climb back down the buttress and walk back out the Torre Valley (which is always a laborious approach). So I wound up climbing very icy cracks in a very windy snowstorm and made it to the top. Thankfully the descent was a lot more sheltered and I down-climbed the historic East face down to the glacier and then back to the normal hiking trails.' In total, Honnold covered a fair distance that day - by his estimate; 'Something like 7.5k ft of vertical and 24miles of hiking/jogging in and out.'
Honnold and Haley hooked-up again for what was their penultimate adventure, the traverse of three mountains; Cerro Pollone, Cerro Piergiorgio and Domo Blanco. Poor weather meant that the first couple of days were 'pretty leisurely' according to Haley after which they had 'a couple more action-packed days'.
Haley posted about their traverse; '…Cerro Pollone was an easy warm-up, Domo Blanco an easy cool-down, and traversing Piergiorgio was the bulk of the climbing. Piergiorgio is a serrated knife-edge of a mountain, with a precipitous big-wall on the west-side, and lower-angle but icier slopes on the east side. We never once donned the rock shoes that we brought, and we both ended the adventure with quite sore feet from the sustained front-pointing.'
Having got thus far the weather turned sour again forcing the pair off the mountains to return to El Chalten with three days food and fuel still in hand. Their intention had been to continue south beyond Domo Blanc but under the prevailing conditions they cut their traverse short. Haley commented on-line that they might have been able to complete their traverse of the three mountains faster had they not been carrying so much weight; 'I lamented the fact that we had carried so much extra weight with us, over a traverse that, in hindsight, we probably could have done in one big day with light packs.'
It appears that Honnold and Haley's ascent of Piergiorgio was only the third ever ascent. Haley, speculating why that might be when talking about the actual finish on Piergiorgio, said; 'These sorts of tricky finishes help explain the otherwise baffling fact that our ascent of Piergiorgio a few days ago was only the third-ever complete ascent of this mountain, despite the fact that it is one of the most prominent peaks here.' They have called their traverse the Crystal Castles Traverse but thus far haven't offered a grade for their enchainment.
Finally, the pair teamed up again for one last sortie into the mountains before Honnold had to return home to the US. The forecast poor weather didn't materialise and Honnold and Haley were able to have what Haley described as 'a long and excellent day'.
Haley summarised their outing. 'From Piedra Negra we traversed north to the base of Cerro Electrico Oeste, a sharp craggy peak made of metamorphic rock. Over a few hours we simul-soloed the entire north-to-south ridgeline of Cerro Electrico Oeste, which included many mini summits in addition to the highest summit. The sharpest of these mini summits is a very slender needle clearly visible from areas near Piedra Negra, and descending the south side of this needle was the one time we used the rope, making a 30m rappel. Wearing rock shoes while Alex climbed in approach shoes allowed me to feel comfortable on all the unroped climbing, although there were a few sections, particularly down climbing, that were at the upper limit of my comfortable free-soloing. Amazingly, it sounds quite likely that this was the first time Cerro Electrico Oeste had ever been climbed. From Paso Cuadrado we continued southwards along the ridge, first passing two granite towers on the west side, and then regaining the ridge crest one tower before the start of the Giordani 'sit start.' We continued simul-soloing up the Giordani, and then finally put on the rope at the base of the Comesaña-Fonrouge, which we simul-climbed in two pitches. In essence, our route was a 'super sit start' to the Comesaña-Fonrouge.'
Having experienced a few issues descending the Amy Couloir the pair returned to El Chalten 'quite late at night'.
For more info and photos check out Colin Haley's Instagram feed here and Alex Honnold's here.