Holeček and Groh complete hard first ascent on Baruntse
Márek Holeček and Radoslav Groh have climbed Heavenly Trap, a hard new route on the West Face of Baruntse (7129m) in Nepal.
Located in the Hunku Valley in the Khumba area, Heavenly Trap is a significant addition. Writing about his ascent online Márek Holeček outlined the details of his new route which he climbed with Radoslav Groh. The pair confirmed that the 1800m long route had considerable difficulties; "difficulties are ABO (M6 + / VI + / 80 °)". Márek Holeček further wrote; "I can say for myself that I have not yet done a harder climb in the mountains."
The ascent took Márek Holeček and Radoslav Groh ten days between May 21st and 30th. PlanetMountain report that having reached the summit they were trapped in a storm which they had to sit out. Eventually, having run out of food, they made a very difficult descent once the storm passed. After a final bivi, they used a satellite phone to call for a helicopter. Subsequently, they were airlifted directly back to Lukla. Click here to read a full description of their climb.
Márek Holeček and Radoslav Groh dedicated their ascent to their two friends Petr Machold and Kuba Vanek who died attempting the route eight years ago. Their bodies were never found.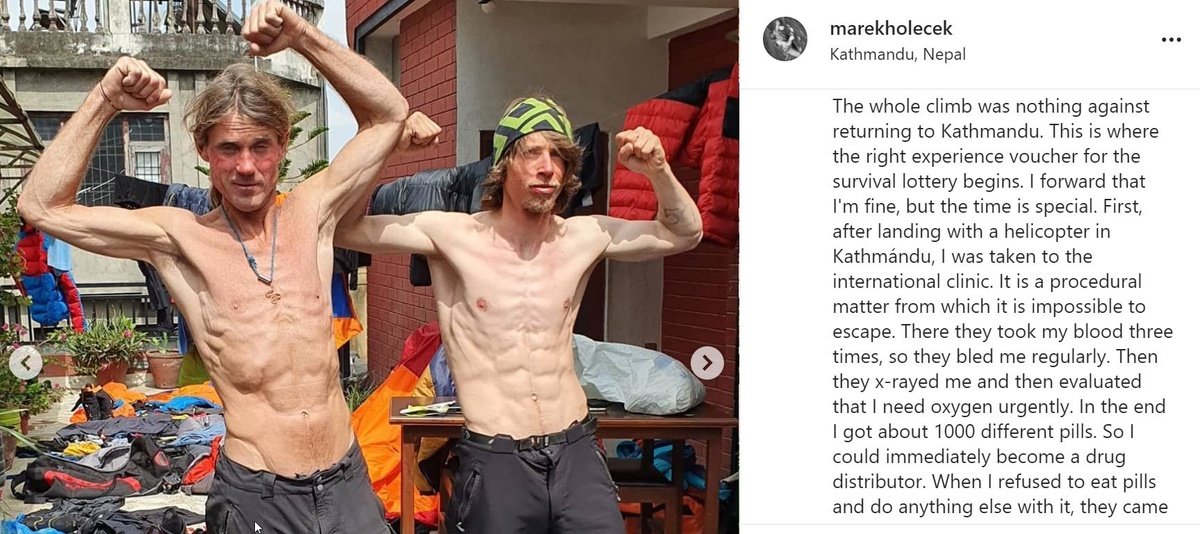 Once back in Katmandu they were taken to an international clinic for treatment and evaluation. Márek Holeček writes about that experience on his FB page. "First, after landing with a helicopter in Kathmándu, I was taken to the international clinic. It is a procedural matter from which it is impossible to escape. There they took my blood three times, so they bled me regularly. Then they x-rayed me and then evaluated that I need oxygen urgently. In the end I got about 1000 different pills. So I could immediately become a drug distributor. When I refused to eat pills and do anything else with it, they came to the conclusion that I was not normal and that I would die for sure. I risked it and an ambulance took me through the deserted city back to my Buba Hotel. However, "Heavenly Trap", that's the name of our new route to Baruntse is a worldwide success. The only thing that hardens is the fact that no plane is flying home yet. We'll probably have to walk."
Follow Márek Holeček via his FB page here.
Watch a video of the climbing below…