Happy New Year – Back to the Future
Wednesday 4th January 2017
Jan 4th; 2017
As the New Year rolls in and gets going CLIMBER would like to wish everyone happy crimping for the year ahead before we give you a quick run-down of the latest action.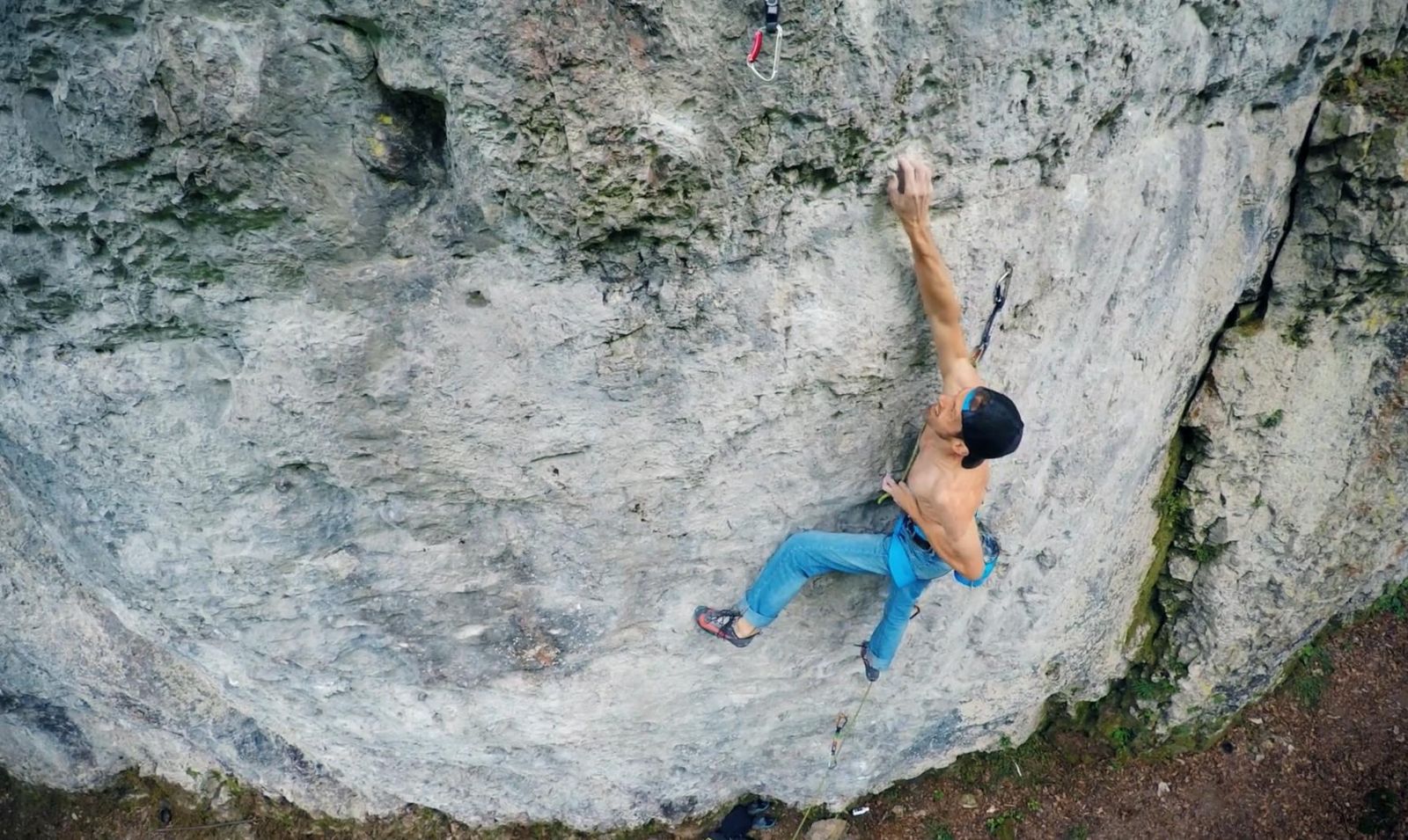 Jon Clark on Kumquat - a rearly repeated F8a+ from John Hart done in the late 90's. Video grab - Jon Clark
Lime-heads – normally deep within their winter training schedule - are in fact still out and about. Malham has seen visits from the old faithful crew members and so too has Raven Tor. Traditional Christmas Day ascents of Sardine and been blown away once again by the ever-keen Hadyn Jones. We reported in late December that Hadyn had successfully redpointed Kaabah (F8c+) in the run into Xmas – click here for that report. Well he's been back over the New Year and this time he's added Hajja (F8c) to his list of ticks. Brilliant effort – not least for keeping the psyche together for a crag that is usually running with water at this time of the year!
Lots have been happening over in Spain as well. Reports are that young Josh Ibbotson has been on-sighting 8a's and that a team comprising Ted Kingsnorth and Orrin Coley have been bashing out the classics like Lourdes (F8a) and Swimming Through a Shark Attack (F8a+). Will Bosi has been over in Margalef also on a classic bagging trip which has seen him do five F8a+/F8b's in just three days climbing. Meanwhile over in the monster cave that is Saint Linya Pete and Luke Dawson have been cranking hard. Both repeated Rolito Sharma Extension (F8c) and Pete went on to do Bloma (F8c+) his first of the grade in four days.
We'll leave you with a cracking little video from Jon Clark. Last summer Jon Clark and Hadyn Jones rediscovered the joy of Chee Tor East. It's always been something of a 'forgotten crag' even when the approach path into Chee Dale walked straight past – albeit on the other side of the river. Since the tunnels re-opened and became the main approach few climbers venture past The Cornice or Chee Tor and hence Chee Tor east has slipped from view and into obscurity. Anyways, they cleaned it up, repeated and upgrade Kumquat to F8b – much to the delight of the few that who did it years ago at F8a+ - and then added yet another F8a+ to the Peak's already bursting list of F8a+.