Hamer Brothers hit the road
July 20th, 2015
Sam and Ed Hamer, a.k.a. The Hamer Brothers, have hit the road on a UK-wide road trip aimed at nailing as many classic rock routes as they can muster.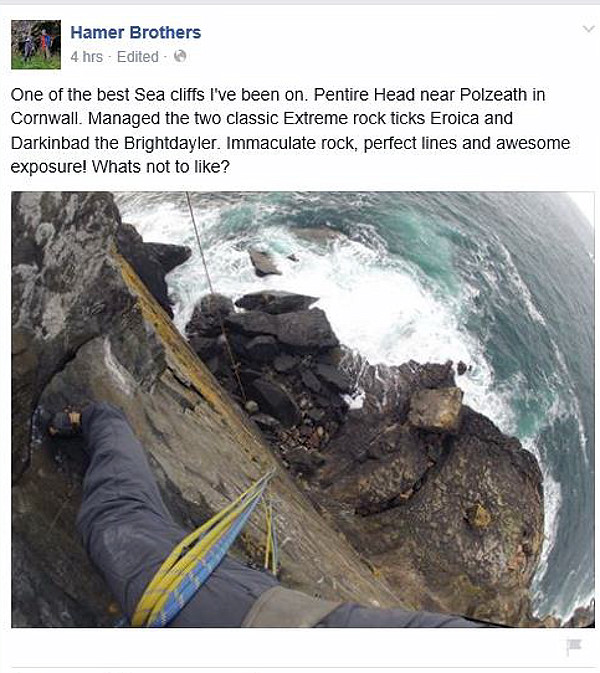 Hamer Brothers Facebook page…
The trip – dubbed the Great British Climb Off – is inspired by Sam's love of Extreme Rock and his desire to tick lists. Earlier in the year we reported (click though here for that report) that Sam had just ticked the top 50 routes in Rockfax's 2001 Eastern Grit guidebook. They will also be doing as many of the other great climbs at their intended destinations as well. Having kicked off last week, the trip has already been affected by the weather – much as the Hard Rock Challenge was which was completed by Richard Mayfield and Mark Stevenson back in 2007.
The brothers hope to complete their tick-fest by the end of August although by necessity, they will flex their intended schedule to take account of the weather. Their original planned schedule is reproduced below.
July
Scotland: The Cobbler and Dumbarton Rock
Northumberland: Great Wanney
Lake District: Langdale, Borrowdale and Scafell
Yorkshire Dales: Gordale and Kilnsey
North Wales: Great Orme, Llanberis, Cloggy, Tremadoc and Anglesey
August
Cornwall: Lower Sharpnose, Sennen, Bosigran and Pentire
Dorset: Anstey's Cove, Berry Head and Swanage
South Wales: Pembrokeshire
Ireland: The Burren, Fairhead and the Mountains of Mourne.
At the time of this report they're in Cornwall having just ticked Pentire Head. The trip is being supported by their sponsor, Berghaus.
During the trip, the Hamers will be taking over Berghaus' Instagram account (@BerghausOfficial) for a month and using Twitter (@SamHamer6) to share news of their immediate plans and whereabouts. Berghaus will also provide regular updates on their progress via Twitter (@TheRealBerghaus) and on its Facebook page.