Haley and Honnold blitz Torre Traverse – in less than a day!
Wednesday 3rd February 2016
Feb 3th; 2016
The Torre Traverse, one of the biggest prizes in Patagonia, has just been blitzed by Colin Haley and Alex Honnold in less than 24 hours!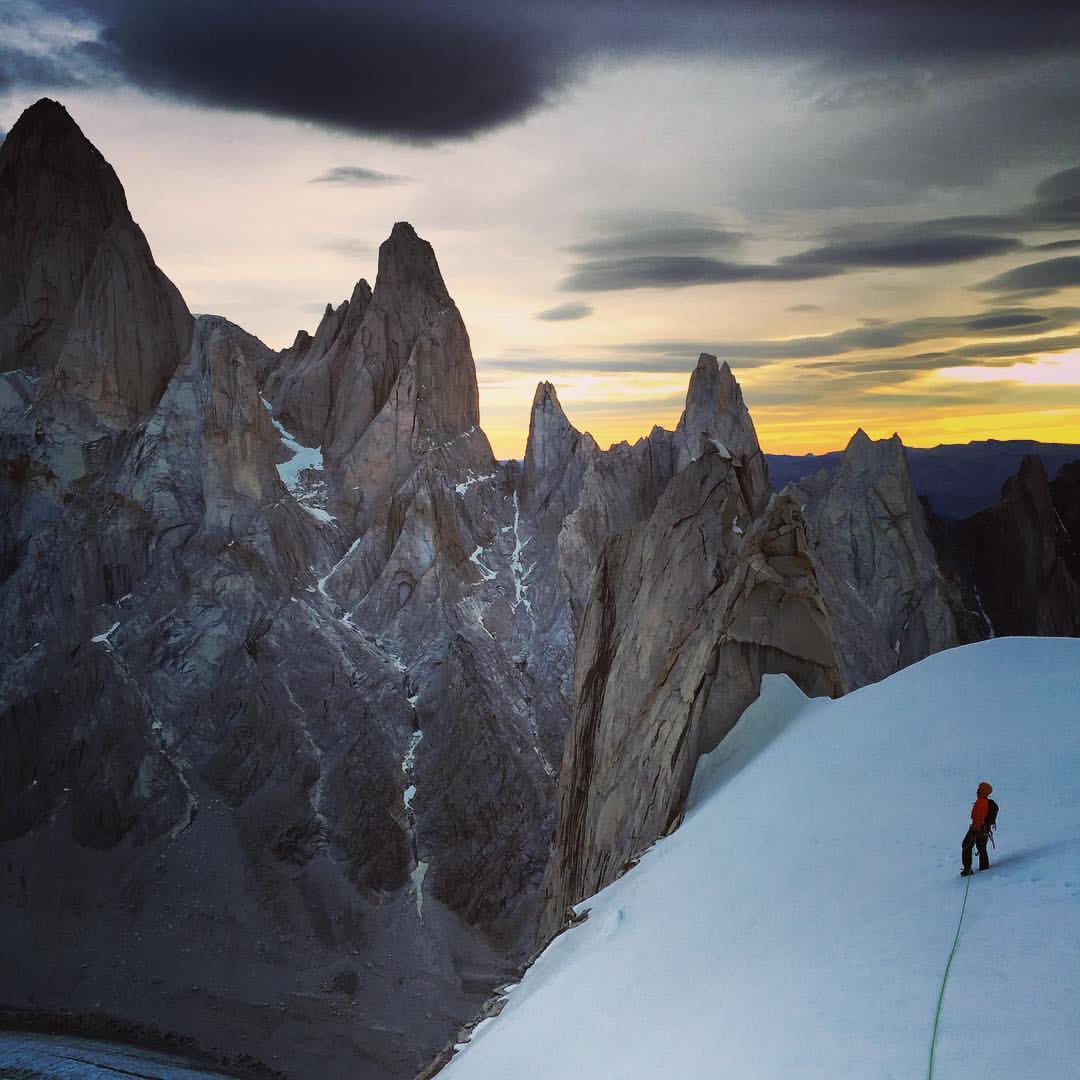 Posting on social media, Honnold said: "Sunrise on the South East Ridge of Cerro Torre as @colinhaley1 leads our rappels down after a long day of traversing the range. 32 hours camp to camp to climb all 4 Torres. Thanks for an amazing day out, Colin!" Photo Alex Honnold
The first ascent of the Torre Traverse was done by Colin Haley and Rolando Garibotti back in 2008. Starting with Standhardt, the Torre Traverse then takes in Herron, Egger and finally finishes on Cerro Torre. It was a prize that had been sought since the late Eighties when a group of Italian climbers made the first proper attempt. Eight years ago, Haley and Garibotti took four days for the first ascent. Amazingly, Haley and Honnold blitzed the whole traverse in just 20 hours and 40 minutes for the second ascent; without a doubt it's an incredible piece of climbing from the pair! In total, they were 32 hours camp-to-camp for the traverse.
The Torre Traverse. Photo Rolando Garibotti
Colin Haley has been a regular visitor to the area; his knowledge and experience of the Torre range is right up there with the best. Haley was in the news recently when he made the first solo ascent of Torre Egger – one of the most difficult of the summits in the area. Click here for that report. Alex Honnold, of course, needs no introduction as a rock climber although he's much less experienced in the mountains. That said, Honnold has proved himself capable from the get-go given he partnered Tommy Cauldwell in 2014 on the Fitz Traverse, the other big traverse in the area. Together, Haley and Honnold make a formidable pairing. Their successful ascent came a year after they first attempted the sub 24 hour record for the Torre Traverse. On that occasion, they pulled out due to bad weather 22 hours into the climb having reached the last few pitches on Cerro Torre. Rolando Garibotti, writing on his influential website to the area, Pataclimb.com, reckons Haley and Honnold's time will be a while before it's beaten; "Something tells me this record will stand for a long time to come."