Hachioji Speed World Championship Report
Aug 19th; 2019
Aleksandra Miroslaw and Ludovico Fossali took the gold medals at the Speed World Championship at Hachioji over the weekend.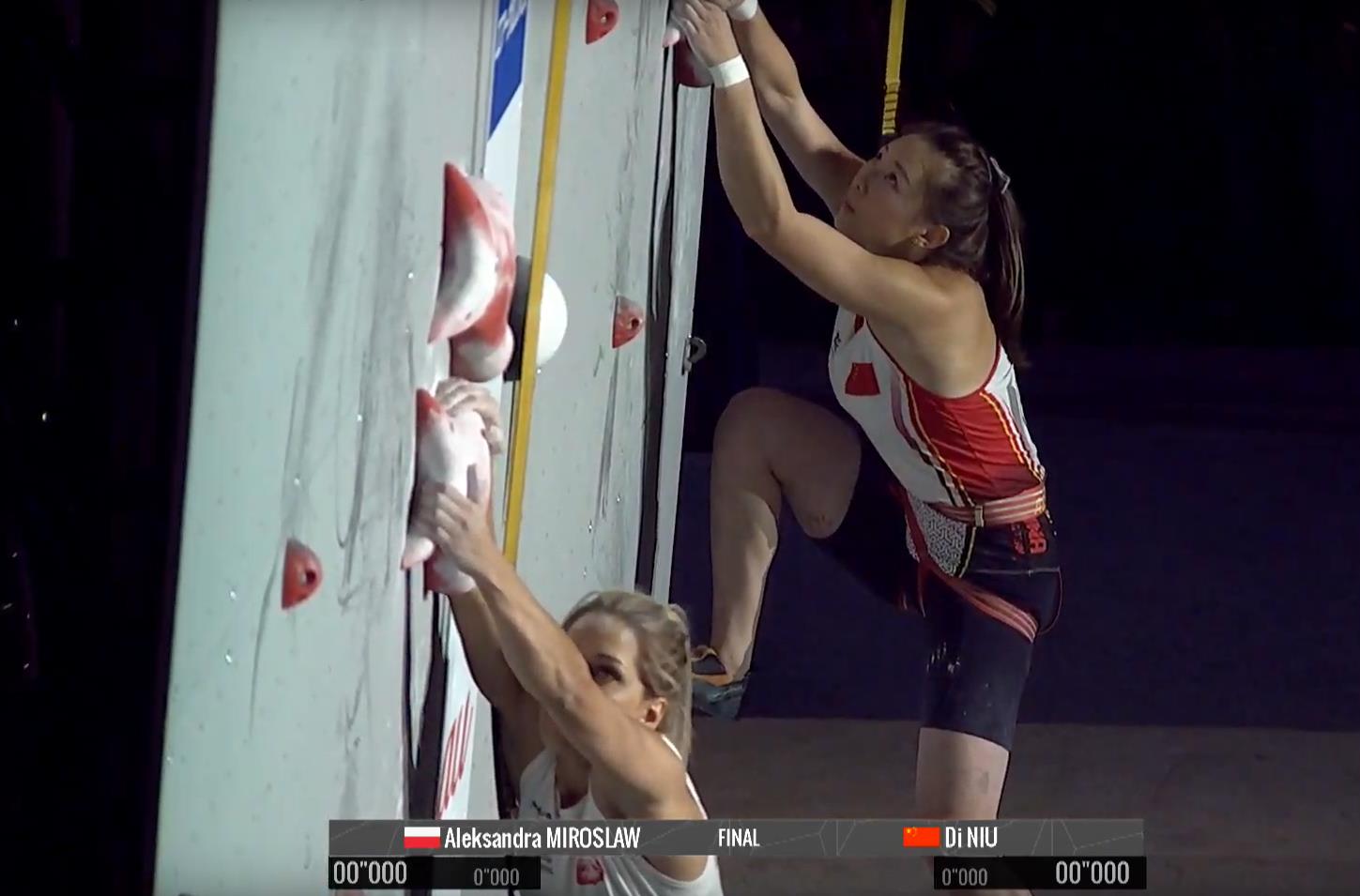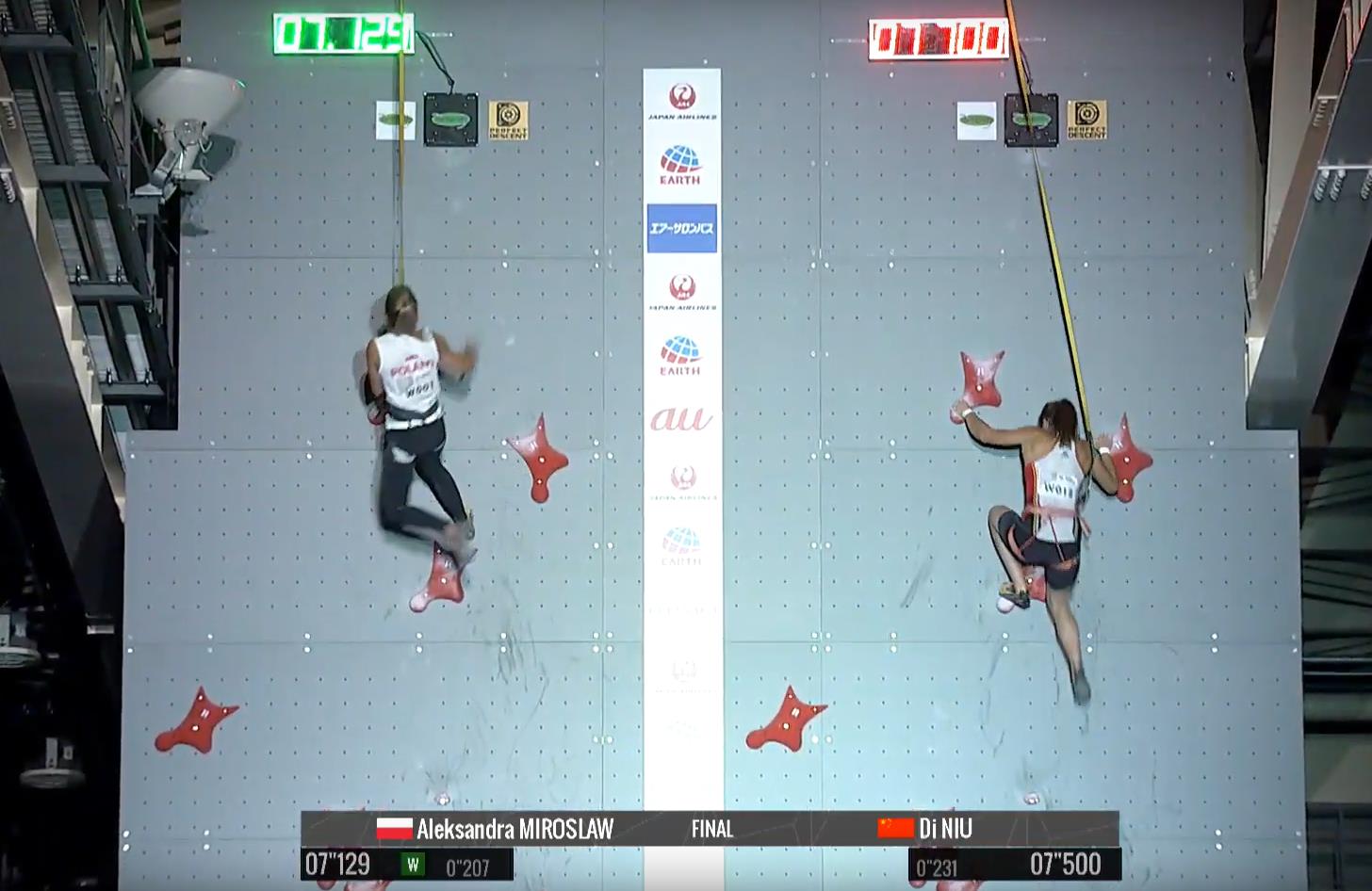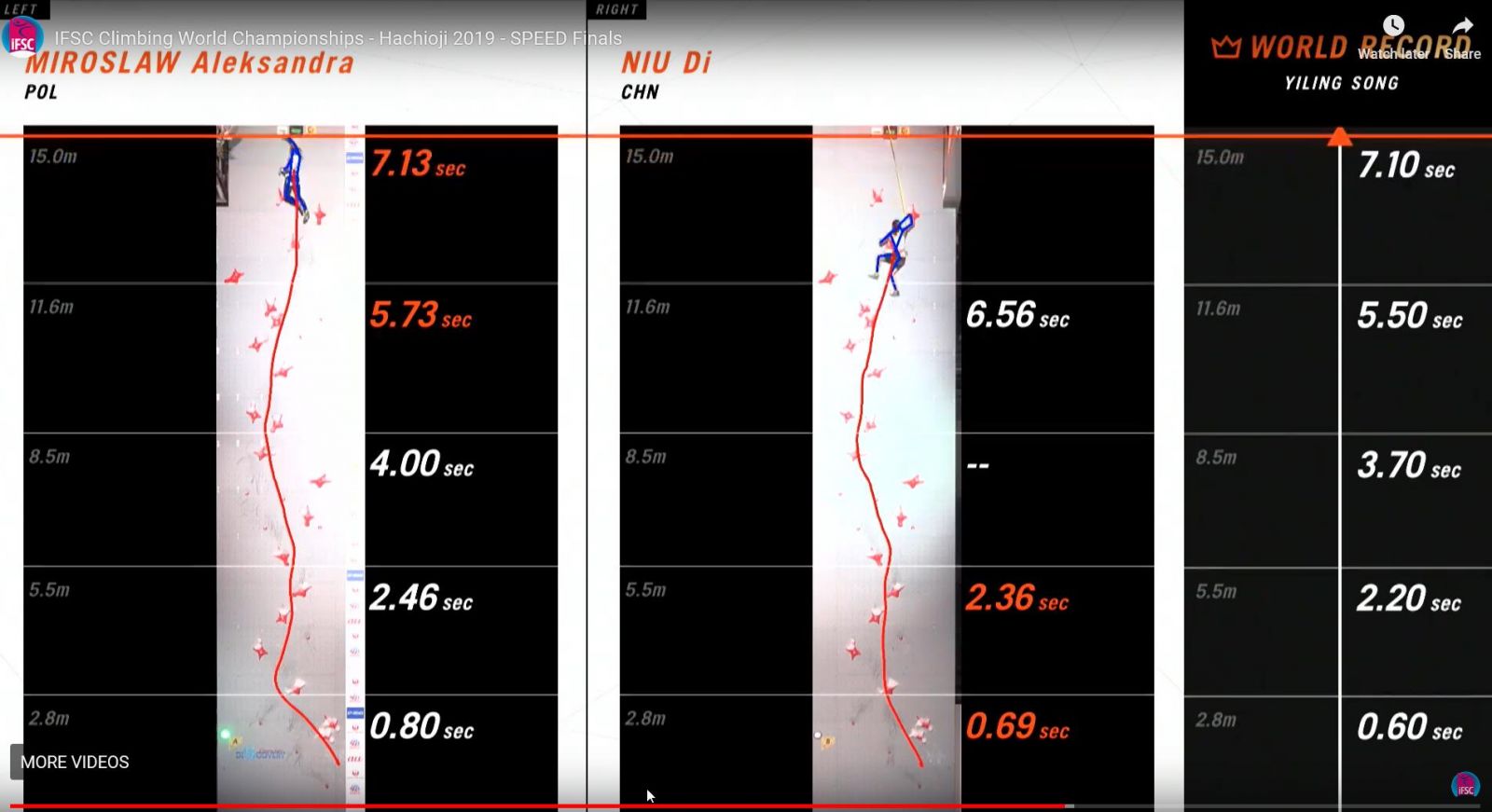 The Women's finalists at the start, finish and the comparison with current World record runs
The third and final individual event at the Hachioji World Championships was held on Saturday with both the women and the men's event being held in the day. Tension was higher than normal as not only was the Speed World Championship up for grabs but, crucially for Olympic hopefuls, so too were vital ranking places for the Combined World Championship hence considerable attention was on the lead and boulder specialists to see where they placed.
The qualification rounds saw some blistering fast times recorded by the speed specialists. No less than nine of the world's fastest speed climbing women clocked times under eight seconds whilst ten of the men finished in less than six seconds!
All the reigning World Champions were clearly looking to defend their titles and Janja Garnbret had proved that was possible earlier in the week and so it was with Aleksandra Miroslaw when she successfully beat Di Niu to retain her World Championship status. Miroslaw finishing in 7.129secs whilst Niu faltered slighted just above mid height. Impressively, Miroslaw's time of 7.129secs was only a fraction of a second slower than YiLing Song's World Record time of 7.10secs. The small final saw Anouck Jaubert take the bronze medal when she finished ahead of YiLing SONG who slipped at half height on her run.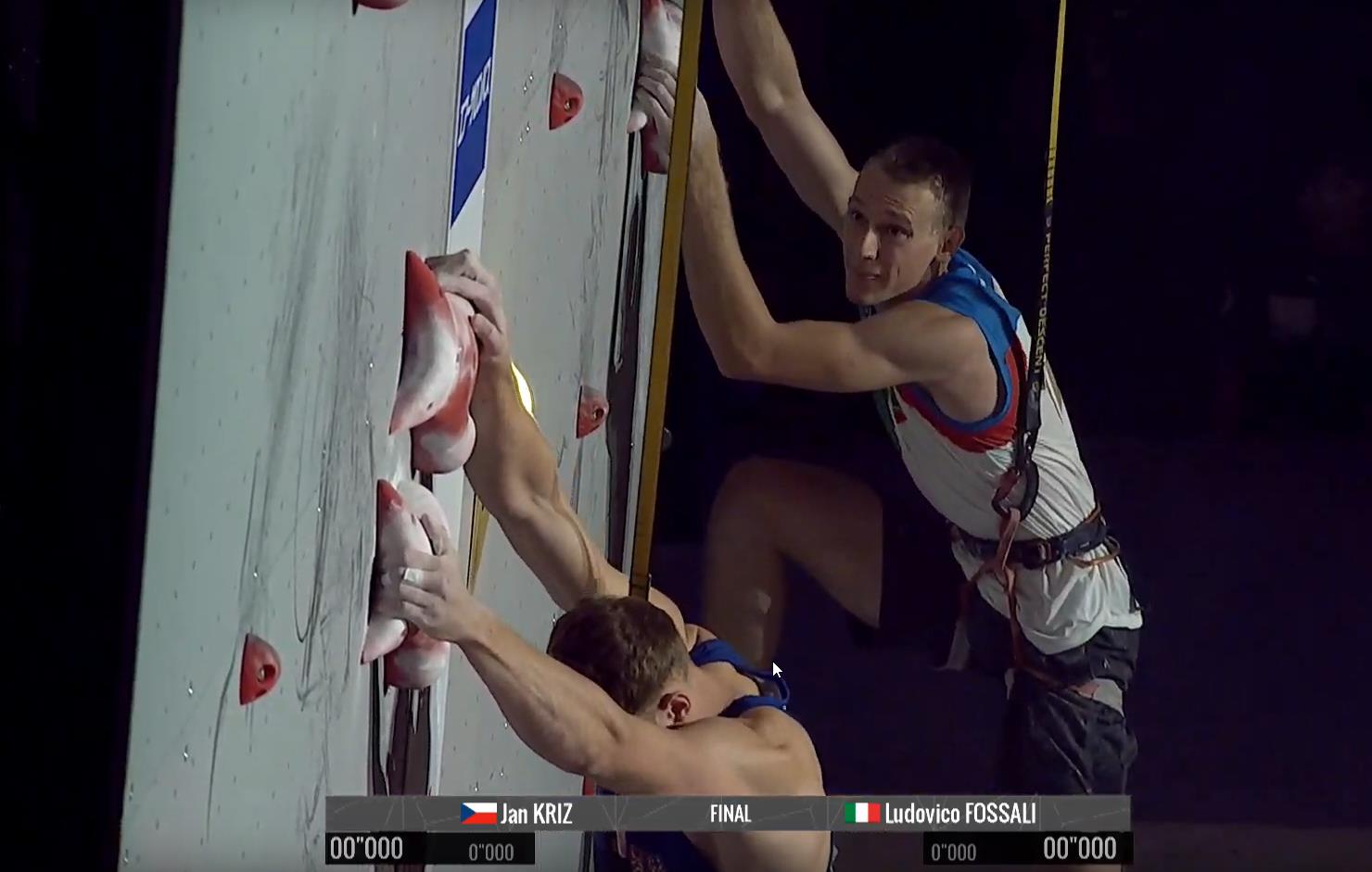 The Men's finalists at the start, finish and the comparison with current World record runs
The men's event didn't go according to form and many of the favoured speed climbers struggled. Bassa Mawem, the current 2019 Speed World Cup front runner, as well as, Reza Alipourshenzandifar, the reigning World Champion and World Record holder both crashed out early leaving the event and the podium wide open. Ludovico Fossali, having progressed to the final when his opponents in early rounds false-started, faced up to Jan Kriz for the final. Both men got away clean and progressed up the wall virtually move-for-move but then both stumbled on exactly the same move. However, Fossali regained his composure to record 6.871 secs as opposed to Kriz who failed to record a finishing time. Perhaps not surprisingly Fossali's winning time was considerable slower than Reza Alipourshenzandifar's world record time of 5.48secs but that's then nature of speed event! The small final was won by Stanislav Kokorin ahead of Danyil Boldyrev; Kokorin retaining his 2018 Bronze medal.
The lead and boulder specialists saw an interesting set of results too. In the women's event Janja Garnbret placed highest of the non-speed specialists in 23rd with 9.157secs ahead of Brooke Raboutou in 24th with 9.228secs. The top Japanese climber was Miho Nonaka 25th with 9.229secs ahead of Futabu Ito in 27th on 9.292secs. Father down Petra Klinger finished in 37th with 9.655secs, Shauna Coxsey in 41st on 9.840secs and Jessica Pilz in 43rd with 9.863secs. Over in the men's event Tomoa Narasaki finished in 22nd with a blistering 6.292secs ahead of his Japanese team mates Kokoro Fujii on 29th with 6.640secs and Kai Harada 32nd with 6.889secs. Further down the rankings Sean McColl finished in 37th with 6.997secs, Will Bosi in 40th with 7.309secs, Adam Ondra in 58th with 7.867secs, Jakob Schubert 59th with 7.940secs and Alex Megos 75th with 8.945secs.
Watch the Speed finals below...