Hachioji Bouldering World Championships Report
Wednesday 14th August 2019
Aug 14th; 2019
Janja Garnbret and Tomoa Narasaki take gold medals in IFSC World Championship bouldering event at Hachioji whilst Shauna Coxsey takes a well-earned bronze.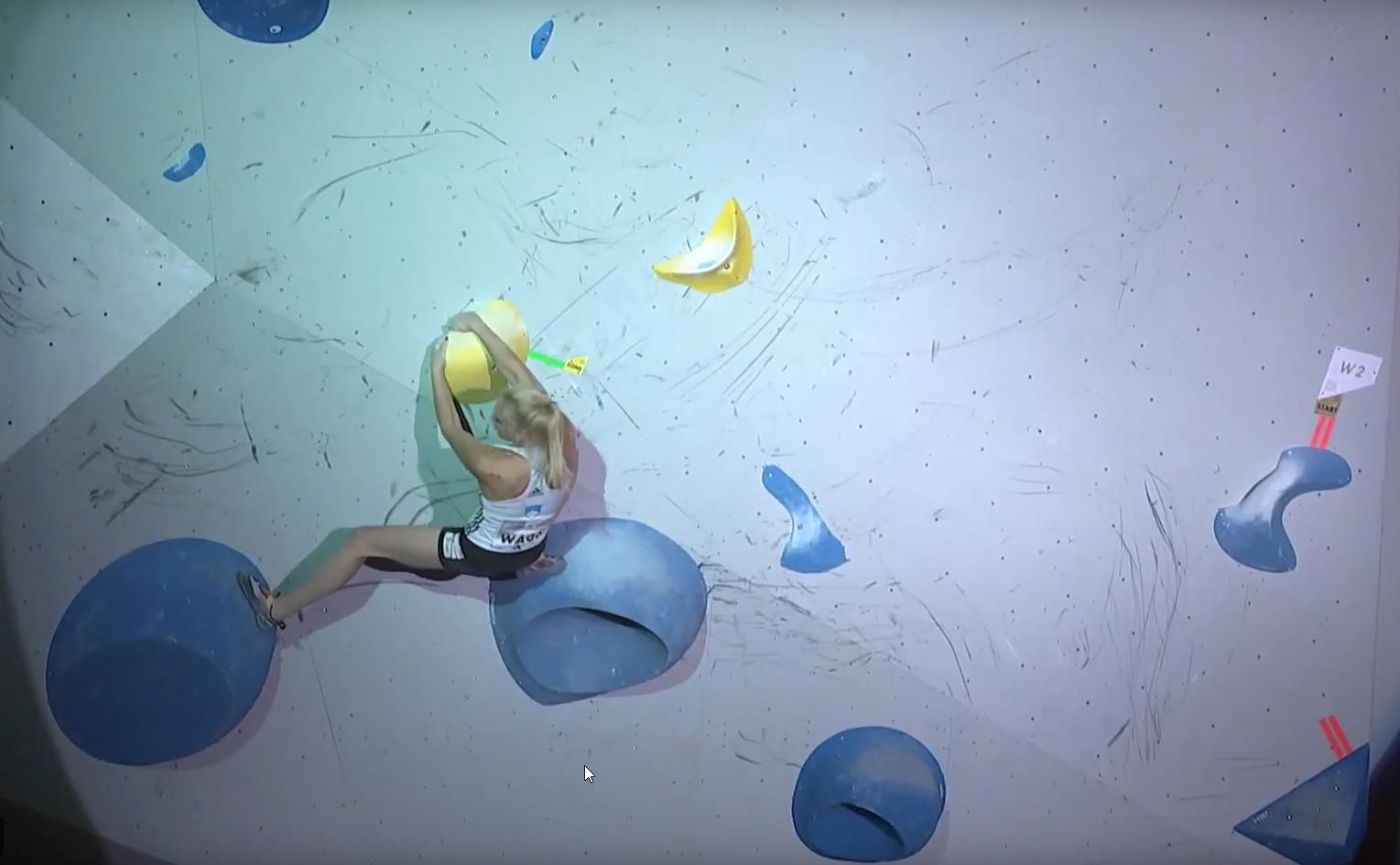 Janja Garnbret getting her parkour-game on for W2, on her way to winning the World Championship again in 2019
The IFSC World Championships started in Hachioji last Sunday with 253 athletes from 39 different countries registered to compete in the 12-day event. Bouldering was the first of the three individual World Championship to be contested on the cramped Hachioji timetable and whilst IFSC Bouldering World Cup winners, Janja Garnbret and Tomoa Naraski, were clearly the hot favourites for the bouldering honours, plenty of other climbers like Akyo Noguchi and Shauna Coxsey as well as Adam Ondra were all gunning hard for the top positions too.
The bouldering kicked-off Sunday with the women's qualification whilst the men's followed on Monday. Given the big field in both the women and men's events, two qualification rounds were run in each event; both were hotly contested. Garnbret and Noguchi won their respective groups in the women's event whilst Ondra and Ogata won in the men's groups. Tops weren't quite as plentiful in the men's as the women's event but each group had a good split of tops. In the main, all the principal protagonists made it through into the semis' although with only the 10 highest placed athletes from each qualification group going through to the semi's there was a few anomaly omissions from the semi's as a result. Alex Megos for example, finished in =25th with 2 tops, 4 zones 3 attempts to tops and 6 attempts to zones having competed in Group 1. In comparison, Nathan Phillips finished in =13th with 2 tops, 4 zones 7 attempts to tops and 7 attempts to zones having competed in Group 2. The point here is that whilst both had 2 tops and 4 zones each Phillips took more attempts to tops and more attempts to zones than Megos but because Phillips was 7th in Group 2 he qualified for the semis whilst Megos, who finished in 13th in Group 1, didn't make the cut.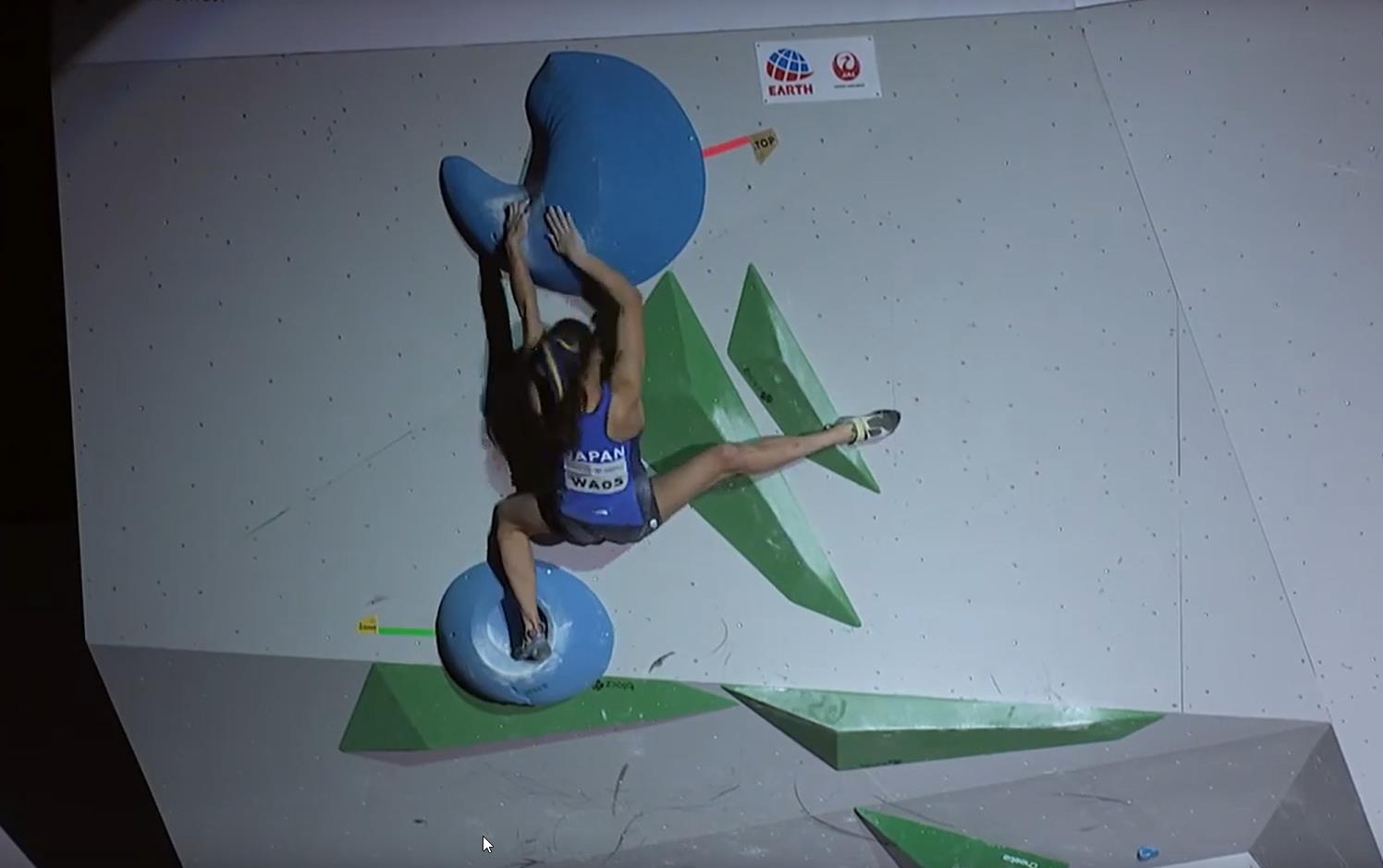 Akiyo Noguchi on W4 which earned her Silver.
Let's start by looking at the women's bouldering. As is so often the case the semi-final was brutal. Janja Garnbret finished in the top spot with 3 tops but tops for other climbers were limited; Akiyo Noguchi got 2 tops whilst Ievgeniia Kazbekova and Nanoke Kura got a single top each. Miho Nonaka and Shauna Coxsey qualified for the final in fifth and sixth respectively with no tops and only just 3 zones each! Fanny Gilbert, having taken third place overall in the World Cup bouldering, only managed ninth place.
The women's final was a star-studded line-up with Janja Garnbret, Miho Nonaka, Akiyo Noguchi and Shauna Coxsey – all of whom are past World Cup/World Cup Season winners – along with Ievgeniia Kazbekova and Nanoke Kura; remarkably, Japan taking three of the six places! Having qualified in sixth place Shauna Coxsey climbed first and laid down a marker topping W1 on her fifth attempt with just 9 seconds remaining! Akiyo Noguchi also topped W1 in just three attempts but Janja Garnbret nailed it on her second try. The other finalist all came up short. W2 was out and out parkour; the crucial moves to the zone involved no less than four rapid hand moves in a row – by far the most dynamic bloc in any recent bouldering event. One-by-one, the finalists tried to unlock the sequence but in truth none got close - non until Janja Garnbret came out last for her allotted four minutes. It was looking like the setters had completely over-cooked the problem then on her fifth attempt Janja – much to the obvious clear delight of the crowd – nailed the sequence to the zone and then topped. Love it or hate it; W2 and the parkour style is high risk for the setters, incredibly demanding (and for some, frustrating) for the climbers but highly entertaining for the audience. Whether it's 'climbing' or not is a separate issue and one that is open to discussion!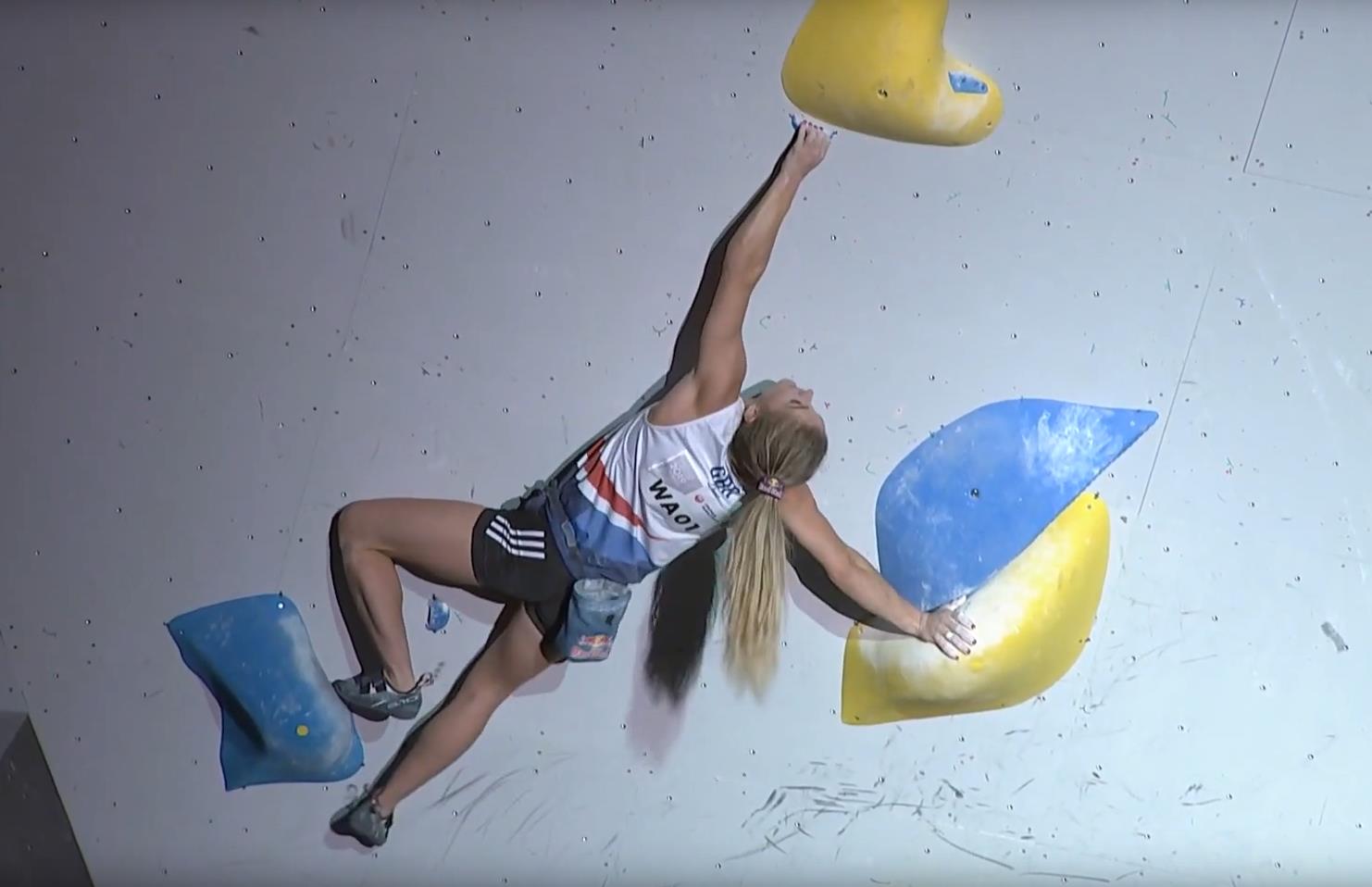 Shauna Coxsey flashing W4 to take a well-deserved Bronze
By halfway Garnbret had what looked like a solid lead ahead of Noguchi in second and Coxsey in third. W3 was another parkour-style bloc; Ieveniia Kazekova and Miho Nonaka both topped but, against the odds, all the top three all failed to make any impression on the problem; Kazekova and Nonaka jumped – quite literally – up the standings into second and fourth depositing Noguchi and Coxsey into third and fifth respectively. The stage was set therefore for the all-important final bloc; the long, steep and powerful decider of W4. Impressively, Shauna Coxsey came out and bossed W4 with a very impressive flash to set the race for the podium alight. Coxsey looked so much more at home on W4 the contrast was quite remarkable. Not surprisingly, Akiyo Noguchi and Janja Garnbret also polished off W4 both topping on their first attempt. Garnbret's efforts earned her the 2019 World Championship. Having won in 2018 she became the first every climber to retain their World Championship. Sadly for her, Akiyo Noguchi was denied once again by Garnbret's win but having competing at the highest level for over a decade what an achievement it was to podium with a silver. Shauna Coxsey, having been injured for much of the last year - as well as feeling ropey before the Hachioji event itself – must surely take solace that at last she's returning to form, medalling again and finished well-placed in the standing for the Combined and hence Olympic qualification.
Tomoa Narasaki topping M3 and his second bloc in the final to take his second ever Bouldering World Championship
If the women's event had seen brutally hard semi-final and final rounds and was lacking in tops the men's event was even more so! Adam Ondra, having been joint leader after the qualification round went on finish the semi's in top also; he alone picked up three tops. Tomoa Narasaki, Kororo Fujii and Keita Dohi finished 2nd – 4th, all picked up two tops whilst the remaining finalists, Yannick Flohe and Jacob Schubert got two and one top respectively. Strongmen Jan Hojer, Jongwon Chon and joint qualification leader Yoshiyuki Ogata all got three zones apiece but no tops and failed to make the cut into the finals. Likewise, Nathan Phillips got three zones but no tops to finish in 18th.
Ondra was looking on-fire and it seems if he continued that form he could be taking home the Bouldering World Championship to add to his trophies. His long-standing rival, the mega successful World Cup and World Championship climber Jakob Schubert, won't be along for the ride however and never would the others. Like the women's final, the men's had no less than three Japanese climbers and 2016 World Championship boulder Tomoa Narasaki wasn't far behind Ondra.
Jakob Schubert putting in a solid effort on M2 to boost his standings and ultimately get the silver
Getting the comp underway Jakob Schubert kicked off by getting within an ace of topping M1; a tricky duel-texture volume-fest which involved a 3-move parkour sequence before a very hard finish. When Tomoa Narasaki topped M1 and Adam Ondra didn't, it rather set the scene for the event. Not only didn't he get the top Ondra was alone in not getting the zone. His fortunes had flipped and immediately he was looking uncomfortable and under pressure. M2, a steeply overhanging bloc with slopey rail-cum-pockets to a hard volume finish, piled on the pressure for everyone. All bar Ondra managed to make the zone; Ondra again failed even to get the zone. Halfway through the competition Tomoa Narasaki had the only top and Adam Ondra was still to get off the mark!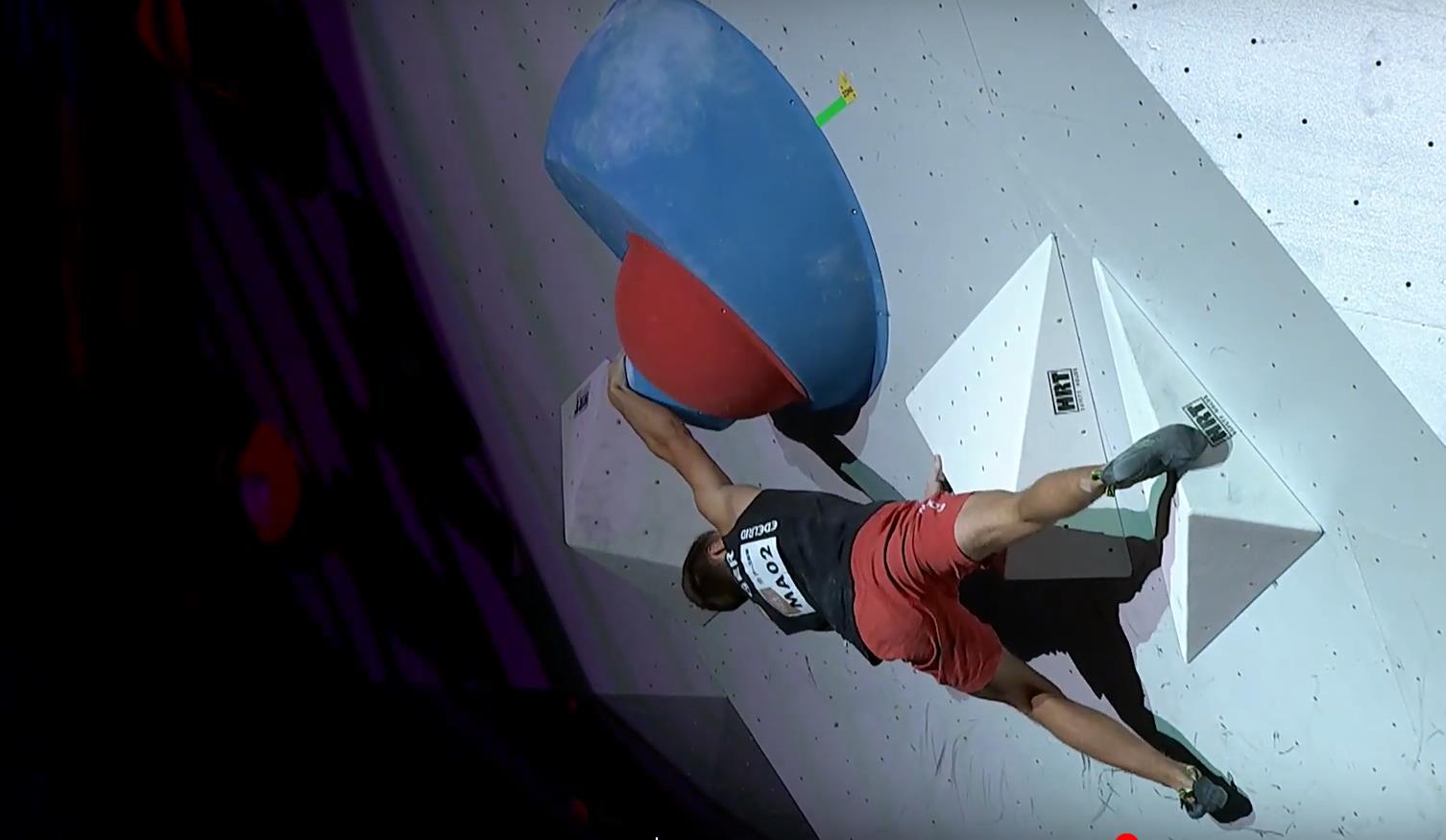 Yannick Flohe battling M4 to get the bronze
M3 was a super techie, super steep slab with a couple of massive but very rounded circular volumes the crux of which was getting established onto the upper section by jumping sideways into a layaway-cum-mantle position. Once again none of the finalists really got to grips with the crux section apart from Tomoa Narasaki who not only unlocked the sequence but then topped out the boulder. With only M4 yet to come Narasaki had an unassailable lead and had won his second ever World Championship! The tenuous and super strenuous moves up poor volume on M4 proved equally difficult and although Narasaki came closest, Schubert, Flohe and Fujii all got the zone. Sadly Adam Ondra's World Championship which he so clearly has been working devilishly hard to do well in ended with him, remarkably, failing to get a single zone let alone a top!! Ondra's dejection was in marked contrast to Schubert and Flohe's determination and Narasaki's domination! Recognised as the world's best all-round climber, Ondra must surely hope his World Championship will improve in the forthcoming lead or else his Road to Tokyo might hit the buffers much to the astonishment his fans and himself. Meanwhile, Narasaki and Schubert will carry positive vibes into the lead World Championship!
Women's 2019 World Championship podium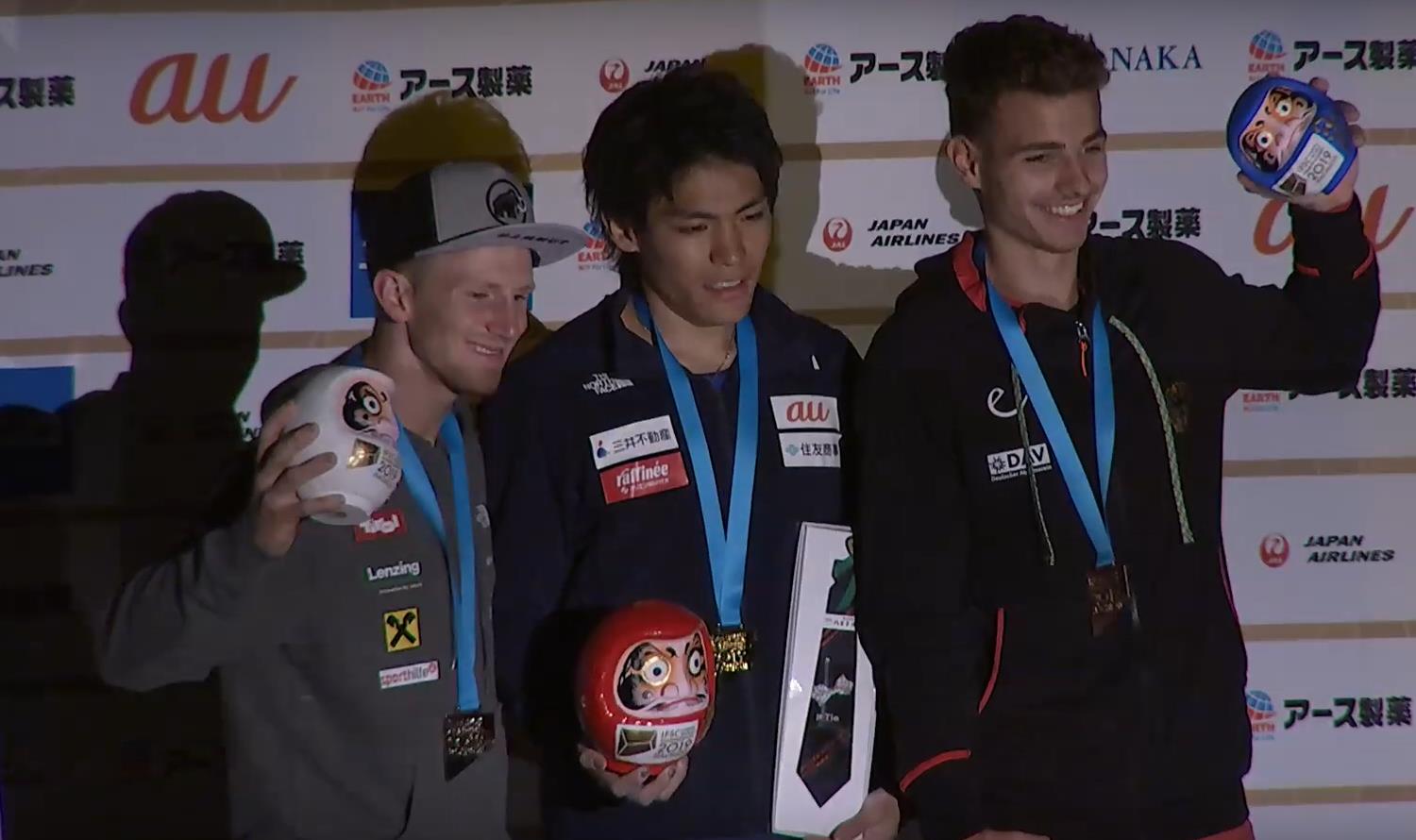 Men's 2019 World Championship podium