Guy Robertson and Greg Boswell find their Holy Grail
Jan 15th; 2018
On Jan 11th Guy Robertson and Greg Boswell found their Holy Grail (IX, 10) on Slime Wall on the Buachaille, high above Glencoe.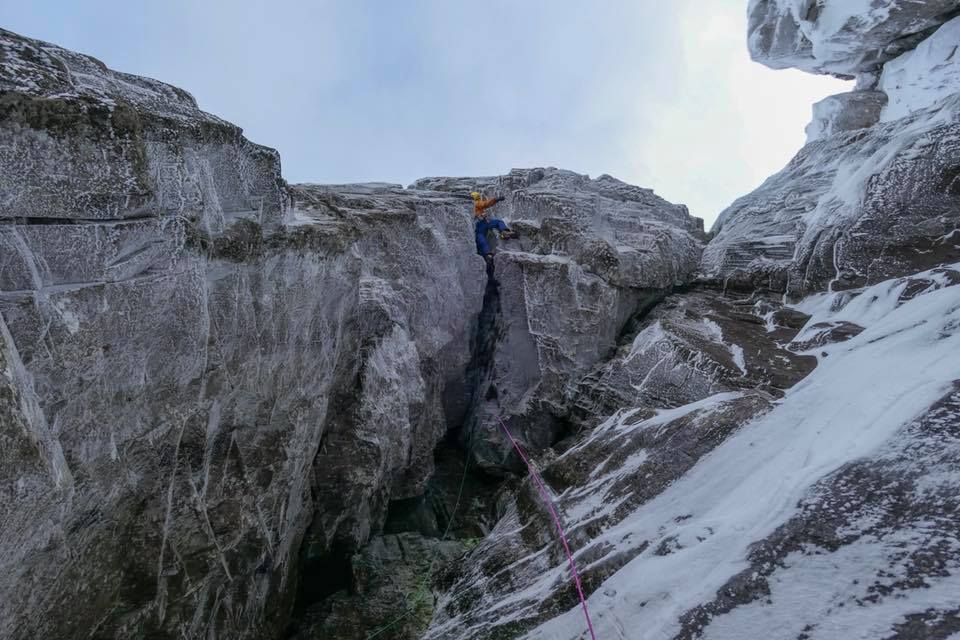 Guy Robertson leading the crucial fifth pitch on the first ascent of The Holy Grail. Photo Greg Boswell
If it were needed, the six pitch route is yet another demonstration of the incredible partnership that Guy Robertson and Greg Boswell have forged in recent times. In this instance Guy Robertson was returning to Slime Wall having already notched-up repeats of many of the delights there-in. Not so for Greg Boswell however, this was his first encounter with Slime Wall.
Posting on-line, Greg confirms that they found Slime Wall in excellent condition. After two initial pitches up Raven Gully, their line headed off directly up the left wall. Two more pitches of excellent climbing "it was steep, hard enough to keep us on our toes and well protected" lead up to the Great Cave itself.
The way above the Great Cave – the fifth pitch – was obviously crucial. Guy's first attempt was foiled by a loose chockstone. He fell and then lowered-off to re-group. His second attempt was successful but not without incident as Greg explains: "Long story short, the roof was well protected, but the moves were very, very hard, super awkward and not as obvious as you'd first think from looking at it."
Guy belayed just above the roof; Greg seconded that pitch and then lead through on the final pitch – in the dark, of course – to finish off The Holy Grail (IX,10). Offering a helpful tip for prospective repeat ascensionist Greg added "Crux moves may cause nausea and dizziness." You have been warned! The pair, who appear to be somewhat unstoppable at the moment, are now lining up their next project!