Greg Boswell blasts Banana Wall (XII, 12) in Coire an Lochain
March 2nd, 2014
Greg Boswell, climbing with Masa Sakano, has blasted Banana Wall (XII, 12) up the wildly overhanging central section on No. 4 Buttress in Corie an Lochain on February 25th to give the Northern Corries their hardest winter route yet.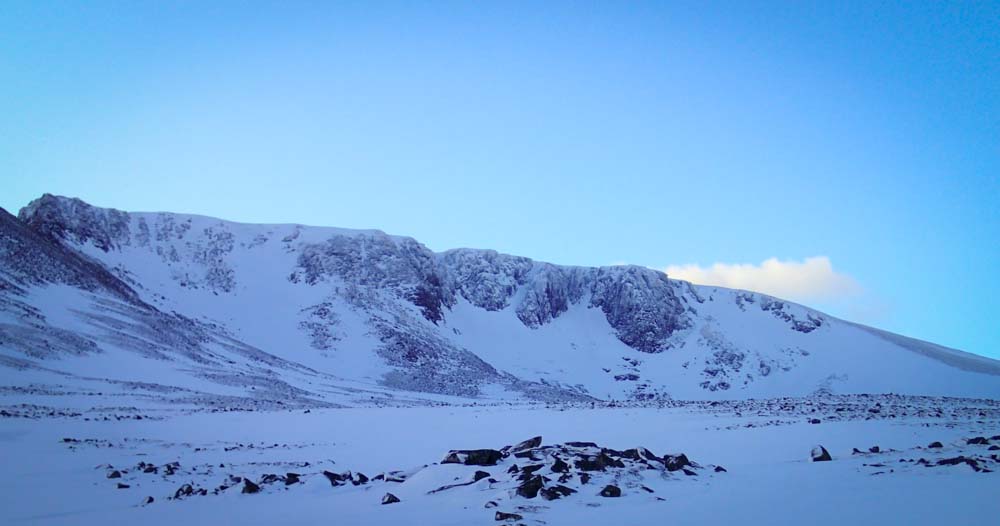 Coire an Lochain
Banana Wall is Boswell's first XII, 12 and only the second route in Scotland to be given XII after Dave MacLoed's 2010 route, Anubis on The Ben. Greg Boswell's ascent of Banana Wall comes after considerable build-up and effort on his part and at a time when Greg is clearly climbing extremely well.
As part of Greg's preparation for this winter's season he rocked-up at the annual White Goods dry-tooling event and proceeded to flash two M11's as well as on-sighting/flashing two M10+'s. Since the season kicked-off, Greg has already done a significant number of hard routes; Culloden (IX, 9), The Greatest Show on Earth (X, 10), Range War - Winter Variation (X, 10) and Messiah (X, 10). Importantly, Greg's ethic is to go at routes ground-up and fight hard for the on-sight, something which he achieved on Culloden, The Greatest Show on Earth and Messiah. See here to read about Greg's ascents on these.
Let's swing now to Greg's ascent of Banana Wall something which he talks about at considerable length on his blog. It's clear that having spotted the route some time ago it's been preying on his mind ever since. "It was a route that I had spied with Guy [Robertson] previously." He addes; "From that day it had been niggling away in my mind as something I had to have a go at!"
As is so often the case, the die was cast. Greg's first actual attempt didn't come until December 2013 when he walked into the Northern Corries with Dougie Russell. However, it didn't go well – Greg explains; "So I geared up below the face and eventually built up the courage to start up the route. Unfortunately this courage didn't last long and after about 8m of climbing, I decided to down climb and save the onsight attempt for another day. It just looked too god damn hard! I told myself that it was early in the season and once I'd got a couple of routes under my belt, I would feel better. We then went on to do the FWA of The Demon that day, which seemed to feel like a worthwhile salvation of the good conditions."
Fast forward to the earlier this season and Greg was back for another look – this time with Guy Robertson. Psyching up, Greg set off with a strong mind set; "I geared up again and told myself to stop being a big wimp and have a proper go at the line." He continues the story; "But I started up again and after arranging some very interesting and by no means bomber gear, I probed upwards trying to make some sort of progress. But no matter how many times I told myself to just man up and get on with it, I was just too scared of the route. It looked so much harder than anything I had tried before, and the worst part was, I couldn't see any gear at all if I was to continue into the steepness. The route is crazy steep, and placing gear was going to be hard at the best of times, let alone fiddling in inventive protection. I just couldn't bring myself to do it. So I down-climbed again, and it became: Banana Wall two, Greg zero!"
As this point Greg decided to break with tradition and abseil down the line. It's clear that Greg didn't do this lightly either; "I never thought I would do this on a winter line, as the Scottish ethics are very much in favour of the "Ground Up" approach. But I laid out some very stern rules in my head and decided that if I wanted the sport to keep progressing, then maybe this is not such a bad idea. I really wanted to climb this route but didn't want to go into unchartered territory that was so overhanging and end up getting hurt."
Setting up the abseil Boswell abbed-in but the line was so steep that he was free-hanging in space - about 8m out – and hence he couldn't check-out whether or not there was any gear placements to head for above his high-point. Greg again; "nothing popped out at me, I had spied one or two things higher on the wall to potentially aim for, but whether or not I would be able to stay on the thin looking climbing long enough to place the gear was a different story!"
Although his abb inspection given him almost no real info Greg's psyche remained high and he returned to training and continued to rack-up more hard routes (outlined above). Greg was also aware that Ines Papert had previously 'looked' at the 'Banana Wall' line back in 2011 but she too had bailed off and climbed Bavarinthia IX/9 a line farther right instead.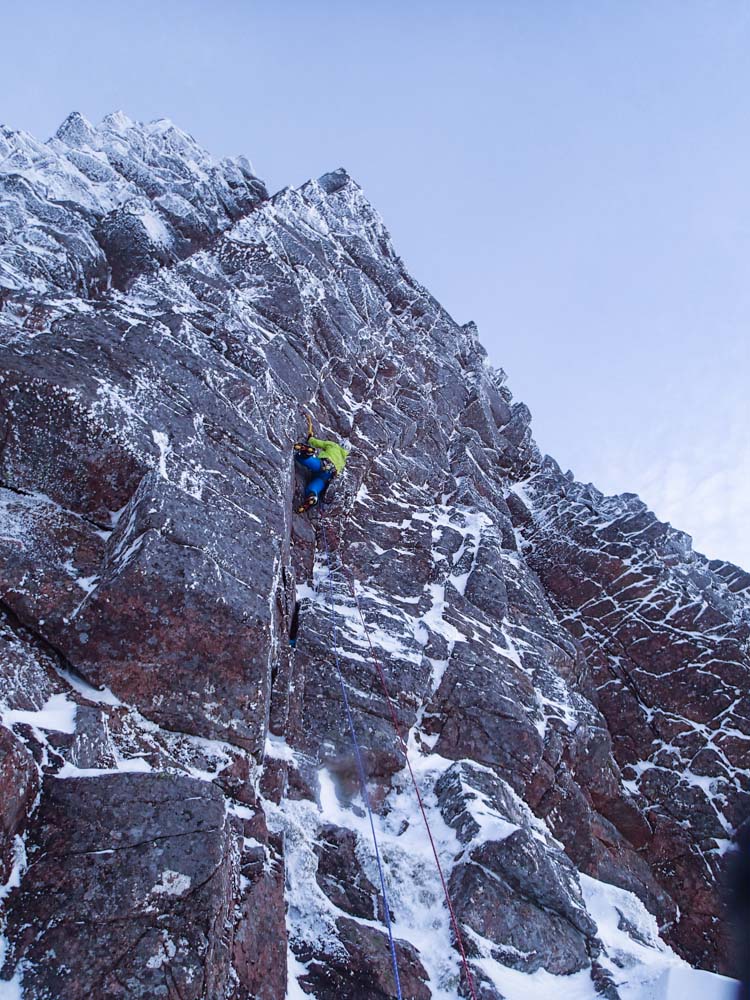 Greg Boswell setting out up Banana Wall. Photo Masa Sakano
Wednesday 25th February saw Greg return once more – this time with Masa Sakano. Despite poor snow condition on the approach they got to the bottom of the route and Greg got psyched-up and stuck-in; "Once everything was ready I just went for it. I moved up to my previous high point and craned my head back to look up the wall above me. I slowly moved upwards and eventually unlocked a technical sequence to take me to below the first steep bulge/roof. This section took me ages to work out, and after a good while trying to see how to progress upwards, I shouted, "I'm going for it, WATCH ME" and fired through a strenuous sequence taking me into a blanker looking section of the wall. I pushed on and fought for gear, and pushed on some more, getting more and more pumped with every move and every upward motion I made, the route got steeper and steeper. My first go ended much higher than I thought it would, when my axes ripped and I took a huge whipper back down the wall and found myself hanging in space and very very pumped!"
Greg Boswell having fallen off Banana Wall. Photo Masa Sakano
Clearly the route wasn't giving up easily. After a re-fueling pit stop, Greg set off again; "I moved up the wall again, feeling much more sluggish and tired than before. I eventually found myself high on the steep headwall above the crazy overhanging lower section, and far above my last runner. I committed to a heart in mouth sequence of thin hooks and shallow torques and tried to see a way to gain the belay ledge, but even this was not an easy task. After a big rock-over where my foot nearly skittered off the placement that definitely would have ejected me from the crag, I mantled up onto the sloping ledge and WHOOPED with joy! I had done it. One of the hardest looking lines I had seen in winter and I'd got up it on my second proper go!"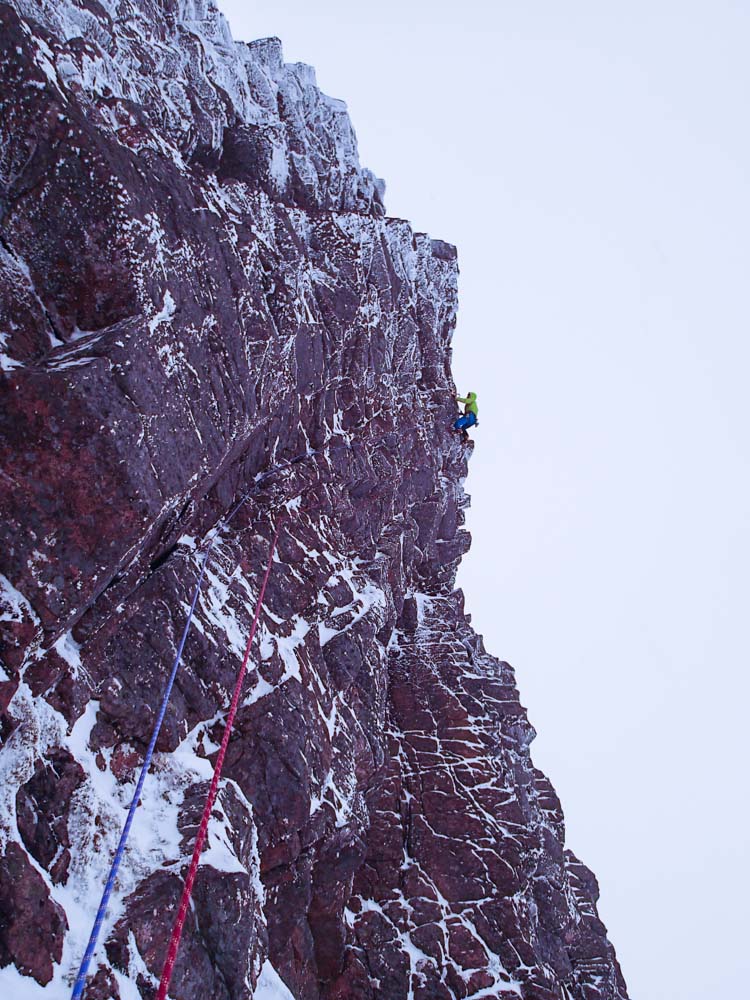 Greg Boswell topping out on Banana Wall. Photo Masa Sakano
In terms of the grade here are Greg's thoughts. "It is definitely much harder than other stuff I have been doing this season and the gear is hard to find and place due to the strenuousness and technicality of the climbing. It is easily a grade harder, or even two, than The Hurting and Don't Die of Ignorance and if other people think that these are in fact grade XI/11, which they very much might be (I don't think they are, but that is just my personal opinion) then Banana Wall is easily XII/12. I would possibly give the climbing M11-ish on this route. Whereas it would probably be between M7 to M9 for most other things that have been given higher grades in Scotland. So it just depends on the circumstances, but for now I'm going with the grade of XII/12 and regardless of grade (I'm open to change), it was an awesome adventure and it feels like a huge weight off of my shoulders to get it done!"
Finally, it's clear from Greg's FB page that folks are impressed. Here's a selection of the comments…
Jon Griffith – "Un-real Greg, Scottish Machine!"
Tim Emmett – "Good effort Greg, sounds and looks spectacular"
Ramon Marin – "Total hero, massively impressive, well done Greg!"
Guy Robertson – "Outstanding effort Greg, so psyched by this. I can fully believe you just skipped passed a grade with this one."
And finally from Masa Sakano – "I have lost a count how many times I heard of the voice "Watch me" during hours-long belay. Then in seconding, I found almost every move was indeed worth a shout… Super effort, mate!
Click through here to read Greg's account in full on his blog. Finally, thanks to Masa Sakano for the fantastic photos.