Greg Boswell adds a new X in the Northern Corries
Saturday 11th February 2017
Feb 11th; 2017
Finally, more widespread winter conditions have returned across Scotland. Local activist Greg Boswell has been out getting his share of the action with several routes including a new offering; Intravenous Fly Trap (X, 10) in the Northern Corries.
Earlier in January, Greg had already snatched a couple of winter routes – including the new Moral Compass (VII, 9) on Ben Vorlick. This week he wasted no time at all in getting doing to business getting to grip with what Greg and his partners thought might be a new direct finish to the first two pitches of Babylon on The Ben. Writing on FaceBook Greg clearly was relishing getting his game-face back on.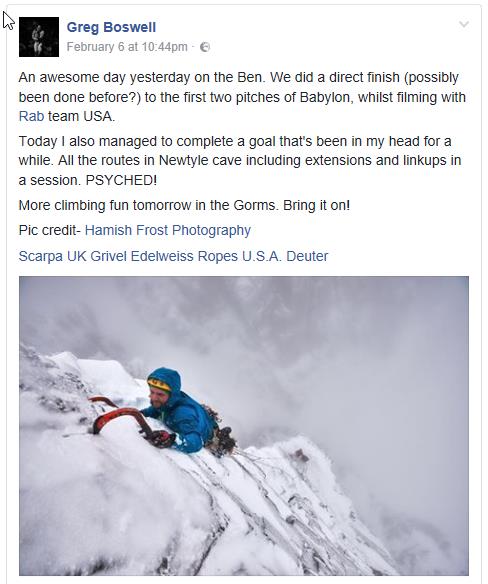 Following Greg's ascent it's turned out that Es Tressider had done the line back in 2007.
Greg, with his climbing partner Scott, headed north to the Northern Corries – specifically to Coire an Lochain where he was keen to try a new line left of Daddy Longlegs (VIII, 8/9). Having done that route back in 2012, Greg had added the potential line to his 'black book' so was keen to get involved.
Not surprisingly it didn't go without a considerable effort as Greg explained: "As usual the Northern Corries put up a good fight and the cracks I was aiming for were blind blunt seams, not the pick sinkers I was hoping for. It took me just over 3.5 hours to onsight the crux pitch and my hands where bleeding beneath my gloves when I slumped onto the top ledge."
Greg confirms that the line, which he's called Intravenous Fly Trap (X, 10), is climbed direct from the ground rather than from the corner of Daddy Longlegs was not only hard but it was "bold/dangerous" at the start. For anyone thinking of having a crack note Greg's final summary of the route; "Apart from Banana Wall, it's the hardest thing I've done in the Norries!!" Praise indeed.
Thanks to Rab/Hamish Frost and to Greg/Scott for the excellent images.
Stay in touch with Greg's activities via his athlete page on Facebook here and with Hamish's work here…