Great Grandma starts climbing aged just 99
Jan 4th; 2019
Greta Plowman (99 years old) from Hatfield did her first ever climb recently at the Manchester Climbing Centre.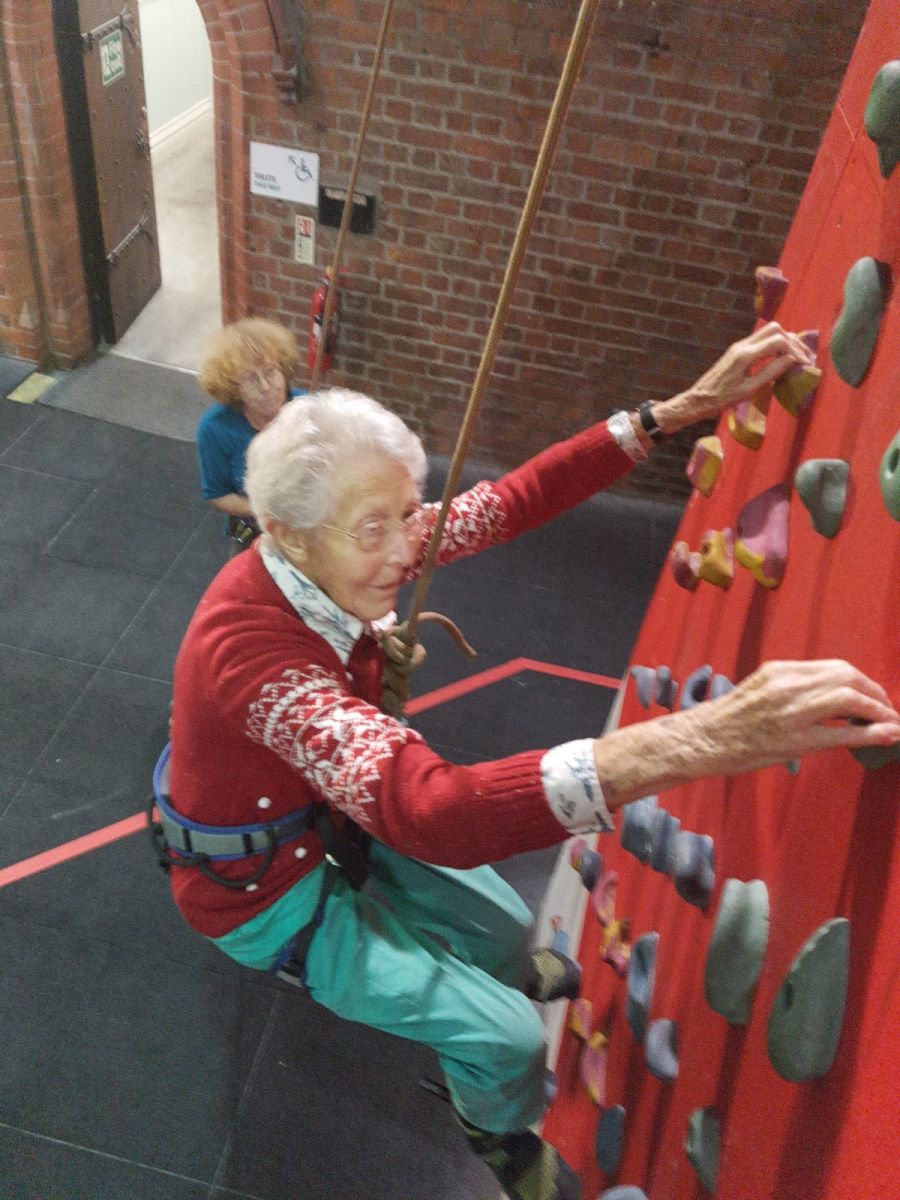 Greta climbs whilst Judith belays at Manchester Climbing Centre. Photo Tim Dobson
Greta Plowman had actually gone to the climbing centre to watch Judith Plowman, her 69 year old daughter, go climbing but then she deciding to have a go herself!
Judith said: "She'd heard that I had got into climbing, but had never seen me do it. When I mentioned I was going to the centre, she wanted to come and watch. After a while watching, she asked if she could have a go..."
With Grandson Tim Dobson guided his grandma Greta up the climb and his mum Judith belaying, Greta did her first ever climb – suitable protected by a top-rope.
Tim said: "Even with the rope there to stop her falling, I was a bit nervous. The oldest person I've introduced to climbing is my mum. At 99, I wasn't sure Greta would even get off the ground!"
Most people would be apprehensive before their first rock climb, but the only person who didn't seem scared was Greta. She got onto the wall, and she slowly, but steadily made her way up the climb."
Tim said: "There was one point near the top where she said to me, 'I don't think I can go on' and I said 'you're nearly there'. To her credit, she pushed through and got right to the top!".
Greta said afterwards "It was marvellous! Really exciting! My fingers ached a bit, but I learnt to push more with my feet and that made all the difference.
"It was such a thrilling experience to get the top. I'm very thankful to Judith and Tim for supporting me and making this wonderful experience happen.
Judith added: "I think she has stronger hands than she thinks - she's often using handrails to pull herself up and pushing down. Anyone who can climb the stairs can climb - and Greta proved that today." Judith added: "Watching her, even at 99, be able to share the sport I've come to love made this a very special day".
Manchester Climbing Centre Owner John Dunne said "I think Greta holds the record for the oldest climber in centre. She proves that it doesn't matter how old you are, what shape of body you have or how it you feel you are, climbing is for everyone.'